St Robert Grade School
Class of 1968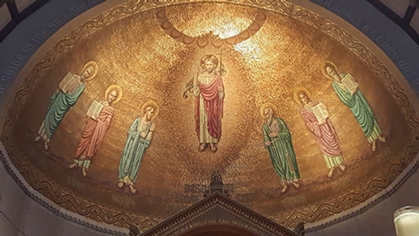 St. Robert's Grade School
Shorewood, Wisconsin
Class of 1968
50th Reunion Website
Reunion Party | Optional Events
Visits: 21,259
Photo of church in the top banner, and the "apsidal mosaic" on this page, from Cream City Catholic.
ANNOUNCEMENTS
'Tis the Season! Bill Binkelman just sent us a surprise Christmas gift: three dozen heretofore unseen candid snaps from the reunion dinner at the Woman's Club of Wisconsin! (For those of you counting at home, that's the Twelve Days of Christmas x the Holy Trinity.) Bill's photos once again remind us what a remarkable and wondrous evening that was. Thanks, Bill . . . and thanks to all who registered on the reunion website, and to those who were able to attend at least some of the reunion events. Here's hoping that joy and mirth abound during your holiday season.
Just a note to remind you that the Class of 1968 50th Reunion was not sponsored through St. Robert's, and we did not provide them with your contact information. At the same time, both St. Robert's and the Sinsinawa Dominican Sisters have been incredibly generous in helping us organize this event--from opening up the school for a tour and having Fr. Gurath co-celebrate Mass, to providing us with a mother lode of archival information from the mother house--and so we would encourage anyone to donate to the school and/or Sinsinawa on your own: www.strobert.weshareonline.org/ and https://www.sinsinawa.org/donate/donate.cfm.
First time on the reunion site? Click the Classmate Profiles link, click your name in the list, then follow the prompts to create your profile. You'll need to supply at least an email address and password. You can add as much, or as little, information to your profile as you wish. You may also want to read the First Time Visitors link for greater detail. Here's to a grand 50th reunion!