In Memory
Jennifer Riggins (Bradford)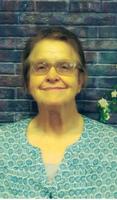 Jennifer Riggins Bradford, 70, of Chattanooga, passed away Saturday, June 13, 2020. She was a faithful member of Tyner Church of Christ. She was a 1970 graduate of Soddy-Daisy High School.
She was predeceased by her husband, Robert Charlie Bradford; parents, Elias Franklin Riggins & Rena Mae Riggins and brother, Jeff Riggins.
She is survived by her son, Robert Bradford and one niece and one nephew.