St Marys 1971 announcements
Upcoming class activities
Please mark your calendar. Watch for email updates sometimes changes are necessary!
Dragons living away from STL; please let us know date(s) you plan to be in town.
Every effort will be made to hold a gathering while you are here.
Unless specifically requested, RSVPs are not needed.
All events are open to friends and family who are always encouraged to join us!
_____________________
St Mary's Dragons are still playing football
11-19-21 vs Park Hills
Game time and details will be posted here
A victory in this game could result in a home game the following week
Central vs St. Mary's | Varsity Football Quarterfinals
Rebels vs Dragons
Watch Live Game : https://bit.ly/3oCHE9N
The St. Mary's (St. Louis, MO) varsity football team has a neutral playoff game vs. Central (Park Hills, MO)
7:00pm Friday, November 19
2021 Missouri High School Football Quarterfinals Playoff Brackets
MSHSAA - Class 3" tournament. — at Central High.
___________________
A friend of '71 passed away;
Alex Failoni Jr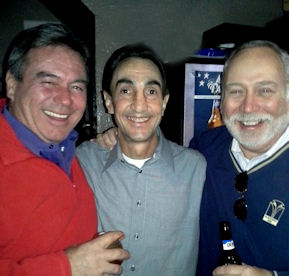 Phil Miceli, Alex Failoni and Mick Rea
____________________
Classmates can obtain a 50-year reunion
commemorative cup (or two)
by contacting
Daniel Armbruster
___________________________________
St Marys Alumni Association
Christmas Party


7:30pm Thursday December 2, 2021
Bocce Court / Breezeway / Courtyard
Food & Beverages PROVIDED
____________
6:30pm Thursday December 23, 2021
Class of '71 Christmas party at The Mack
4615 Macklind Ave
______________________
St Marys Alumni Association Meeting
7:30pm Thursday February 17, 2022
Bocce Court / Breezeway / Courtyard
Food & Beverages PROVIDED
St Marys Alumni Association Meeting
7:30pm Thursday April 21, 2021
Bocce Court / Breezeway / Courtyard
Food & Beverages PROVIDED
_____________________
Please join the Alumni Association by
clicking the link below. It's only $25
All us would love see Class of '71 has the most members of any graduating class!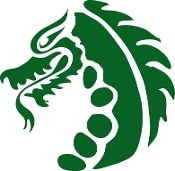 Click the dragon to go to the Alumni Association's website to join up for only $25
St Mary's has a goal of a minimum of 500 annual members.
We are currently at 343
-Past Events-
We intended to have a reunion
photo show but it didn't come together as expected.
To see photos of past reunions, yearbook screen shots and
'71 dragon gatherings
click here
_________________________
Failoni's 10-14-2021
______________
50-year reunion dinner party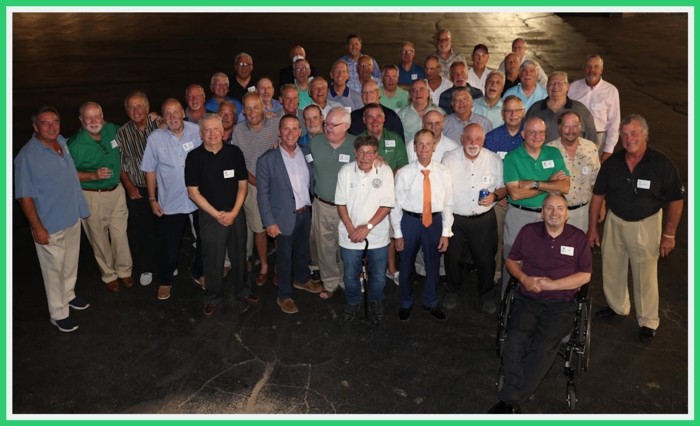 Marty's wife Denise took the class photo!
The reunion was a blast! To see the party photos, click here
Kudos to Biggie's Restaurant for jumping in the the last minute
to provide a wonderful reunion banquet
_______________________________
50-year reunion golf at quirky, beautiful, challenging
Frank Flesch, Tom Bruggeman, Ron Donze, Mick Rea, Ron Donze, Mike Paneri, Joe Rekart, Bob Simokaitis
Rich Rutledge, Jerry Frick, Ed Greaving, Pat Wheatley, Carl Collignon, Phil Miceli, Steve Buchheit, John Heet
_____________________________
50-year reunion football game
Pictured above Tom Christoffel, Joe Rekart, Gus Buttice, John Pipitone, Larry Held
To see all photos from the Friday night event
click here
_________________________
Reunion meeting at the SM Alumni meeting
August 19, 2021

Class of '71 was recognized for having the most attendees at the SMAA meeting
Ed Greaving, Rich Rutledge, Daniel Armbruster, Jerry Frick, Frank Flesch, Mick Rea,
Bob Simokaitis, Larry Held, Bill Krenn, Rick LaGrotta, Dan Peterson
Class of '71 chipped in to purchase a hole sign for the upcoming
SMAA Bill Schicker Memorial Golf Tournament
________________________
Mick Rea was honored at the
2021 Promise Homes, Rainbow Village
Somewhere Over the Rainbow
Gala fund raiser banquet
Kevin Thorpe, Rick LaGrotta, Leo Haas, Phil Miceli, Mick Rea and Scott Puettmann
________________________
50-year reunion meeting
6:30pm Wednesday May 19
DocHaus
Photo take by Dan Terry's sister Pat,
Pictured are Rea, Humphrey, Held, Flesch, Buchheit, Norris, LaGrotta, Armbruster
Discussed results of the snail-mailing and financial report,
Next meeting, we'll divide up the list of classmates for phone calls.
Friday 9-10, we'll need help (and loaned coolers) to go to Costco to haul ice and beverages for the football game,
Saturday 9-11 help needed to set up tables and decorate for the dinner party.
__________
Wednesday March 31 reunion planning meeting
At Rich and Charlie's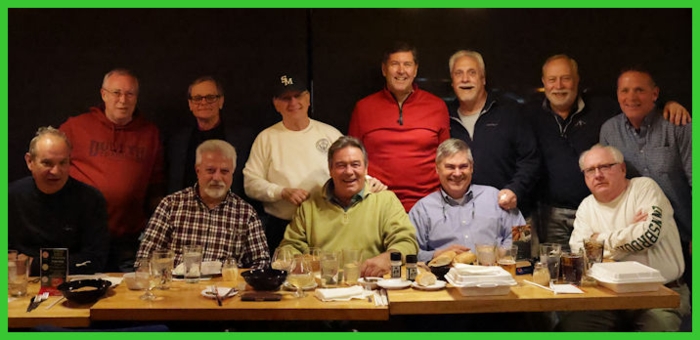 Steve Buchheit, Steve Walsh Daniel Armbruster, Larry Thaier, Frank Flesch, Phil Miceli,
Jerry Frick, Kevin Humphrey, Pat Wheatley, Mick Rea, Rich Rutledge, Rick LaGrotta
_________________
SM Alumni Christmas Party
At the party Larry Held shared chilled brandy from his recent trip to the Czech Republic
Hope to see more from class of '71 at the class Christmas party
__________________________
7:00PM Thursday July 11, 2019
Surprise Dragons; John and Earl Carroll
___________________________
May 16th at The Mack
We had 15-Dragons including suprise dragon;
Steve Mistretta and his daughter Catherine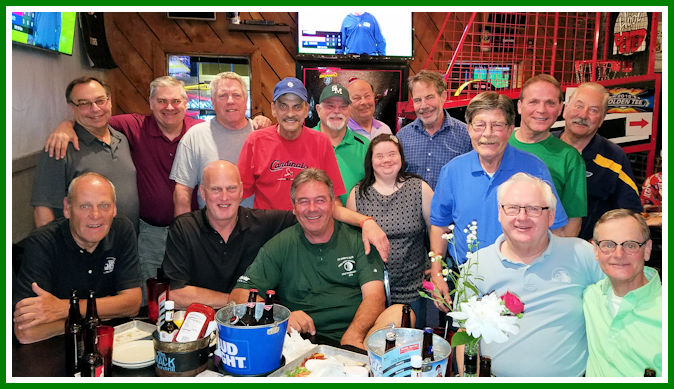 From the left; Bob Simokaitis, Mark Durham, Kevin Humphrey, Jack Favre, Larry Held, Mike Dauphin, Phil Miceli, Joe Rekart, John Pipitione,
Katherine Mistretta, Steve Mistretta, Dan Petersen, Rich Rutledge, Rick LaGrotta, Marty Erickson, Daniel Armbruster
_________________________
DeGreeff Family also well represented
________________________
The school and its president are working wonders to maintain and grow St Mary's academic and athletic traditions
while slowly updating buildings, grounds and technology needed to be competitive in today's education market.
Choosing an educational path, young men and their families have some pretty good choices.
St Mary's is still in the running offering a great education at a reasonable price.
The school's aim moving forward is to have and even stronger positive influence on the south side;
educating and guiding its young men while helping to stabilize the neighborhood
setting a high example and by welcoming all to make use of its state of the art athletic facilities.
The term Renaissance was chosen because of the program's objective;
a rebirth of St Mary's and of the South Side
St Mary's Alumni is one of the school's biggest strengths.
18% of St. Mary's Alumni contribute annually to the school.
Compared to 5-6% for alumni from other Catholic schools, we are far and away the best!
"St. Mary's" is a great answer to the St Louis question; "Where did you go to high school?"
You don't need a meeting or a special invitation to do what you know is right.
Please donate as you can to help the rebirth and to keep the tradition alive.
St Mary's High School
4701 South Grand
St Louis, MO 63111

_________________________
Our class website is always looking to add classmates.
Currently we have 117 active and 153 inactive!
Visit the classmate profile page to see which guys have
not joined the site then
ask our classmate to create a profile.
Guest members
(classmate friends and family members)
are welcome too!
Creating a "Classmate profile"...it's easy and it's free!
confirm your contact information and enter a password.
______________________________
Class of '71 Website Stats
Home Page Visitors:
100,928
(cumulative total visitors we've had since creating our class web site)
Percentage Of Active Classmates: 42.9%

| | | |
| --- | --- | --- |
| A: | 117 | Active |
| B: | 153 | Inactive |
Please encourage fellow classmates to create a profile on the website.
Go to "Classmate Profiles" click your name, insert email address then click send.
___________________________________________
See photos of past class reunions
courtesy of Mike Krull
This class website was created: 2/4/2011