St Marys 1971 announcements
Upcoming class activities
Please mark your calendar. Watch for email updates.
Dragons living away from STL; please let us know date(s) you plan to be in town.
Every effort will be made to hold a gathering while you are here.
Unless specifically requested, RSVPs are not needed.
All events are open to friends and family who are always encouraged to join us!
7:00PM October 7, 2022
Friday Nigh Home Game
St Mary's vs. DeSmet
Several classmates are going to cheer on the Dragons
__________________________
For the Taste of St Mary's Event help is needed
Saturday and Sunday 10-8 and 10-9
See below and contact Mark Rolfe if you can help!
rolfmc@hotmail.com
SM Alumni Assiciation needs volunteers to work different shifts before, during and after the event.
Many are planning to attend, a few people who are normally in the mix are out of town, or cannot physically make it.
Please spread the word among alumni association classmates as well.
We will need help with the following:

Saturday, Oct 8th - Set up from 10am-12pm.
We need help with setting up tables, chairs, tablecloths, signage,
and setting up the bar area, and other general things.
Sunday, Oct 9th - 12-5
We need help with tickets/check in area, runners for vendors,
50/50 sales, bar area, vendor check in (working the gate).
We need help breaking down the tables and chairs and clean-up after the event.
If anyone can work an hour or two shift, or the whole time,
let me know, and please pass the word.
rolfmc@hotmail.com
__________________
The bookstore will be open during this event!
2022 Taste of St Mary's
Sunday October 9, 2022
1:00-4:00 pm
Taste of St Mary's returns!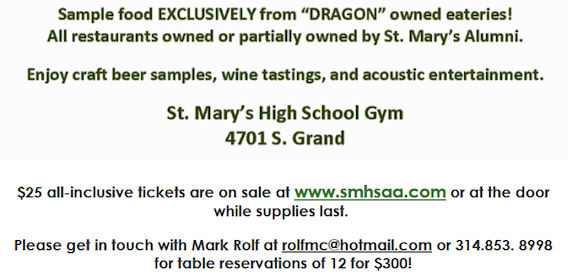 __________________________
7:30pm Thursday October 20, 2022
SM Alumni Association meeting in the cafeteria
Food and beverage provided
All dragons are welcome
__________________
7:30pm Thursday December 8, 2022
SM Alumni Association Christmas party
in the cafeteria



Food and beverage provided
All dragons are welcome
__________________
7:30pm Thursday February 16, 2023
SM Alumni Association meeting in the cafeteria
Food and beverage provided
All dragons are welcome
__________________
7:30pm Thursday April 20, 2023
SM Alumni Association meeting in the cafeteria
Food and beverage provided
All dragons are welcome
__________________
For the past 18-years St Mary's Alumni Association has held
the Buddy Bass Tournament at Lake of the Ozarks' Red Oak Lodge.
This year the tournament was renamed in honor of the late Tom Rolf SM '58
Click Here to see event chariman Mike Lowe SM '73's announcement
______________________
Please join the Alumni Association by
clicking the link below. It's only $25
Please help Class of '71 become the largest number of Alumni members
of all graduating classes!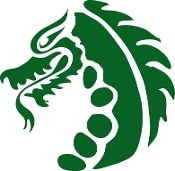 Click the dragon to go to the Alumni Association's website to join up for only $25
St Mary's has a goal of a minimum of 500 annual members.
We are currently at 343
Prayers for Scott and Kasha Puettmann as they
return to their home in Bonita Springs, FL
Above is a recent enactment of their graduation photo;
Mick Rea, Leo Haas, Kevin Thorpe and Scott Puettmann
_______________

September 29 at Daniel Armbuster's Home
15 Dragons were present including surprise dragon; Pat Lampe
To see all the photos click here
____________________
September 15th at Original Crusoe's

Bob Simokaitis wecomed his brother Bill as our surprise dragon
____________________________________
August 25th at LaCatrina
The food and company were good, the parking
along Hampton was a bit tight.
___________________
August 11, 2022
There were 18-dragons at Daniel Armbuster's house

A great time was had by all.
Especially Joe Rekart!
_________________
July28, 2022 after Grizzlies' game was cancelled
A few Dragons met at Crossroads Bar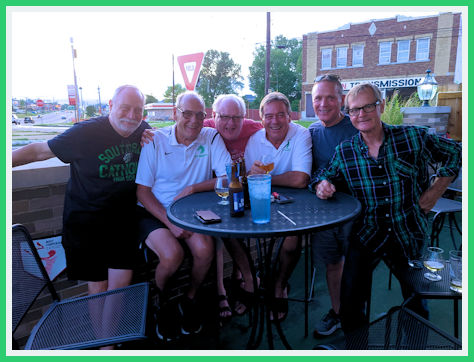 _______________________
July 21, 2022 at Failoni's
Bob Simokaitis, Bob's old NJ neighbor, Paul, Daniel Armbruster, Rick LaGrotta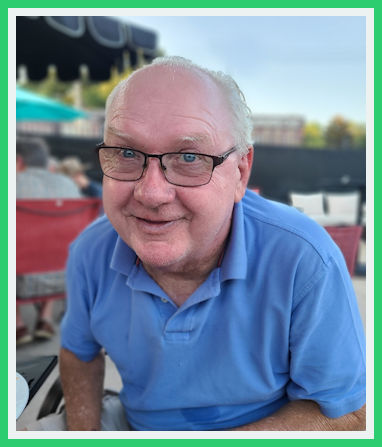 Before he left Failoni's Rick Rutledge posed for a new profile pic!
___________________________
July 12, 2022 with SM '70 at Blarneystone
_______________
June 16, 2022

Daniel's birthday party at McGurk's
_________________
June 7, 2022

SM '71 joined SM '70 at Blarneystone
What a great event!
________________
At Biggie's Jerry Frick shared a genius marketing campain used
to promote his family's hardware store on Morganford;
Painted Box Turtles as moving billboars to roam the yards of Holy Family Parish
_____________________
May 16th at The Mack
We had 15-Dragons including suprise dragon;
Steve Mistretta and his daughter Catherine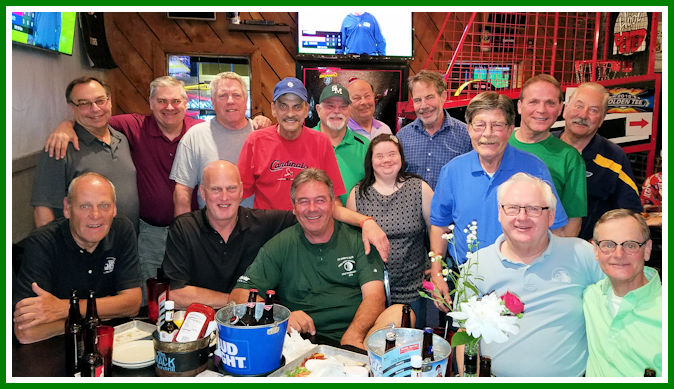 From the left; Bob Simokaitis, Mark Durham, Kevin Humphrey, Jack Favre, Larry Held, Mike Dauphin, Phil Miceli, Joe Rekart, John Pipitione,
Katherine Mistretta, Steve Mistretta, Dan Petersen, Rich Rutledge, Rick LaGrotta, Marty Erickson, Daniel Armbruster
_________________________
South side, our side!
St Mary's High School
4701 South Grand
St Louis, MO 63111

_________________________
Our class website is always looking to add classmates.
Currently we have 117 active and 153 inactive!
Visit the classmate profile page to see which guys have
not joined the site then
ask our classmate to create a profile.
Guest members
(classmate friends and family members)
are welcome too!
Creating a "Classmate profile"...it's easy and it's free!
confirm your contact information and enter a password.
______________________________
Class of '71 Website Stats
Home Page Visitors:
112,001
(cumulative total visitors we've had since creating our class web site)
Percentage Of Active Classmates: 42.9%

| | | |
| --- | --- | --- |
| A: | 117 | Active |
| B: | 153 | Inactive |
Please encourage fellow classmates to create a profile on the website.
Go to "Classmate Profiles" click your name, insert email address then click send.
___________________________________________
See photos of past class reunions
courtesy of Mike Krull
This class website was created: 2/4/2011