St Marys 1971 announcements

- 50-Year Reunion Reunion weekend details -
FRIDAY September 10
6:30pm SM home football– $10/person (beer, soda)
Enter through gym meet upstairs in Alumni Room.
Adult drinks must be kept inside, upstairs.

SATURDAY September 11
6:30pm Dinner Party at St Mary's Bocce Court – $100/person
Reunion party planned to be safely held outside the SM cafeteria.
Cafeteria is reserved in the event of bad weather.
Buffet dinner by Tornatore's catering, beer, wine, set-ups,
Entertainment by Mary Daly and Beno
Family and friends are invited!

SUNDAY September 12
11:00am Golf & Lunch- $65/golfer, Lunch only $20
Sugar Creek Golf Course, 5224 Country Club Drive, High Ridge, MO 63049

Make check to: Rick LaGrotta
Mail to by July 31, 2021 to:
Frank Flesch (reunion bookkeeper)
10678 Charrette Drive
St. Louis, MO 63123
(With check, please include a note to Frank stating which events you are participating)
example: 1-football game, 2-dinner party, 1 golf = $275
or print and mail in the
Class reunion registration form.

We hope to maximize classmate attendance, have a fun event and make a contribution to St Mary's.
If you are unable to attend and want to contribute, please make a check to St Mary's and mail it to Frank.
If you cannot afford the ticket price, please contact anyone on the committee.

Rick LaGrotta: 816-590-2246
Phil Miceli: 314-537-5219
Frank Flesch: 314-828-7800
Jack Favre: 314-440-4833
Kevin Humphrey: 636-464-4604
Jerry Frick: 636-458-4893
____________
50-year reunion meeting
6:30pm Wednesday May 19, 2021

At the DocHaus
Morganford at Holly Hills
Join us to help plan the reunion
The 5-19 meeting will have results of the mailing and financial report,
We'll also divide up the list of classmates for phone calls.
Friday 9-10, we'll need the help to purchase and haul
Ice and beverages for the football game,
Saturday 9-11 help needed to set up tables and decorate for the dinner party.
_____________
Announcements Page intro comments
Please mark your calendar. Watch for email updates in the event changes are necessary!
Dragons living away from STL; please let us know date(s) you plan to be in town.
Every effort will be made to hold a gathering while you are here.
Unless specifically requested, RSVPs are not needed.
All events are open to friends and family who are always encouraged to join us!
__________________
The announcement below celebrating Brother Doc Heyer's
80th anniversay of taking his vows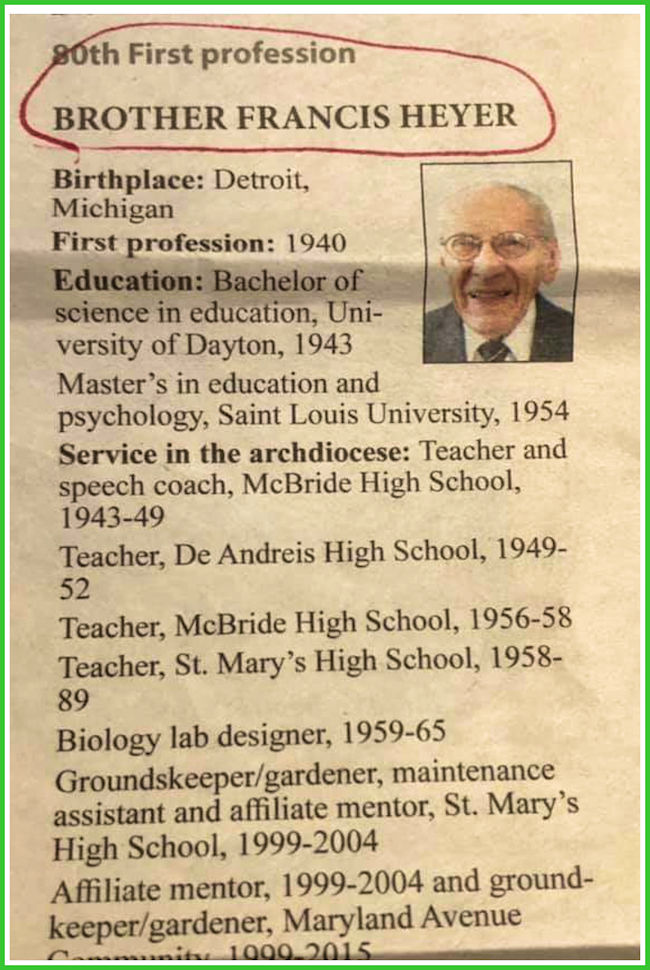 Congratulation Brother Francis!
Please join the Alumni Association by
clicking the link below. It's only $25 and
all us would love to
be able to say Class of '71 has the most members of any graduating class!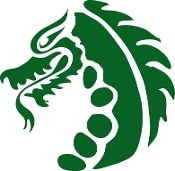 Click the dragon to go to the Alumni Association's website to join up for only $25
St Mary's has a goal of a minimum of 500 annual members.
We are currently at 343
-Past Events-
Wednesday March 31 reunion planning meeting
At Rich and Charlie's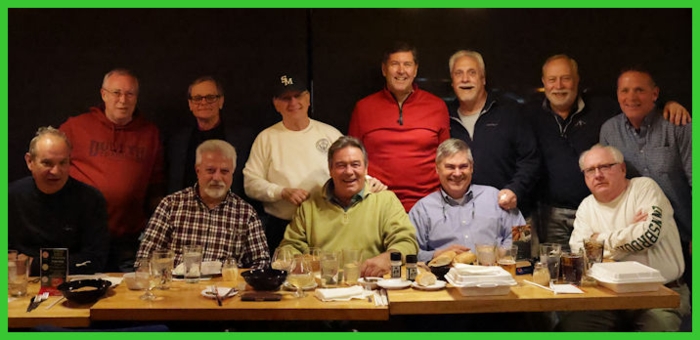 Steve Buchheit, Steve Walsh Daniel Armbruster, Larry Thaier, Frank Flesch, Phil Miceli,
Jerry Frick, Kevin Humphrey, Pat Wheatley, Mick Rea, Rich Rutledge, Rick LaGrotta
_________________
Wednesday Dec 30 at Failoni's
Mick Rea, Rich Rutledge, Steve Buchheit, Phil Miceli, Bob Simokaitis, Daniel Armbruster, Rick LaGrotta
Daniel brought a house warming gift for Bob's new home
_______________________
Thursday December 17 at The Mack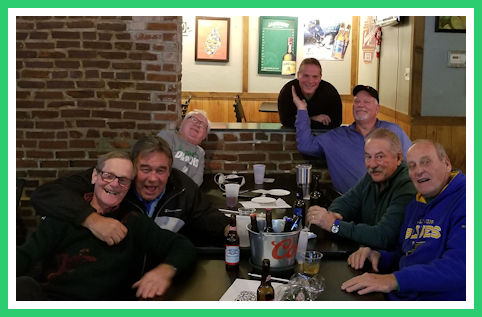 Thursday October 22 at Columbo's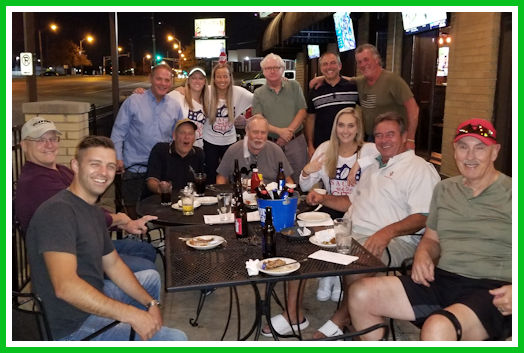 Fun group; Dave Pudlowski, Tony LaGrotta, Rick LaGrotta, Bob Simokaitis,
Mick Rea, Rich Rutledge, Greg Columbo, Tom Bruggeman, Phil Miceli, Doug Dickmann
___________________
Thursday October 1, 2020 at The Mack
Rich Rutledge, Rick LaGrotta, Bob Simokaitis, Amy Simokaitis (Bob's Cousin) Phil Miceli
Present but not pictured: Larry Held, Daniel Armbruster and Greg Fairchild '72
___________________________
7-30-2020 After finding Doc Haus closed
With a clean up truck in front five die-hard
dragons managed to gather outside at Failoni's
Rutledge, Miceli, LaGrotta, Armbruster and R Simokaitis
_____________________________

6-12-2020 Resumed get togethers outside Blarney Stone
Rick LaGrotta, Bob Simokaitis, Frank Flesch, Kevin Humphrey,
Daniel Armbruster, Tom Bruggeman, Joe Rekart, Marty Erikson,
Dave Tornatore, Larry Held, not pictured, Rich Rutledge
To see more photos
click here
____________________________
January 30 at DB Coopers both birthday boys Miceli and Thaier were present.
Phil Miceli, Bob Simokaitis, freindly patron, Jack Favre, Pat Wheatley, Greg Fairchild, Daniel Armbruster,
Rich Rutledge, Marty Erickson, Mark Durham, Mike Dauphin, Joe Rekart, Larry Thaier, Rick LaGrotta
__________
Dec 19 at The Mack
Pictured are Rutledge, Panneri, Armbruster, LaGrotta Held, Bruggeman, Dauphin, and Buchheit.
Not in the photo but at The Mack; Favre, Pipitone, Miceli, Rea and R Simokaitis
(Click the photo to see more pictures)
SM Alumni Christmas Party
At the party Larry Held shared chilled brandy from his recent trip to the Czech Republic
Hope to see more from class of '71 at the class Christmas party
7:00pm Thursday Dec 19 at The Mack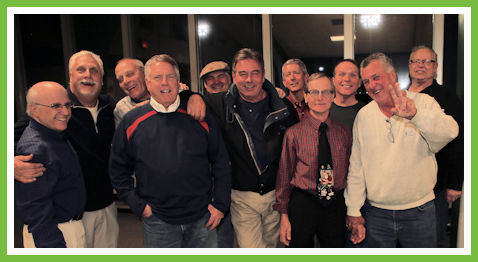 From '71 there were 11-dragons this year.
From left to right, Frank Flesch, Pat Wheatley, Bob Simokaitis, Larry Held, Kevin Humphrey,
Phil Miceli, Pat Ferguson, Dan Armbruster, Rick LaGrotta, Tom Bruggeman, Ed Degreef
Suprise dragon: Pat Ferguson was at the party with his brother Tom '74
To see more photos from the party click on the above photo
________________________
Tom Norris' brother's party
Carl Collignon, Rick LaGrotta, Tom Norris and Dave Tornatore
Not pictured John Brencick '72
__________________
11-30-2019 Dragon football quarter finals
With the final 15-14 Pirates, we didn't bring the Dragons good luck
At the game were Phil Miceli, Tom Bruggeman, Bob Simokaitis and Rick LaGrotta
Not pictured; Pat Ferguson and Greg Fairchild '72
October 13, 2009
Taste of SM another rousing success
Members of '71 present were
Kevin Humphrey, Larry Held, Dan Armbruster, Ed DeGreeff
and Suprise Dragon Mike Vetz
Pictured above new to Taste of SM for 2019
is Dave Tornatore's brother Steve '79 with two of his 5-sons; Rocco and Vince.
To see photos of the event
Click Here
_______________
July 25, 2009 Grizzlies Game
We missed east siders; Bill Fillman and Carl Collignon
but added another east side / Surprise Dragon; Rick Schlichtig
Ed Greaving, Frank Flesch, Dan Armbruster, Rick LaGrotta, Rich Rutledge, Bob Simokaitis,
John Pipitone, Phil Miceli, Steve Buchheit, and Surprise Dragon Rick Schlichtig
___________________________
7:00PM Thursday July 11, 2019
We had two suprise dragons
Left to right: Greg Fairchild '72, Surprise Dragon Earl Carroll, Rich Rutledge, Rick LaGrotta
Bob Simokaitis, and Surprise Dragon John Carroll
Surprise Dragons; John and Earl Carroll
___________________________
7:00PM Thursday June 20, 2019
at DocHaus we had a great turn our.
Unfortunately the group photo doesn't include birthday dragon; Daniel Armbruster
Pictured above are Steve Buchheit, Mike Dauphin, Larry Held, Rich Rutledge, John Pipitone, Mick Rea
Bob Simokaitis, Rick LaGrotta Frank Flesch, Phil Miceli
and surprise Dragon; Dan Rellegert
_________
At the June 9 Alumni Mass from '71
were Daniel Armbruster, Mike Panneri and
Alumni board member Larry Held
_____________
May 16th at The Mack
We had 15-Dragons including suprise dragon;
Steve Mistretta and his daughter Catherine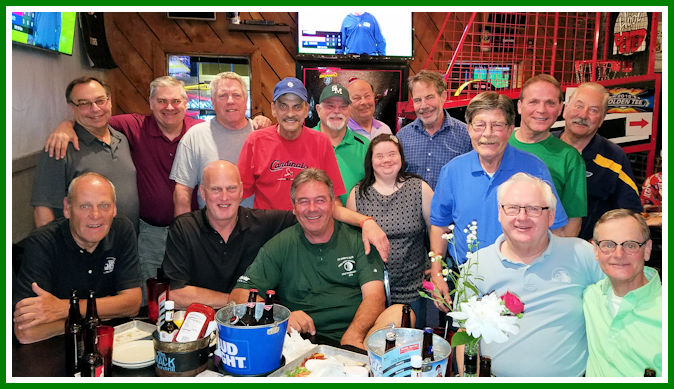 From the left; Bob Simokaitis, Mark Durham, Kevin Humphrey, Jack Favre, Larry Held, Mike Dauphin, Phil Miceli, Joe Rekart, John Pipitione,
Katherine Mistretta, Steve Mistretta, Dan Petersen, Rich Rutledge, Rick LaGrotta, Marty Erickson, Daniel Armbruster
_________________________
February 21 Alumni Meeting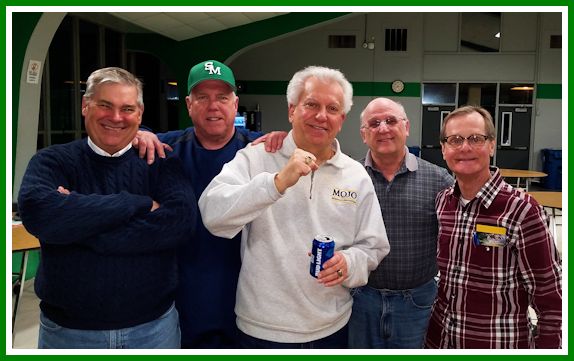 At the alumni meeting were Board members; Kevin Humphrey and Larry Held
DeGreeff Family also well represented
________________________
Mike Dauphin's son Michael was
appointed City of St Louis Assessor
Congratulations to the Dauphin family
for such a fine accomplishment
_________________________
The school and its president are working wonders to maintain and grow St Mary's academic and athletic traditions
while slowly updating buildings, grounds and technology needed to be competitive in today's education market.
Choosing an educational path, young men and their families have some pretty good choices.
St Mary's is still in the running offering a great education at a reasonable price.
The school's aim moving forward is to have and even stronger positive influence on the south side;
educating and guiding its young men while helping to stabilize the neighborhood
setting a high example and by welcoming all to make use of its state of the art athletic facilities.
The term Renaissance was chosen because of the program's objective;
a rebirth of St Mary's and of the South Side
St Mary's Alumni is one of the school's biggest strengths.
18% of St. Mary's Alumni contribute annually to the school.
Compared to 5-6% for alumni from other Catholic schools, we are far and away the best!
"St. Mary's" is a great answer to the St Louis question; "Where did you go to high school?"
You don't need a meeting or a special invitation to do what you know is right.
Please donate as you can to help the rebirth and to keep the tradition alive.
St Mary's High School
4701 South Grand
St Louis, MO 63111

_________________________
Our class website is always looking to add classmates.
Currently we have 117 active and 153 inactive!
Visit the classmate profile page to see which guys have
not joined the site then
ask our classmate to create a profile.
Guest members
(classmate friends and family members)
are welcome too!
Creating a "Classmate profile"...it's easy and it's free!
confirm your contact information and enter a password.
______________________________
Class of '71 Website Stats
Home Page Visitors:
95,333
(cumulative total visitors we've had since creating our class web site)
Percentage Of Active Classmates: 42.9%

| | | |
| --- | --- | --- |
| A: | 117 | Active |
| B: | 153 | Inactive |
Please encourage fellow classmates to create a profile on the website.
Go to "Classmate Profiles" click your name, insert email address then click send.
___________________________________________
See photos of past class reunions
courtesy of Mike Krull
This class website was created: 2/4/2011