Robert E. Lee High School - Tyler, TX
Class Of 1970
In Memory
Lethe Stamps (McCrea)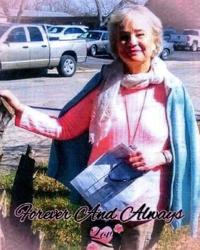 Alethia Francine McCrea
TYLER — Alethia "Lethe" Francine Stamps McCrea passed away on Thursday, Feb 11th, 2021. She spent her final hours surrounded by loved ones and smiling. Lethe was born on Oct 15, 1951 to William "Billy Frank" & Betty Stamps in Tyler, TX. She attended Lee (Tyler) Highschool & Tyler Junior College prior to a 34 year career in the Seattle & Tyler Hospital systems until her retirement in 2005. Her greatest strength, joy and love were the family and children she surrounded herself with. She had a way with children and they all loved being around her.
She married Dec 31,1973 in Seattle, WA to her loving husband of over 47 years Gary S McCrea.
She is survived by her adoring husband Gary, 3 Children (Krisha McCrea Brown, Jennifer McCrea Glass & Ryan McCrea), 2 Son-in-Laws (Colin & Robert) and 4 grandchildren (Logan, Nathaniel, Asher & Caden) who were her greatest treasures & pride, 7 siblings (Rivvie Smith, Annie Redfearn, Madeline Adams, Billy Gail Dukes, David Stamps, Linda Garrett and Craig Stamps). She also leaves behind many beloved nieces, great nieces, nephews and great nephews.
In lieu of flowers, donations may be made to "The Children's Medical Center Foundation" at give.childrens.com or the "Hospice Foundation of America" at donate.givedirect.org. Private family services will be held at a later date.
"Until we meet again, we think about you always, we talk about you still, you have never been forgotten, and you never will. We hold you close within our hearts, and there you will remain, to walk and guide us through our lives until we meet again."