Date of passing verified by Randy Willis for Jose Luis Cavazos - Sept 9, 2007 - Last Address - Texas.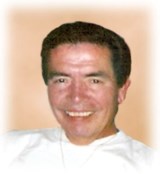 Jose "Joe" Luis Cavazos, Sr., 55 of Waco passed away Sunday, Sept. 9, 2007 at a local nursing center. Mass of Christian Burial will be 10 a.m., Wednesday, September 12 at St. Francis Catholic Church with the Rev. Roman Burgos as celebrant. Burial will follow in Oakwood Cemetery. Rosary will be recited at 7 p.m., Tuesday, Sept. 11, at the funeral home.
Jose Luis was born the son of Betty Rodriguez and Marcilio Sanchez Cavazos, Sr. on September 2, 1952 in Harlingen, Texas. Joe served in the U. S. Army for five years, doing two tours in Germany. He was a member of Waco Missions for several years and worked for Aafes Army Exchange for almost 17 years. Joe enjoyed playing Bingo and cooking for his family.
Preceding Joe in death were his father, Marcilio Cavazos, Sr.; infant sister, Betty Jean Cavazos; nephew, David Mata, Sr.; and aunt, Mary Lou Leos.
Those left behind to cherish his memory are wife, Virginia Cavazos of Waco; son, Joe Luis Cavazos, Jr. and wife, Becky of San Antonio; daughter, Christine Cavazos of San Antonio; granddaughter, Jessi Cavazos of San Antonio; mother, Betty R. Erebia of Waco; brothers, Marcilio Cavazos, Jr., Guadalupe Cavazos, Sr. and Joe Erebia all of Waco; sisters, Mary Ellen Guardiola, Sandra Arias, Sylvia C. Navarro and Anita Medina, all of Waco; special friend, Robin Lindsey of Waco; and a host of nieces, nephews and cousins.
Pallbearers will be Mark Cavazos, Fred Guardiola, Richard Guardiola, John Hurtado, Steven Lindsey and David Mata, Jr.