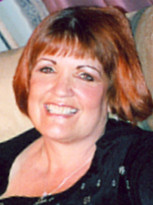 Carol passed away January 25, 2005.
You can leave your own memories of Carol by using the 'Post Comment' button at the bottom of this page, or use the 'Contact Us' message in the menu on the left hand side of this page.
From Carol's brother Gerald (class of '72):
Carol's love for birds and animals was evidenced in her years of work at the Central Texas Zoo and the care that she gave to countless strays and other pets she adopted.
She was a talented artist, with the paper Mache Mermaid used in the '71' Prom being one of her earliest and proudest creations.
She created a tapestry of beautiful art on pieces of furniture that are now daily reminders to her family of that talent.
That ability was also obvious in her love of scrapbooking.
In Carol's upbeat times, she could also be a very funny person to be around.
Carol suffered mental struggles in the last years of her life which she did not seek help for, even when offered and encouraged by family and friends. Reading her diaries after her death, we came to understand she struggled with thoughts of suicide as far back as high school. Without an official diagnosis, we have wondered if she suffered from a Bi Polar condition.
Her Daughter London has followed her in death and her son Aaron, a talented musician, is in Chicago. Our family wants to acknowledge and thank those who tried to befriend her, but most appreciatively, those who throughout her life treated her with unconditional friendship.