You can leave your own memories of Alan by using the 'Post Comment' button at the bottom of this page.
From Randy Willis:
Once, when I was at UT in the late seventies, I was driving up from Austin to Waco and heard a Georgetown radio dj named Alan McCutcheon, and he sounded just like the Alan McCutcheon I remember from North Waco Elementary. So odd, that I would recognize that voice after a couple decades.
I remember Bob McGregor and I visiting him at his house in elementary school. And I think he lived close to Kathy Sledge. But I didn't know what happend to Alan after elementary school.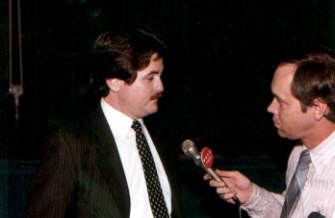 I did an image search and this 1986 picture sure looks like him.
He's interviewing Vic Feazell, who was McLennan County District Attorney at one point.
So it looks like Alan ended up in broadcast journalism.
Bob McGregor remembers him as a broadcaster for WACO radio, 1460 AM.
Thom Clark found Alan in the Waco Public Schools Alumni directory, which listed James Alan McCutcheon, Richfield HS Class of 1971 as deceased.
The first/middle name was the key in discovering the following:
Texas, James A McCutcheon, born 12 Nov 1952, died 19 Aug 1994