Cardinal Newman High School

Class Of 1970
In Memory
Carol Finneran (Stratton)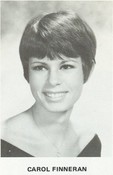 Carol died in West Palm Beach in 2008 following a courageous battle against cancer. She is survived by her husband, Beau, and her sister, Judy in addition to other family members.
"My life's been full, I savored much. Good friends, good times, a loved one's touch."
Rest in peace, Carol.