In Memory
Robert R. Myers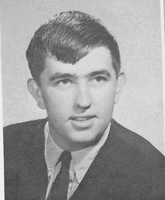 Robert "Bob" "Bullet" Myers, 62, died Tuesday, April 3, 2012, with his family by his side.
Graveside services will be Monday at 2:30 p.m. in Ohio Western Reserve National Cemetery, Rittman, where military rites will be held. A caravan will leave Roberts Funeral Home at 2 p.m.
A celebration of life will be held April 14 at 4 p.m. at the Wooster American Legion Post 68. Online tributes may be made at www.RobertsFuneralHome.com.
Memorial contributions may be made to Roberts Funeral Home, P.O. Box 761 Wooster, to help defray funeral expenses.
Robert was born Oct. 20, 1949 in Ashland, to Donald and Della Mae (Amstutz) Myers, and graduated from Wooster High School in 1967. He served in the U.S. Marine Corps, and was a truck driver for 25 years. Bullet was an avid Harley Davidson rider.
He will be deeply missed by sisters, Deb "Sis" (Ron) McCullough, Barb Munday, Toni Schrock, Shirly Young, Peggy Towner, Barbara Yutzy, Jeanne Hostetler and Beverly Myers; brothers, Jim (Kelly) McKinley, Edward Amstutz, David, Donald and Johnny Myers; a daughter, Amber (Rob) House of Lakeville; grandchildren, Austin and Dustin; his stepmother, Mabel Myers; special nieces and a nephew, Tammy (Albert) Baker, Heidi (John) Schaad, Krystle McCullough (Ken Breneman), Ronny McCullough, and their children, Savanah, Sierah, and Rylee; and numerous nieces and nephews.
He was preceded in death by his mother, Della Mae; his stepfather, Clair Amstutz and his father, Donald E. Myers Sr.