Welcome to the
Crestwood High School Alumni Association Website
Dearborn Heights, Michigan
Class Of 1966 thru 2020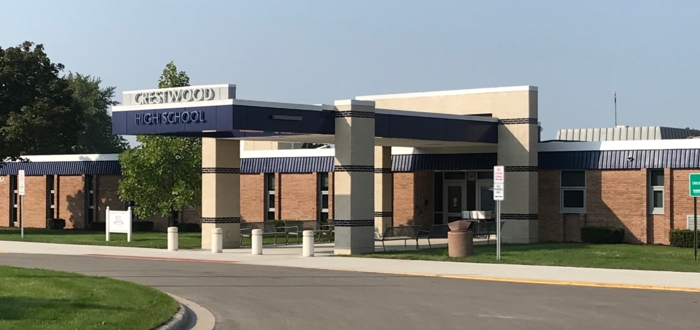 New to Our Website? Click on Classmate Profiles, find your Class Year, and then find your name. Follow the on-screen directions to create your profile. It's quick, secure, easy, and free to do. Click on the Contact Us button with any questions. Enjoy the website!
---
Effective April 12, 2021, the Crestwood High School and the Crestwood High School Alumni Association websites will join together to become one new website under the name Crestwood High School Alumni Association (CHSAA)

We will continue to do our very best to provide a pleasant and functional website for all alumni. Thanks so much for your participation and please share the site with all of your CHS alumni friends.
OUR CRESTWOOD HIGH SCHOOL ALUMNI ASSOCIATION WEBSITE ADDRESS IS...
www.crestwoodalumni.org OR www.crestwoodstock.com
ANNOUNCEMENTS

Class of 1971 Reunion GOLF OUTING - JULY 30, 2021
On Friday, July 30th, we will be holding a golf outing at the Inn at St. John's in Plymouth.
All alumni are welcome to join the Class of '71 at this event.
Tee times start at 10 a.m. $35 for seniors, $56 for those under 55 years of age.
The deadline to register July 1st.
Contact Bill Beadle, on FB at William Beadle or bilniceguy@hotmail.com to register.
CLASS REUNION - JULY 31, 2021
http://crestwoodclassof71.com (click link to register)
ALL THE DETAILS!!!
CRESTWOOD CLASS OF 71 ALUMNI:

Please visit the "In Memory" page. Add any personal stories about our classmates and teachers who have passed away. Listed on the right menu bar on the Home Page (In Memory Updates) are classmates recently added to the "In Memory" page of the website.
| | | |
| --- | --- | --- |
| Class of 1975 | Richard Johnson | Deceased 2015 |
| Class of 1979 | Mark Gallup | Deceased 2012 |
| Class of 1971 | Dawn Stark Kuhn | Deceased 2001 |
| Class of 2011 | John Hess | Deceased 2021 |
| Class of 1973 | Wendy Johnson Andress | Deceased 2021 |
| Class of 1969 | Joann Lombardo Campau | Deceased 2021 |
| Class of 1981 | Bob Lombardo | Deceased 2021 |
| Class of 1977 | David Placey | Deceased 2021 |
| Class of 1966 | Peggy Ruttman Byberg | Deceased 2021 |
| Class of 1974 | Leonard Scherbaty | Deceased 2021 |

2020 Glenn Owen Helka Scholarship Award Winner, via Zoom.
Glenn Owen Helka Memorial Scholarship Application Criteria:
QUALIFICATIONS: 3.0 GPA; Proof of post-secondary academic plans (acceptance letter)
REQUIREMENTS:
1. Cover letter with your name and valid summer contact information. Please include a non-CHS email address. 2. Copy of high school transcript. 3. A list of activities that you have participated in throughout high school. Please include any community service. 4. Two faculty recommendations. 5. 500-word essay on what they have done to help others and how that has inspired them for their future.
The CHSAA's prime directive, currently, is this scholarship, to honor Glenn Owen Helka and all military alumni from our school. Words cannot express how grateful we are for their service and sacrifice. To honor Glenn and all of our military alumni, please consider supporting our efforts to keep this scholarship alive and well. We love our kids, believe in our purpose, and hope you can support us. THANK YOU SO MUCH.
Glenn Owen Helka (1950-1968) PFC, US Marine Corps, attended Crestwood High School until 1968 when he enlisted in the Marine Corps. He was killed in action while serving his country in Vietnam. He is remembered for his bravery and character in the face of adversity. He would have graduated with the class of 1969.
The graphic above will link you to a payment portal at PayPal. You do NOT have to have an account to donate. If you'd like to donate by check or CC over the phone, please call Mary Averill, CHSAA President, at 216.401.0850. Thank you!

This Crestwood High School Alumni Association Website is intended for reconnecting with old friends and making new ones as well. We welcome and encourage the sharing of memories and stories from all Crestwood Alumni, as well as the latest updates in your lives. Please use discretion when creating your profile and posting messages. Personal attacks, political and religious messages, as well as abusive profiles and posts will be edited and/or removed.