Butler Area Senior High School

Class Of 1966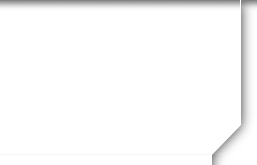 Not a member?
JOIN HERE
Find and click on your name.

WHO'S ONLINE NOW
No registered users are online right now.
UPCOMING BIRTHDAYS
Show More
JOINED CLASSMATES
Percentage of Joined Classmates: 57.3%


| | | |
| --- | --- | --- |
| A: | 439 | Joined |
| B: | 327 | Not Joined |
WHERE WE LIVE
Who lives where - select from the dropdown to find out.



Show Classmates on map
MISSING CLASSMATES
Know the email address of a missing Classmate? Click here to contact them!
ANNOUNCEMENTS
Scroll to the Bottom of Each Page
That Way You Won't Miss Anything
We're

Our class monthly get together is set
for the Lyndora American Legion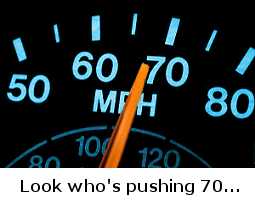 Our 70th Birthday Party
Date:

Saturday, September 1, 2018
10 Austin Avenue, Lyndora, PA
(Right off Hansen Avenue & Fairground Hill Road)
| | |
| --- | --- |
| | For your security we are requesting anyone wishing to join our website be understanding that we have added a verifying step before they can view our password protected pages. We hope all will be understanding for the extra step. It's just one more level in our security to protect any information about you that you have made available. |
This site has been created and is managed at zero cost to you. It exist to promote, celebrate, and reconnect with all members of our cla
ss
Once you join you'll find announcements with up to date reunion and/or other activities being planned, plenty of memories from our high school days, and a great way to see what's become of everyone and reconnect with old friends
A special birrthday wish to all our Leap Year Classmates
March Observed Holidays & Fun & Wacky Days,

March MOONS
Double Full Moons for March 2018
After a rare February with no Full Moon, March 2018 gets Two! The first on March 1st in the USA and March 2nd in Europe is commonly known as the Full Worm Moon by early American Indians for the time of year when the frozen earth begins to thaw bringing Earth Worms to the surface. The Second Full Moon falling on March 31. This is not a common event and is refered to as a Blue Moon.
March 1st, Thursday - Full Moon
March 9th, Friday - Last Quarter
March 17th, Saturday - New Moon
March 24th, Saturday - First Quarter
March 31st, Saturday - Full Moon
The March birth flowers are the daffodil and the jonquil.
The Daffodil
The daffodil stands for unequaled love, so giving this flower to someone expresses quite a lot. With their bright yellow petals, daffodils seem the perfect way to say that the sun is always shining whenever your significant other is around.
The Jonquil
The other March flower is the jonquil, which actually is a particular kind of daffodil. It signifies a desire that affection be returned. It also is used to convey sympathy.
The March Birthstone,
aquamarine, was thought to cure heart, liver, and stomach diseases—all one had to do was drink the water in which the gem had been soaking. Early sailors believed that aquamarine talismans, etched with the likeness of the sea god Neptune, protected them against ocean dangers.
Pisces February 19th - March 20th
Strengths: Compassionate, artistic, intuitive, gentle, wise, musical
Weaknesses: Fearful, overly trusting, sad, desire to escape reality, can be a victim or a martyr
Capricorn likes: Being alone, sleeping, music, romance, visual media, swimming, spiritual themes
Capricorn dislikes: Know-it-all, being criticized, the past coming back to haunt, cruelty of any kind
Aries March 21st - April 19th
Strengths: Courageous, determined, confident, enthusiastic, optimistic, honest, passionate
Weaknesses:
Impatient, moody, short-tempered, impulsive, aggressive
Aries likes:
Comfortable clothes, taking on leadership roles, physical challenges, individual sports
Aries dislikes: Inactivity, delays, work that does not use one's talents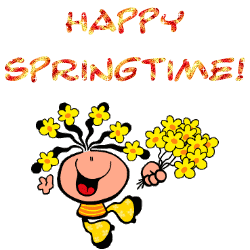 Everyone that has registered needs to make sure that you can receive email from our website -
you have your

spam filter set high you need to add to the "safe list" or "safe sender's list" in your email program the email address noreply@classcreator.net
Tour different parts of America from the air in 5 minutes and 44 seconds...
I doubt you have ever seen anything like this one!
Left Double Click Your Mouse on this
https://www.youtube.com/watch_popup?v=KcuDdPo0WZk
Tom: What do you get when you cross
a four-leaf clover with poison ivy?
Tom: A rash of good luck on St. Patrick's Day.
A man from Dublin moves to County Cork. His first night there he patronizes the local pub, and orders three pints at the same time.

The bartender is curious, but doesn't say anything. He serves the man his three pints. The new customer sits quietly and drinks all three beers.

The next night and the next, the same thing happens. Each night the man orders three pints all at once, and sits quietly drinking. Since nobody knows him, he becomes known to the locals as "The Three Pint Man."

After a week, the bartender's curiosity gets the best of him. He asks the man why he always orders three pints at once.

The friendly customer explains, "My two brothers have moved away. One to Canada and one to New Zealand. We all miss each other, so we agreed to always order three pints as a way of remembering each other every day."

Word spreads. The locals respect and admire this quaint family ritual. Eventually "Three Pint Man" becomes a minor celebrity.

Then the day after St. Patricks Day he comes into the pub as usual, but only orders two pints. The bartender and the locals are shocked. They realize one of the brothers has met with an untimely end, and they respectfully let "Three Pint Man" drink in peace.

After a week, the bartender decides to offer his condolences. "I'm sorry about the loss of your brother," says the barkeep. "Which one was it? The Canadian or the Kiwi?"

"What?" says Three Pint Man. "Oh no, nobody's died, nothing like that. My brothers are both fine. It's just that I overdid it a bit on St. Pats, so I decided to give up drinking for the rest of Lent."

Over breakfast one morning, a woman said to her husband, 'I bet you don't know what day this is?'
'Of course I do,' he answered indignantly, as he slammed the door, and drove to his office.
At 11 o'clock, the doorbell rang. The wife answered, and there at her front door was a UPS driver, in his had was a box containing 12 red roses.
Later, at 2 pm there was another knock at the door, this time it was a deluxe box of Belgian chocolates.
Eventually the husband came home, tired after a hard day's work. His wife greeted him by saying: 'First the flowers, then the chocolates, I've never had a more wonderful Groundhog Day in my life!'


The girls above are the older version of the younger ones below.
But we still have the pride.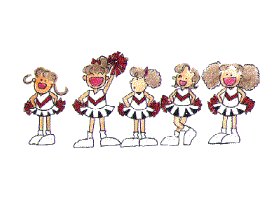 Please come back and visit-update your profile and stay in contact with each other. That's the reasonn for the website.
You
r website administrator

,

PRIVACY NOTICE:
All contact information (address, phone number, email address_ entered into this websidte will be kept confidential. It will not be shared or distributed. Your contact information is private: your street address, email address, and phone number cannot be seen by the classmates unless you grant permission on your Profile. When someone clicks on your name, the only contact information they will see is your city and state and whatever information about yourself you choose to put on your Profile. Unless you expilicity grant your permission, your email address is not visible, although an email can be sent to you using the contact box at the bottom of your Profile page. Note, however, if you send a message to someone through their Profile page, the classmate will see your email address so they can respond.
MEMBERSHIP DISCLAIMER:
This is a private site for Butler Class of 1966 Graduates. Classmates that did not graduate with the class, or that graduated from other years may be admitted on a case by case basis. Membership, regardless of graduating year, will be granted or denied, at the discretion of the committee. If not a graduate from the Class of 1966, a referral from a classmate or from a committee member is the deciding factor. Membership may be revoked at the discretion of the committee. The privacy and security of all registered will be consider a priority for the purpose of invitations, admisttance, denials and revocations.

If you are a member of this website, please make sure when you leave the site to Log Out found under the MEMBER FUNCTIONS. This will prevent anyone doing a Google search of your name to find any results from this website.