Deerfield Academy


Class Of 1965
Welcome to the Deerfield Academy Class of 1965 website. This is an easy way for all of us to stay connected. Our 50th reunion has now come and gone and we have now joined the "Grand Classes"! We had a great time back on campus and proud to say that we "finished up strong" while having lots of fun along the way!
Please enter your own personal information/photos as you see fit. You may add or delete info if/when you wish. Have fun checking up on your classmates and clicking the options in the toolbar to the left. Let's make this work for all of us!
R.I.P Michael J. Burns
http://www.legacy.com/obituaries/adn/obituary.aspx?n=michael-j-burns&pid=175412995
BE WORTHY OF YOUR HERITAGE
Our Great Class of 1965
(copy & paste this link)
https://drive.google.com/file/d/0B1-MFTurxzJRSUtCaWxiTEs1bWc/view?usp=sharing
Veni, Vidi, Vinci at our 50th Reunion, June 2015
50th Reunion VIDEO
(copy & paste)
https://vimeo.com/132195709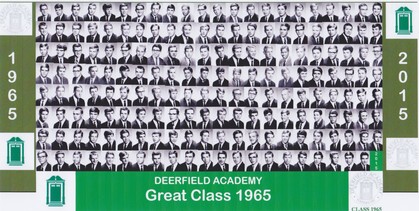 View Video Version of our 50th Reunion Yearbook
(Thanks to the efforts of Dave Beisler, Tim Byrne, & Jack Davis)
(copy & paste this link)
https://vimeo.com/130084714
"Sounds of Deerfield" AV Version: Thanks Bruce & Tony. PRICELESS 50 years later.
(copy & paste this link)
https://drive.google.com/file/d/0B1fU8YjDNwBdaC1USzk0ODN2eVE/
edit?usp=sharing

Video clip from Robert L Merriam memorial service, 09 06 14
https://drive.google.com/file/d/0B1fU8YjDNwBdNF96bXhyUnJrajQ/edit?usp=sharing
For on-going education check out the following weblinks:
Deerfield Academy Class 1965 from ed flickinger on Vimeo.
ANNOUNCEMENTS
CONGRATS Geoff!!!
The Office of Geoffrey R. Keyes, M.D., F.A.C.S. is pleased to announce Dr. Keyes' election as President Elect of The Rhinoplasty Society for this upcoming term. The Rhinoplasty Society is a highly respected international non-profit organization that is dedicated to providing an educational, informative and collaborative resource consisting of the highest-qualified surgeons that specialize in Rhinoplasty worldwide.

The election took place this past May at the Rhinoplasty Society Board of Directors Meeting in Montreal, Quebec, Canada during The American Society for Aesthetic Plastic Surgery Meeting.

Dr. Keyes will follow O. Onur Erol, M.D., Professor of Plastic Surgery, who practices in Istanbul, Turkey. Dr. Erol was elected President for this year. It is Dr. Keyes' intent to continue The Rhinoplasty Society's ongoing efforts in providing educational meetings and resources regarding rhinoplasty to those surgeons who desire to focus upon the art and science of rhinoplasty techniques worldwide.

Dr. Keyes has been a longstanding member of the Rhinoplasty Society since his initiation in 1996. Dr. Keyes most recently held office as Vice President of The Rhinoplasty Society from 2014-2015 and is honored by the election to continue as President Elect.

"I am most honored to accept this position and greatly look forward to working with the membership." - Dr. Geoffrey R. Keyes

Dr. Keyes has also held various Presidential and VP positions with other organizations such as The California Society of Plastic Surgeons, The Los Angeles Society of Plastic Surgeons, The Aesthetic Society Education and Research Foundation (ASERF), and The American Association for Accreditation of Ambulatory Surgery Facilities (AAAASF).

Dr. Geoffrey R. Keyes respectfully thanks his peers for this honor.

To learn more about The Rhinoplasty Society, please visit http://www.rhinoplastysociety.org
To learn more about Dr. Keyes, please visit http://www.keycare.com
I have added several classmates' names to the "In Memory" option in the toolbar to the left. Please review and follow the instructions given if you know of other classmates whom you know to have passed away since graduation. God Bless them all and may they rest in peace.
Missing Email addresses for the following classmates: Baker L, Barnard, Brooks, Brownstein, Ervin, Frank, Dunlap, Halstead P, Halsted D, Hinds, Hitchings, Ince, Johnson, Jones J, Jones M, Kenney, Knight D, Lapointe D, Latham R, Latrobe, MacGruer, Maguire, McGahan, McRae, Miller, Mushovic P, O'Connor M, Olson, Pearsall, Reynolds T, Roach, Sandborne, Simpter, Smith, St. John, Suchanek, Swain, Wehle, Wilkins
If you have any information regarding e-mail addresses for these individuals please send them to me so that the website may include everyone! Thanks, flick
GO DEERFIELD...Beat Choate
Big GREEN GREEN Machine
"Finish Up Strong Boys; and No Kid Stuff"
FLB (a.k.a. QUID)
.
Manning & Margarita Curtis, Head of School