Deerfield Academy


Class Of 1965
Welcome to the Deerfield Academy Class of 1965 website. This is an easy way for all of us to stay connected. Our 50th reunion has now come and gone and we have now joined the "Grand Classes"! We had a great time back on campus and proud to say that we "finished up strong" while having lots of fun along the way!
Please enter your own personal information/photos as you see fit. You may add or delete info if/when you wish. Have fun checking up on your classmates and clicking the options in the toolbar to the left. Let's make this work for all of us!
Class 1965...a Look Back Over 55 years. Still going strong!
https://vimeo.com/165375107
Copy & Paste the above link to your server. ENJOY!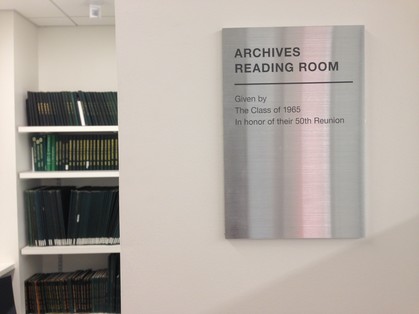 The Deerfield Archive has been consolidated and located in 3 rooms in the Boyden Library basement. Very nicely done and well organized. Our class underwrote the "Reading Room" to be utilized by those who visit the archive. A picture of David Howell will be hung in this room later on this spring or summer.
More "Sounds of Deerfield" clips and Interview with Bobby & Mary Merriam edited out of Class '58 50th reunion video. Thought you might enjoy: Click on link or simply copy and paste.
https://vimeo.com/154473828
50th Reunion Formal Portrait on Memorial Bldg Steps
https://www.shutterfly.com/action/welcome?sid=0AcNGTls2cMmTDpA&emid=sharepbsharer&linkid=link4
click on link; best to view "full screen"
BE WORTHY OF YOUR HERITAGE
Our Great Class of 1965
(copy & paste this link)
https://drive.google.com/file/d/0B1-MFTurxzJRSUtCaWxiTEs1bWc/view?usp=sharing
Veni, Vidi, Vinci at our 50th Reunion, June 2015
50th Reunion VIDEO
(copy & paste)
https://vimeo.com/132195709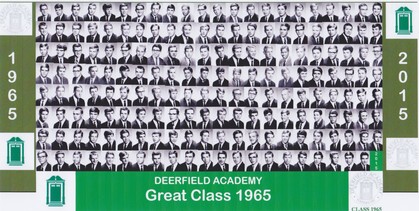 View Video Version of our 50th Reunion Yearbook
(Thanks to the efforts of Dave Beisler, Tim Byrne, & Jack Davis)
(copy & paste this link)
https://vimeo.com/130084714
"Sounds of Deerfield" AV Version: Thanks Bruce & Tony. PRICELESS 50 years later.
(copy & paste this link)
https://drive.google.com/file/d/0B1fU8YjDNwBdaC1USzk0ODN2eVE/
edit?usp=sharing

Video clip from Robert L Merriam memorial service, 09 06 14
https://drive.google.com/file/d/0B1fU8YjDNwBdNF96bXhyUnJrajQ/edit?usp=sharing
For on-going education check out the following weblinks:
Deerfield Academy Class 1965 from ed flickinger on Vimeo.
ANNOUNCEMENTS
Effective 1 July 2018 I retire from teaching at Wenatchee Valley College. I am now retired (Army) retired (teaching).
I have added several classmates' names to the "In Memory" option in the toolbar to the left. Please review and follow the instructions given if you know of other classmates whom you know to have passed away since graduation. God Bless them all and may they rest in peace.