East High School

Class Of 1982



Not a member?
JOIN HERE
Find and click on your name.

WHERE ARE THEY NOW

WHERE WE LIVE
Who lives where - click links below to find out.

4 live in Arizona
6 live in California
4 live in Colorado
3 live in Florida
4 live in Georgia
1 lives in Idaho
1 lives in Illinois
1 lives in Kansas
4 live in Michigan
11 live in Minnesota
2 live in Missouri
1 lives in New York
1 lives in Ohio
1 lives in Rhode Island
1 lives in South Carolina
2 live in Tennessee
2 live in Texas
82 live in Wisconsin
233 location unknown



Show Classmates on map
MISSING CLASSMATES
Know the email address of a missing Classmate? Click here to contact them!
Welcome to the Green Bay East High Class Of 1982 web site!
GBEast82 @ 40 Years! Reunion 2022
= = = Update 14 August = = =
Good times!
Share your thoughts, your mini-GBE82 reunions, as well as the ups and downs of life.
Once again, we are more alike than different.
Go Pack! ...Feels like football season closing in again...!
= 11 August, 2017 =
Day1
When: Friday 8/11
Where: Jimmy Seas Pub
When: 5pm-12am
Gradeschool Pictures @ Reunion?
Who leads? St. Mary's @ 6:30; St. Philips to follow; SS Peter & Paul, etc.; then the publics Nicolet, Allouez, Langlade, etc. ....
Day2
When: Saturday 8/12
Where: Burkel's One Block Over on Tony Canadeo Run (Thanks Jay Hartstern!)
When: 7pm-12am
Gradeschool Pictures @ Reunion?
Who leads? St. Mary's @ 6:30; St. Philips to follow; SS Peter & Paul, etc.; then the publics Nicolet, Allouez, Langlade, etc. ....
Now it's up to you to fill in the details.
Picnic? Find some people and make a plan…
Golf? Who else wants to golf?
Yoga? Who else can hold a 2-5 minute plank like Cher, 71 (not a classmate)?
Quilting and creative crafts? Who has pulled all-nighters while crafting? Share your story.
Custom cars or motorcycles? You got 'em - let's see them …
Other interests you share with others? Let everyone know.
Use Facebook or the class website to email classmates.
Thanks,
Don and Todd
= Update 27-May, 2017 = Memorial Weekend =
With a focus on honoring select GBE82 classmates, each REUNION is a time to remember what Jan, Ann, Paul and others meant in our lives.
If my records are current, a total of 13 classmates have passed away, too young.
Jan Gerondale
Ann Borley
Todd Conrad
Peggy Renquin
Dennis DeBeck
Larry Engels
Liz Kessenich
Mark Robak
Tom Suski
Brian Timm
Dan Habeck (not pictured, information anyone?)
Paul Hardy
Bill Foster.
In addition to a holiday of reflection for past military service members, Memorial Day thoughts include remembrance for all and respect for life worth living.
Our thoughts are also with those who influenced us and passed: parents, family, and friends with reverence for those who also served in armed services.
Have a story? Picture? Post it…
Next 80's song or beer, take a moment to appreciate our deceased classmates!
Don and Todd
PS. Good tribue. IF a fan of U2 music, look & listen to "Still haven't found what I'm looking for" Kimmel 5/23/17.
= Update 23-April, 2017 =
April Wine? Sure.
Once thought only of music on the "Power Play" album/cassette, or a concert at the Brown County Veterans Memorial Arena, now it's a good excuse for a glass.
As you enjoy spring, listen to music from our time and make plans to attend your GBE82@35 reunion.
When? August Fri-11 and Sat-12
Friday @ Lodge Kohler, Happy Hour ? Now, Fear the Deer! ...Packer v. Eagles Aug-10 @ 7pm!
Saturday: we're looking for an inside & outside patio bar, casual place.
Why? It's a time to re-meet people who share common backgrounds and experiences yet we've all grown since 1982. That's life!
Find out what's new.
How about fashion?
Like the rest of us, Janice Conrad is a champion of spring fashions, especially if made from rayon!
Contact us with comments and ideas.
Thanks,
Don and Todd ohearndon@yahoo.com … todd@greenbaysigns.com
PS: "Say it with me!" The Exclusive Company or maybe you could help us contact these bands to perform at GBE82@35...
Husker Du: Jeff and Dave Vandersteen have lead singer Bob Mould on speed dial!

RUSH: 2112 ...is a collectors LP for Todd Winney and Dallas Long?
Foreigner: Juke Box Hero...liked by Becky Parkansky and Chris Otradovec (p.54 '82 Yearbook)?
Nitty Gritty Dirt Band...a one time favorite of Phil Rose and Kathy (Vandertie) Wautlet (former Webster/Allouez grade school neighbors)?
http://www.ExclusiveCompany.com/Section/About_Us/index.html?PHPSESSID=0c151854e64fd72b402746cc256fe3f2
= Update 21-January, 2017 =
Hope all well with you/life as this is an update on Green Bay East'82 Reunion plans in development.
Date: Friday 11 August
Time: 5 – 10pm (no fees, no charge - just show up and have a beer/wine/cocktail with people you don't remember why you know them yet they are good people! Practice, "Do I know you?")
Location: Lodge Kohler @ 1950 S Ridge Rd, 54304 (still under construction, opening July'17)
Saturday 12 August: Stay tuned.
Plans in development: Todd Thomas and I are coordinating the GBE82 reunion this summer yet welcome volunteers.
More details for Friday, August 11?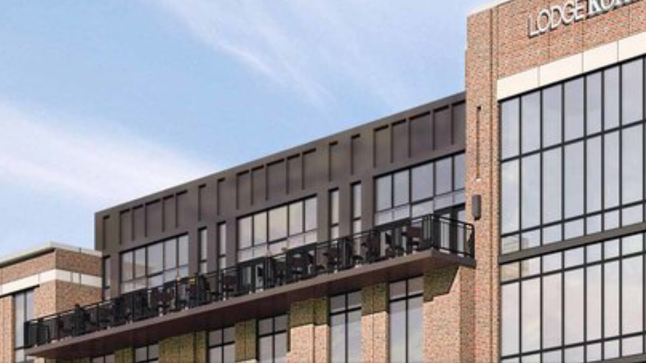 Our first stop is the terrace and bar at LODGE Kohler for GBE'82 class reunion @ 35years.
The terrace is reserved (see photo) and the bar is located on the 5th floor of the hotel with views of Lambeau Field, newer home of the Packers who played at Green Bay East City Stadium from 1925 – 1956.
From the terrace, the main bar is steps away so we are covered rain or shine, whether Packer preseason game or just a night out.
Feel free to forward or contact us with questions.
Jay Hartstern is willing to lead a sunrise service on Sunday August 13 yet is awaiting requests.
We're still looking for anyone with contacts to book April Wine, RUSH, or Lynyrd Skynyrd (yep, you know how it's pronounced.)
Golf? Picnic? Parents/friends attending?
Updates to follow via email and Facebook: GBE82!Thanks,
Don and Todd
ohearndon@yahoo.com … todd@greenbaysigns.com
PS: For those interested, Steve Gay remains in stable health and like most, focused on the Packers this weekend!
= = = = = = Update 11-December, 2016 = = = = = = =
Another snowstorm hits Green Bay and another December sets winter in motion to close 2016.
GBE'82 @35 years … Aug-11 and Aug-12, 2017!
As a reminder for class reunion plans for GBE'82 in 2017, dates are confirmed (…no requests for other dates since our last reunion).
Yet volunteers (person/people) are needed to set plans, make room reservations...
When: August 11 Friday … Happy Hour ... ?
When: August 12 Saturday …Happy Hour …Dinner and/or Day Plans ...?
Locations: TBD both nights…
Plans details: TBD both nights.
We're in this together to make this happen.
Please use Facebook GBE'82 group or the GBE'82 Class website or contact us with ideas for plans.
Happy Holidays!
Don and Paul (ohearndmail@ymail.com; little.milty@yahoo.com)
Note: For GBE'82 @ 35 years, we can consider an open invite for interested classmates from 1981/1983…and note that Preble'82 reunion seems to be in planning stage as well (see Facebook).
= Update 5-August, 2016 =
When? Who? Planning? Reunion Weekend: GBE'82 @ 35 Years…Saturday 12-August, 2017
Classmate geographic location as of Aug-2016:
Although you are finally tan and fun summer days remain in 2016, summer next year includes our 35th reunion for the Green Bay East Class of 1982.
When GBE'82 @ 35?
August 12, 2017, is the Saturday planned for getting together.
Our 35th Reunion Weekend includes Friday night 11-Aug, Saturday 12-Aug and Saturday night to allow more to attend when possible.
Who wants in GBE'82 @ 35?
You can help decide how we celebrate.
More importantly, we'd like your input and want you to be involved.
Many different events should occur for GBE'82 people to get together, whether in GB, Hazelhurst-WI, Brooklyn, Nashville, Duncanville-TX, CO or CA (see below from the class website)!
What can you do?
Help recruit classmates to the GBE'82 Website @ http://www.classcreator.com/Green-Bay-WI-East-1982/class_index.cfm or google "green bay east class of 1982."
Share this link!
Facebook?
You can join and invite others to our Facebook Group page, Green Bay East High Class of 1982.
What should we include for GBE'82 @ 35 Reunion Weekend?
You can help decide.
In 2012 we had drinks and laughs @ Jimmy Seas Pub on Friday and then Saturday we did it again @ Green Bay Distillery on the west side.
Options to consider for 2017 include the 2012 plan OR a park/picnic event OR a dinner event (GBE'81 had dinner @ Rock Garden this year), AND/OR many leisure options like golf or beach.
Other options/ideas? With some planning and a point person, a donation of time or funds could be a coordinated effort. The GBE community could benefit from our help!!
If interest exists, we may try to coordinate the reunion weekend with Green Bay Preble'82.
If interest exists, we may send an open invite to GBE'81 AND/OR GBE'83. Good people are good people!
Note: The more formal the plan like a dinner event with pre-pay expenses, the more people will be needed to lead the efforts in Green Bay.
Please connect whether by email, website or social media.
If you'd like to help in some way or stay informed along the way to Reunion Weekend, just ask about GBE'82 @ 35!
Final note GBE'82 @ 35!
Depending on responses, we'll review to include as many people and ideas as possible.
If appropriate, a survey will be sent out to confirm the plan, including consensus on the GBE'82 @ 35 Years Reunion plan or even if a new reunion date is preferred.
Thanks,
Paul and Don
PS. Our classmate Steve Gay remains in treatment for his leukemia yet continues to hold strong as a result of your positive support and well wishes.
= Update 5-June = Final Note = Have a good summer! ... Details on Reunion 2017 coming this Fall!
When we pull together, we can make a difference as well as help each other through awareness, attitude and ideally a healthier outcome. Here is one way…
One Classmate, His Challenge, Our Action
= Update 5-June = Final Note = Have a good summer! ... Details on Reunion 2017 coming this Fall!
Run For Steve Thank You
Thank you to everyone who came out for the "Run for Steve" weekend May 21st and 22nd!
Although full details are listed below, here is a quick recap:
Almost $10,000 was raised for Steve's medical expenses and care needs, past and the unpredictable future.
An additional $4,000 via GoFundMe was raised that will be donated to the Leukemia & Lymphoma Society of Wisconsin in Steve's name.
A huge pickup to Steve's spirits occurred to assist his attitude to withstand the challenges of his care through all of your emails, texts and in-person contacts.
Unfortunately shortly after the weekend events, Steve was and remains hospitalized yet his care is stable and improving - please keep him in your healing thoughts. We'll keep tabs and share appropriate information as appropriate.
Recall that this started with a shared interest to not only raise funds but also show our support for Steve Gay who was diagnosed and receiving treatment for leukemia. Steve has touched so many of us in so many ways. Whether as classmates, co-workers, Meals on Wheels volunteers, friends, family or you may have just gotten to know him as the owner of the Big G and have had the pleasure of tailgating with Steve and the Big G at Lambeau or at one of his many road trips over the years, we are all grateful for having a giving friend like Steve.
So we give back to Steve and we celebrate the following for making the weekend's events possible:
You! … We're all fans of Steve and supporting his road to health!
So many attended, got involved directly or chose to remain anonymous…yet your presence was appreciated. As a limited list in addition to those below, it was great to see or have input from Kelly Everard, Charlie Panten, Jeff VanderSteen, Darcy Naze Diring, Mike Grove, Todd Winney, Don Murray, Mark Zilavy, Renee Delahut, Mike Corpus ('83), Theresa Ackerman Bray ('81). And Preble '82 was representing with Greg Reinke and Mike Jacques along with others.
T-Shirts: Kevin Keehan for designing our Run For Steve logo and Julie Lindsley of Home and Sports Apparel for printing the shirts.
Signage: Todd Thomas and Creative Signage for printing our banner, flyer design and auction signage.
Anduzzi's for providing the space for Saturday evenings event.
Chuck Meisfeld of Meisfeld's Meat Market (Sheboygan) for donating Sunday's tailgate food.
Robert Gay and Zevia Soda for donating Sunday's soda.
Big G Koozies & Craft Beer: Thanks to Dan Dewan and Tom Adriansen for donating the Big G Koozies for the weekend's events and the craft beer for the tailgate. Koozie sales raised over $400!
Raffle Donors: Thanks to everyone who brought a bottle of booze or solicited the local pubs for a donation.
GoFundMe Donors: Special thanks to the 70+ donors who utilized the GoFundMe site to make a donation
Robert Gay for his 300- mile Bike Ride across northern Wisconsin. He finished his ride and raised over $2,000!
Mike Seering for providing the PA System on Saturday evening and the music for the tailgate party!
Beer-A-Mid Silent Auction: Thanks to Chip Kolocheski & KAY Distributing Company for donating the beer for our Silent Auction item.
Auction Donors: Thanks goes out to everyone (Friends, Family and area businesses) who donated a variety of items for a great silent auction. Thank you!!
Runners: Thanks to our two teams who ran for Steve: Tom List, Kevin Keehan, Mike Seering, Karen Romain (Kubale), Cara Mack (Ackerman), Don O'Hearn, Dan Staddler, Chris Crain, John Nejedlo and Rob Wilkinson.
Special note of congratulations to Bob Rademacher for running the full marathon, a record 17 consecutive years!!
People came from near and far: We want to thank all of Steve's friends and family who live in the Green Bay are who came out. We also want to than those who travelled from Illinois, Minnesota, Missouri, New Jersey, Colorado and California to be a part of the weekend and show their support for Steve.
Update since the May Weekend events: Unfortunately, Steve has been in the ICU unit of St. Vincent's hospital and monitored for close to two weeks fighting an infection. He is feeling much better this week and is hopeful to be out of the ICU soon. Please keep Steve in your thoughts and prayers for a speedy recovery. On a more positive note, Steve and Jessica are engaged!!!! Yes, he finally popped the question!!!
Final note: Some of the runners are still engaged in exercise and looking at running summer events. Who knew?
Find your exercise and road to health this summer – our 2017 Reunion is fast approaching! Stay tuned!
Thanks,
Team Steve – GBEast'82
Team Steve Committee: Dan Staddler, Chris Crain, Don O'Hearn, John Nejedlo and Rob Wilkinson
= Update 23-May = The Steve story continues...and your role on Team Steve!
Your generosity was unbelievable - thank you - please pass this on!
Steve was overwhelmed with your response; he was ever appreciative and speechless.
His parents Ron and Barb, Jessica and family were equally grateful.
If a picture is worth a thousand words, three sum up so much more:
Your efforts for Steve (donations, bidding, tailgate sponssors & attendees, ...even the runners)
Your energy for Steve (greetings, smiles, hugs, ...)
Our shared goal of giving a boost to Steve's "Mojo"!
Thanks to all, especially parents (older) and friends/family/acquaintances (younger) than any of us!
YOU Made It Happen!
All of us are Team Steve
PS: If interested, share photos from the weekend via shuttefly.com after you sign in to make an account.
Please join: https://gbeast82.shutterfly.com/ …
= Update 21-May = It's....here!
Today 7pm Anduzzi's East
9pm Auction Ends (don't delay...) with John Nejedlo master of auctioneers!
Sunday 11am Tailgate @ Big G-Lambeau (eye-shot of Kroll's) after the Run!
See updates over next days/weeks.
We look forward to seeing you!
On behalf of Steve and all of his Teams, thank you for sharing time, attention, and good health.
Team Steve
Questions? Contact any of us.
= Update April-10 =
With less than six weeks to the Run for Steve race May 21-22 weekend, a professional summary of events by Team Todd Thomas to add to the reminder of the on-line auction ... http://runforsteve.myevent.com/
= Update April-1 =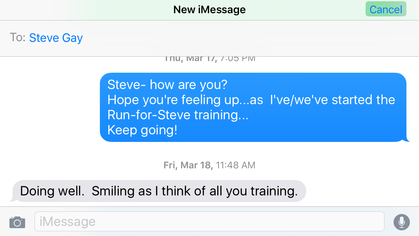 The Silent Auction is available for your viewing…
http://runforsteve.myevent.com/
… whether tickets for sporting events or official running T-shirts emblazoned with Running for Steve!!
Order Running for Steve shirts by May-1!
To assist with order quantities of shirts, we ask for your order by May-1 as we plan to have a limited quantity of the special edition shirt.
And for the sports fan in your life, check out the framed and autographed commemorative Packer jerseys (thanks Mark Zilavy and Rob W)
More items will be available as May-22 approaches so check the site at least weekly.
Thank you again for your interest and support.
Please share this email with friends/family as we look forward to your help as we rally for Steve.
Start and keep running!
Dan, Rob, John, Chris, Tom, and Don
Note: Care to donate an item for auction?
Contact John…johnnejedlo64@gmail.com
= Update Mar-25-2016 =
Steve Gay continues his positive attitude and fight to health as we rally around him.
Join us online or in person as dates approach and details are available:
April-1 = On-line auction and Run for Steve Shirt sale begins (details on 4/1); proceeds going to Leukemia and Lymphoma Society (LLS) for Steve. Expect to see a variety of items worthy of your purchase and bid, including the great Run for Steve Team Shirts (thanks Kevin Keehan and Julie Lindsley), framed and signed commemorative Packer jersies, and tickets to Wisconsin sporting events.
May-21 = 7pm, The Steve Get Together on Saturday @ Anduzzi's East private room (900 Kepler Dr. 54311, thanks Chris Crain); come for friendship, for raffles including 50/50 and a final review of auction items if not harassing wannabe runners.
May-22 = The Green Bay Marathon to support Run for Steve…starting @ 7am.
May-22 = 11-2pm, Packer-style tailgate fun (thanks Rob Wilkinson), auction finalized (thanks John Nejedlo) with easy to see big Run for Steve sign (thanks Todd Thomas) following the run across from Lambeau…along with The BigG (thanks Steve!!).
What can you do?
The online auction: John has set a website that goes live on 1-April; if questions arise, contact johnnejedlo64@gmail.com.
To donate an auction item: If interested in donating an auction item to raise funds, please contact John.
To donate to Steve's GoFundMe effort for LLS: https://www.gofundme.com/RunForSteveGay
You still have time to register and run! If not here, find a run near you.
What else?
Share this message with interested GBEast classes/classmates and family/ friends.
As leaders of our effort, Rob and Dan are taking charge for Team Steve, for post-run cool down featuring hot yoga (thanks Dan Staddler) while getting us fit. Why not? Join us!
Do your body good this spring!
Please share this email with friends/family as we look forward to your help to rally for Steve.
Thanks,
Dan, Rob, John, Chris, Tom List, and Don
….
Questions? Contact any of us.
Proceeds from all activities will go to support both Steve's medical expenses and also the Leukemia and Lymphoma Society of Wisconsin.
Feb-12-2016
We hope that you will participate with us in person or in spirit on May 22nd for the Green Bay Marathon – see below for details and the weblink to the GoFundMe site for Steve Gay! (Note: running is optional)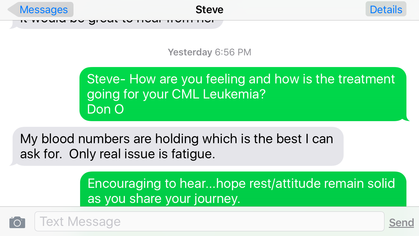 Steve continues to do as well as expected given treatments for his leukemia and is getting energy from family and friends like you!
Thanks to everyone who has supported our "Run For Steve," whether by signing up to run, inquiring about Steve, or donating to the Leukemia & Lymphoma Foundation in Steve's honor.
Our California classmate Kevin Keehan will design the Run for Steve shirt as Tom List, Karen Kubale and others are forming teams to run too. Even Steve's family intends to form a team. And Bob Rademacher will run the marathon, one of only 22 people who have run all 16 GB Marathons.
Others are making plans to join the Steve get together: Cara Ackerman Mack from Colorado will be in WI for a family event and connecting with us.
Given Steve's out of pocket expenses as part of his care, John Nejedlo will coordinate a silent auction to occur the day before the run on Saturday 21-May. We'll sell Steve's Team shirts also.
As you imagine, Steve's modesty and care for others comes through in our discussions. He suggests that we see if there are other classmates who may need support for critical healthcare…
How typical of Steve?
What can you do?
We hope that you can join us in Green Bay or create your own fitness - care event!
Email any of us with questions or comments.
May 21 Saturday @ 5pm - Gathering and Silent Auction
GB Location –To Be Announced Soon
May 22 Sunday Post Marathon & Tailgate: Run @ 11am – to follow
Location: Lambeau Field running starts @ 7am
Rob, Dan, Chris and Don
* * * * * * * * * * * * * * * * * * * * * * * * * * * * * * * * * * * * * * * * * * * * *
Jan-15-16
Our friend and classmate, Steve Gay, has been diagnosed with a rare form of leukemia and although tired at times as a result, he is engaged in an active, aggressive treatment plan (mostly in Green Bay, Froedtert-Milwaukee and UW-Madison).
Many of us have been touched by cancer within our own families and circles of friends. While there is often a feeling of helplessness, a diagnosis can also galvanize people to pull together to support those challenged.
Several of us put our heads together to find some way to support Steve, as well as bring more awareness to the treatment of cancer.
One idea is participating in the Green Bay Marathon this coming spring. We signed up as a team (Running for Steve Team 1) with the hope that others will join our 50ish bodies as we run for Steve. Relay teams can include 2 to 5 participants and registration is currently wide open.
Not only will it be a way for us to put the remote down and exercise a bit more, but it will also allow us to show our support for Steve while raising awareness for the Leukemia and Lymphoma Society.
Steve has promised to have the Big G parked near the finish line of the Green Bay Marathon. Our hope is to "hydrate" with you the evening before and the afternoon after the run in or near the Lambeau parking lot. We think it will be fun to come together and reconnect, show Steve a lot of support as well as smile therapy, and raise some funds and awareness for blood-borne cancers.
We hope that you will participate with us.
Here's how:
* Form a team for the Green Bay Marathon and run the relay with us on Sunday, May 22, 2016.
Marathon Link: http://www.cellcomgreenbaymarathon.com/
*Show up at the Big G Saturday evening and/or Sunday during or after the marathon and support Steve.
*Contribute to the Go Fund Me account. The money raised will be presented to the Leukemia and Lymphoma Society in honor of Steve.
* Share Steve's GoFundMe link with your friends and family.
https://www.gofundme.com/RunForSteveGay
*Contact Steve and offer support and encouragement (see message center on this website or Facebook)
If you have any questions, please feel free to contact any of us:
Rob Wilkinson R.wilkinson6444@gmail.com
Dan Staddler Daniel.Staddler@deancare.com
Chris Crain Chris.crain@wfafinet.com
Don O'Hearn Ohearndmail@ymail.com
Updates will follow as the event date approaches.
Thank you for your support and hope to see you for the May 22nd event for Steve's health!
Finally, stay healthy and join the conversations related to you and your classmates of 1982!
Paul Van Lanen and Don for the Class of 1982