ANNOUNCEMENTS
Let's celebrate our 70's and eat cake!! We are having a birthday gathering for HHS Class of 67 and any friends that would like to join us. Most of us are already 70+ and the rest will turn 70 before the end of the year. Mark your calendar and save the date, November 24th! Here are the details:
Place is Blanco BBQ, 13259 Blanco Rd, San Antonio TX 78216.

Date is Sunday,11/24/19. (Sunday before Thanksgiving.)

Time is from 6:00 PM to 9:00 PM. Food and utensils will be cleared away at 8:00 PM.

Cost is $5.00 per head, payable as you enter our reserved room.

Food will be BBQ, cake and tea. Acohol is not included, but you can purchase there. We are not allowed to bring our own bottle!

RSVP please! We must know the week before to preorder the food.

If you have any questions, please contact us for clarification.
____________________________________________________
Current list of RSVPs that have responded they are attending the November 24th gathering. If you are going and don't see your name on this list, please contact us. List will be updated periodically:
Carolyn Leahy Bell
Judy Schroller Best and spouse
Milton Wayne Blanchard
Charlotte Moody Boord
James Bourland
Nancy Brown
Butch Byrom
Edie Faribault Canby
John Caroll and spouse
Julian Cavazos
Mickey Chadwell plus one
Ruth Cockerham plus one
Tommy Crain
Ann Martin Crowley
Jimmy DeFrain and spouse
Robert Driskill
Martha Mahavier Gaenzel and spouse
Mimi Gill Garver/Dave Garver
Jeanne Dupont Grassmuck/Gary Grassmuck
Linda Ellis Green and spouse
Virginia Whal Guenther
Frank Guerrero and spouse
Dan Holub and spouse
Betty Ryan Herring/James Herring
Roger Howard and spouse
Lanell Boezinger Jones
Elaine Jenkins Kischefsky
Bobby Laxson
Richard Leahy and spouse
Frieda Lochbaum Lively and spouse
Larry Luckett
Jim Luffman and spouse
David Manny and spouse
Trudy Bartosh McCarty
Mary Farley Most and spouse
Gail Thomas Passons
Art Penaloza and spouse
Stuart Pippin
CW Pryor and spouse
Paula Breed Reno/Isaac Reno
Sylvia Lozano Rodela and friend
Edna Cheney Roof and spouse
Erline Cone Russell
Kris Farmer Satterfield
Linda Bundick Snow and friend
Betty Holcomb Sorrells and spouse
Cathy Lothringer Spears/Shelton Spears
Lucky Cloud Stowe
Susan Torchia
Bill Tuch
Bobby Utz and spouse
Judie Clark Wenske
Cris Williams
Sandy Henry Williamson
Angie Robles Zuniga and spouse
The PaulaTwist Fifty years ago May 26, 1967, we completed high school and ventured out into the world. We pursued many different professions and a wide variety of experiences. May 26, 2017, many of us came together to celebrate at our 50th reunion. It was truly heartwarming to witness alumni visiting, laughing, dancing and letting it all hang out! We left El Tropicano with funfilled memory banks.
Fiesta Fifty was a success. Many, many thanks go out to all our committee and decoration members, without whom this would not have happened. I can't thank this fun loving crew enough.
Typically, we have a special guest of honor at our reunions. This reunion, we all were the special guests. Fifty years, wow! Walk Tall Highlands Owls.......
Paula Breed Reno
Fifty years has come and gone and many of us are still lucky enough to be hanging around. If you were unable to attend our 50th anniversary reunion last year, I urge you to visit the "50th Reunion" link to view the pictures. If you have not yet registered on this website, feel free to use the "Contact Us" link and someone will be happy to get you registered. (We accept guest requests.) Our goal is to stay connected by sharing stories, pictures, and upcoming events. If you are no longer local and plan to come to San Antonio for a visit, feel free to let us know and we can organize an impromtu lunch/supper gathering. Everyone of us is unique and living our lives in our own way, which makes our class special. Everyone of us is also dealing with our own aches, pains, illnesses, sorrows, and emotional issues. So keep our alumni in your thoughts and prayers as we continue our daily journey. Walk Tall Class of 1967!
This website was created for the benefit of the Highlands Class of 1967. Most content on this website can be viewed by anyone. Private info such as address, emails, and telephone numbers are not publicly displayed under alumni's names, even to members. Please message us if you would like to be added as a guest on our site.
Our intent is to share memories and information with our alumni. In order to avoid controversy, please refrain from political and religious opinions and arguments. We are a diverse group with varying beliefs. So have fun and be kind.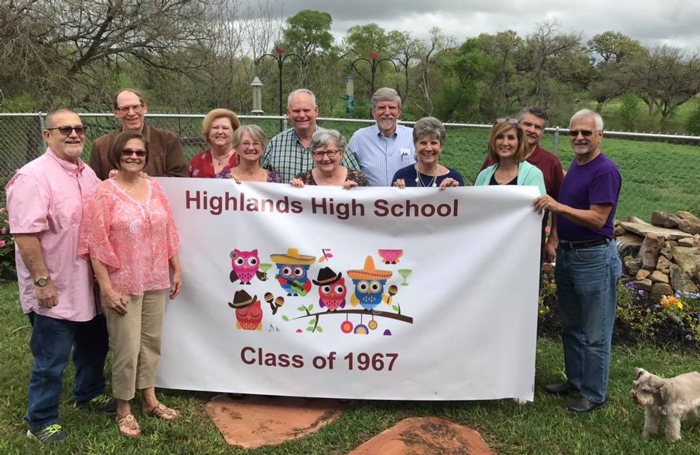 If you are a Class of 67 alumni and have a Facebook account, come join us on

(This Facebook group page is Closed and only available for 67 alumni.)
---