ANNOUNCEMENTS

It's official,
Highlands class of 1967 55th reunion plans have been finalized. This reunion will be a simple, casual event (shorts, jeans, we don't care) for everyone to enjoy. Our objectives are to have fun and visit with old time friends. Here are the specifics:
Friday night, October 21st, will be held at La Hacienda Los Barrios from 4:00PM to 7:00PM. Cost to attend is $10 per person. We will be providing appetizers. You are on your own for drinks of any kind. https://www.lahaciendabarrios.com/about/
Saturday, October 22nd, will be the main event from 2:00PM - 8:00PM. Cost to attend will be $15 per person. This event will be held at The Vineyard Homeowners Association Pavilion. The address is 1750 Tealwood, SAT 78258. https://www.google.co/search?client=firefox-b-1-d&q=the+vineyards%2C+1750+Tealwood# There is plenty of parking and the facility is handicapped accessible. No band this time, instead there will be background music ensuring everyone will be able to visit. A BBQ meal will be served from 4:00PM to 6:00PM. Water, tea, beer, and a margarita machine will be available. The margarita machine will be serving from 2:00PM to 6:00PM along with some simple snacks. We are also allowing BYOB, however, we are not providing setups. No glass is allowed on the facility!
Both events will cost you $25. You may also pay for just one event if that is all you are able to attend. The donate button will handle your PayPal or credit card payment. If you prefer you may send a check to Larry Luckett at 22915 Entiempo St, SAT 78261 or Paula Breed Reno at 340 Rose Meadow Dr, LaVernia TX 78121. Checks should be made payable to: Highlands HS 1967 Reunion Committee.

Please get your payments in ASAP so we can finalize counts for food and drinks.

Anyone is invited and long as they pay. Pass the word to friends that are not on social media.

ADULTS ONLY
---------------------------------------------------------------------------------------------------
Fifty ye
ars ago May 26, 1967, we completed high school and ventured out into the world. We pursued many different professions and a wide variety of experiences. May 26, 2017, many of us came together to celebrate at our 50th reunion. It was truly heartwarming to witness alumni visiting, laughing, dancing and letting it all hang out! We left El Tropicano with funfilled memory banks.
Fiesta Fifty was a success. Many, many thanks go out to all our committee and decoration members, without whom this would not have happened. I can't thank this fun loving crew enough.
Typically, we have a special guest of honor at our reunions. This reunion, we all were the special guests. Fifty years, wow! Walk Tall Highlands Owls.......
Paula Breed Reno
The PaulaTwist
-------------------------------------------------------------------------------------------------------
F
ifty years has come and gone and many of us are still lucky enough to be hanging around. If you were unable to attend our 50th anniversary reunion last year, I urge you to visit the "50th Reunion" link to view the pictures. If you have not yet registered on this website, feel free to use the "Contact Us" link and someone will be happy to get you registered. (We accept guest requests.) Our goal is to stay connected by sharing stories, pictures, and upcoming events. If you are no longer local and plan to come to San Antonio for a visit, feel free to let us know and we can organize an impromtu lunch/supper gathering. Everyone of us is unique and living our lives in our own way, which makes our class special. Everyone of us is also dealing with our own aches, pains, illnesses, sorrows, and emotional issues. So keep our alumni in your thoughts and prayers as we continue our daily journey. Walk Tall Class of 1967!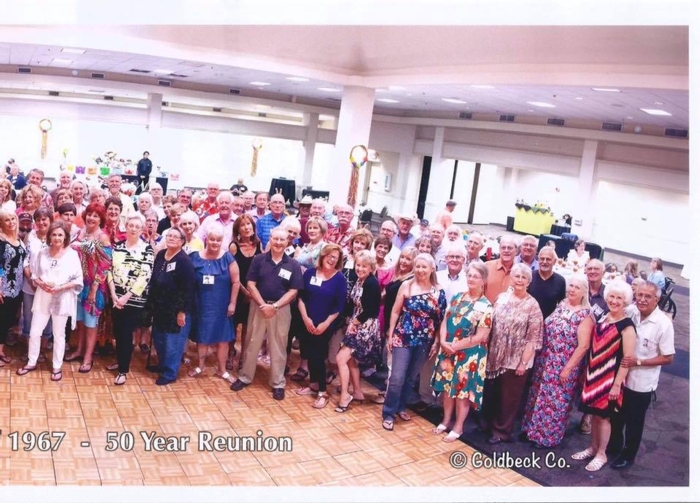 -------------------------------------------------------------------------------------------------------
This website was created for the benefit of the Highlands Class of 1967. Most content on this website can be viewed by anyone. Private info such as address, emails, and telephone numbers are not publicly displayed under alumni's names, even to members. Please message us if you would like to be added as a guest on our site.
Our intent is to share memories and information with our alumni. In order to avoid controversy, please refrain from political and religious opinions and arguments. We are a diverse group with varying beliefs. So have fun and be kind.

If have a Facebook account and are a Class of 1967 alumni, come join us on
(This Facebook group page is only available for 1967 alumni)
---