Baton Rouge

High School




Class of 1964
ANNOUNCEMENTS
A REMINDER!
BRHS radio stations (WBRH 90.3 and KBRH 1260) are streaming live on the Internet!
KBRH AM is rhythm and blues all the time while WBRH FM is Smooth Jazz on week days. The two stations simucast on Saturdays and it is worth listening to the wonderful Oldies but Goodies hosted by Pat McBride (Class of 64), Lea Smith, Luther Kent and others. Go to www.wbrh.org for schedules and additional information
BRHS First Wednesday Lunch Bunch
First Wednesday of Every Month at 11:30 AM
Join Us on the Patio!
We have a group seating area reserved for the BRHS Class of 64 at Superior Grill on Government St. in Baton Rouge (on the porch) on the 1st Wednesday of the month at 12 noon. We never know who will show up but there will always be a bunch of us on the porch behind the bar (Inside and Air Conditioned).
The philosophy is Come When You Can - we will miss you if you can't. It's really a fun, casual time to catch up and stay in touch.
Next time you are in town or if you live in the Baton Rouge area, please make plans to join the BRHS First Wednesday Lunch Bunch
Features of Our Class of `64 Site
Each classmate has an individual profile page that they control - add as much information as you like, including pictures. You control updating of email, address, and telephone contact information.

You control who has access to your profile information, if you choose

Direct email from the class roster plus user forum chatrooms that you can setup and control

Notification to you when profiles change or new information is posted
Our Class of `64 Site is Ad Supported to Keep it Free - We Do Not Share Any Information from the Site, Nor We Do We Endorse or Control the Ads That Appear From Time to Time.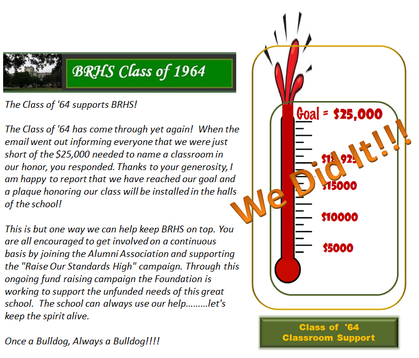 The Baton Rouge High School Alumni Association was reorganized as the Baton Rouge High School Foundation in 2010. The Baton Rouge High Foundation Membership is open to all who contribute to the annual fund campaign.
Click the Link Below For Information about
the BRHS Foundation
___________________________________________________
----------------------------------------------------------------------------------
Reunion "Memories" Slide Show
* * * * * * * * * *
This website was constructed by and for the 1964 graduates and classmates of "Dear Ole Baton Rouge High" We hope that you enjoy it and those that have found it for the first time will come back often and become regular contributors to your Profile Page and notifiy us when you have information that should be made available to everyone.
We are excited about the opportunity to stay connected and re-connect with one another
UPCOMING BIRTHDAYS