St. Mary's Grade School
It would be really appreciated if one of our class members who was raised in this parish could expand the below history of the church and the grade school.
History
How the School Originated
In 1852 the German-speaking Catholic community of Bloomington first organized their small community into what would become a Mission in 1867 and eventually, St. Mary's Parish. Construction of our present church began in 1885. St. Mary's School first originated in 1867. Classes met in the basement of the original church structure.
School Expansion
In 1954 the present building was constructed to house grades One through Eight. Pre-School and Kindergarten classes were added in 1979. Eight new classrooms and upgrades to the 1954 building were completed during the 2001-02 school year.
St. Mary's Educators
Over the years three religious orders have taught at our school: The Franciscan Sisters of Oldenburg stayed for nearly a century; during the 1980's one St. Joseph Sister from Seattle taught here; and most recently the Sisters of St. Mary Immaculate of Joliet provided instruction. Since 1992 the entire faculty has been lay teachers.
First Communion - 1954
First Communion - 1955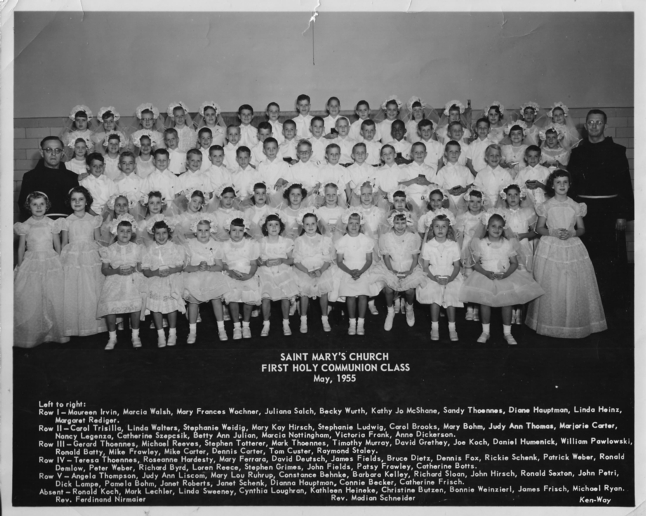 8th Grade Graduation -1961
L to R:
1st row: Stephanie Ludwig, Nancy Legenza, Mary Wochner, Patricia Wefer, Lynda Walters, Kathy McShane, Diana Hauptman, Victoria (Vicki) Frank, Judy Ann Thomas.
2nd row: Ann Wochner, Carol Reinholtz, Frances Daugherty, Mary Lee Szepcsik, Arlene Short, Anne Dickerson, Susan McConnell, Janet Schenk, Janet Hayes, Janet Roberts, Angela Thompson.
3rd row: Kathy Heineke, John Fields, Ronald Batty, Terry Woith, Richard Watson, John Hirsh, Loren Reese, Robert Glass, Theresa Thoennes.
4th row: Richard Schenk, Ron Demlow, Pat Weber, John Petri, Michael Hackett, Charles Ruhhrup, Eddie Deutsch, George Frese, Jim Frisch, Fr. Madian Schneider O.F.M.