Classmates Chronicles
John "Jay" McGee
Former EFL Oiler, Boxers' running back McGee Entered AFA Hall of Fame in 2009 and Brockton High School Athletic Hall of Fame 1998 Inductee
Jay McGee, #21
Running Back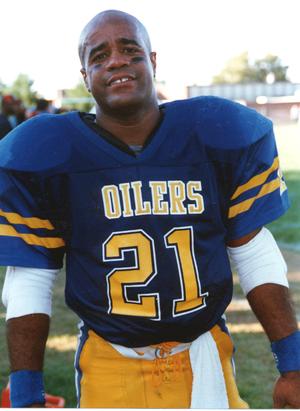 1999, also pictured Classmate Geoffrey "Jeff" Gouveia
Wearing the same No. 21 with the Oilers as he did with the Boxers, Jay McGee set the standing record for all-time rushing yards in the EFL with more than 2,000, leading Randolph to a league championship in 1990. McGee was a three-time Enterprise all-scholastic for Brockton High after leading the state in Div. 1 scoring in 1980 and 1981, amassing 170 points and 1,300 yards rushing in his senior year after rushing for 1,620 yards and scoring 31 touchdowns his junior year
From his time as a standout running back at Brockton High School to his 14 years spent with the Randolph Oilers of the Eastern Football League, Jay McGee's football career has brought him many memorable moments.
The moment awaiting him Friday night, however, may be the best.
McGee will be in Bloomingdale, Ill., where he will join the likes of Johnny Unitas and Vince Lombardi when he is inducted into the semipro wing of the American Football Association Hall of Fame.
"It's something I wasn't expecting," said McGee, who now lives in New Bedford. "I'm very grateful to be in the hall of fame. It means a lot to me."
Playing for the Boxers in the early Eighties, McGee was team MVP his junior year in 1981 and started in all three Super Bowls for Brockton.
McGee was a three-time Enterprise all-scholastic after leading the state in Div. 1 scoring in 1980 and 1981, amassing 170 points and 1,300 yards rushing in his senior year after rushing for 1,620 yards and scoring 31 touchdowns his junior year to earn induction into the Brockton High School Hall of Fame in 1998.
"Brockton is like the football capital of New England," said Oilers general manager and owner Peter O'Kane. "Jay was a legend there."
After graduating in 1982, McGee received a scholarship to play football at the University of Hawaii. He returned home to attend Massasoit Community College and Mass. Bay Community College, but was a sophomore tailback for the Rainbows in 1985.
When he returned to the mainland in 1986, McGee discovered semi-pro football.
"When I came back from Hawaii, my oldest brother, Skip, played that year when they were called the Brockton Oilers," said McGee. "So when I came back home, it was something I knew about and I just called up Peter (O'Kane) one day and said I wanted to come out and try out for the team."
"No one was ever better at playing his position than Jay McGee," said O'Kane, who nominated McGee for induction into the AFA Hall of Fame. "He could do everything. He was a phenomenal blocker. He could run inside, he could run outside.
"The guy never missed a practice. He was a leader. He led by example. He was such a hard worker. You can't say enough about him."
Long-time friend Mimi DiGiammo witnessed McGee's impressive career first-hand. For DiGiammo, there's no difference between the McGee she watched on the field, and the one she has called a friend for 30 years.
"Off the field, Jay McGee is a humble, honest, hard-working man who remains a respectable citizen and lives a quiet, low-key life," said DiGiammo. "Jay is a football icon in Brockton, right up there with Ken MacAfee Jr, Rich Miano, Rudy Harris, and Armond Colombo.
"Jay is a deserving recipient of the honors he has humbly accepted over the past few years, and he is a good, decent guy."
Wearing the same No. 21 with the Oilers as he did with the Boxers, McGee set the standing record for all-time rushing yards in the EFL with more than 2,000, leading Randolph to a league championship in 1990 and leading the league in fumble recoveries in 1996 while never missing a single game.
Now 45, McGee looks back on his days in the EFL with fondness.
"It was a great bunch of guys, tight-knit guys," said McGee. "We didn't really have any superstars that year. We just all played together. I sort of miss playing, but I got to point in my life where I was all set. I had played 14 years. The thing I miss most is hanging out with the guys."
McGee now works for Hytex, a textile manufacturer in Randolph, and still attends games and helps out whenever he can with his former team.
While it's been almost a decade since he has played in the EFL, McGee says he has definitely seen some changes in the league.
"I think when I was playing, it seems like we went to practice and we weren't late," said McGee. "I'm getting this from Pete. He says sometimes guys don't show up to games. The competition is not as competitive as when I was playing."
"It's a lot of commitment. You have to work then you have to go to practice. It's a love of the game."
That love of football is what has brought McGee to Bloomingdale, a city just west of Chicago. Even though McGee's football career has spanned the U.S., he just can't help but feel some jitters leading up to the big induction ceremony as one of 16 semipro football players going in.
"I'm a little nervous," said McGee. "I don't know what to expect because it's out in Chicago and I don't even know anybody. I don't think there's anyone from this area that's being inducted. So I'm not going to know anybody once I get there."
McGee is glad that Skip will be going with him.
"Me and my brother are like best friends," said McGee. "He's very happy for me and I'm very happy that he's going with me. It's a special moment."
Historical Photos of Jay McGee:
1981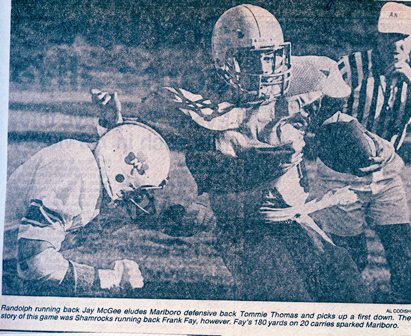 1987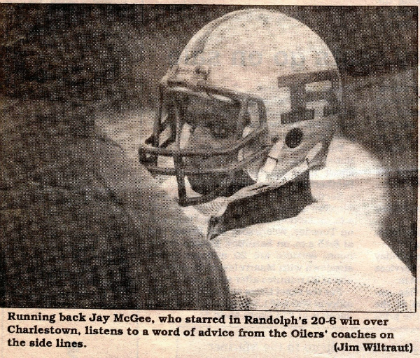 1989
1991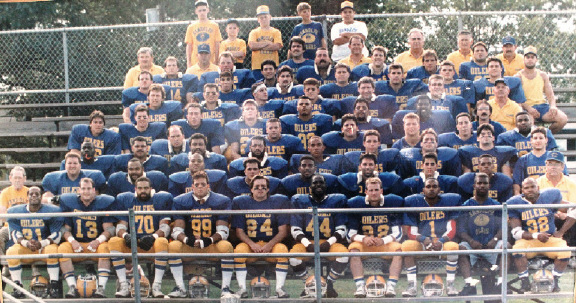 CLASSMATE: Mary "Mimi" Uhlman
Last Saturday Night, April 29th 2017, a group of classmates had the honor to attend the induction ceremony into the BHS Athletic Hall of Fame. The event was held at the Massasoit Conference Center where 11 BHS Alumni (9 Athletes & 2 Citizens) were inducted into the Hall of Fame.
Our classmate Mimi Uhlman was the deserving recipient of this prestigious award!
John Boutin presented Mimi Uhlmladth an honorable induction speech as follows:
Mary "Mimi" Uhlman, Inducted to BHS Athletic Hall of Fame, April 29, 2017
By John Boutin
Mary Uhlman was a unique athlete for Brockton High. During her tenure at BHS she played 4 different sports at Varsity level. She accomplished this by playing varsity volleyball in the fall of her freshmen year, after which she switched to soccer in the fall of her sophomore year while playing varsity level in basketball and softball. In Mimi's senior year she was a co-captain of the soccer, basketball and softball teams. When was the last time you met an athlete with those credentials?
Back in the early 1980's when Mimi Uhlman was a student-athlete; Brockton High participated in the Suburban League, arguably the most competitive league in the state. That being said, Mimi was a 2-time League All-star in both soccer and softball. In her senior year she was the Suburban League batting champion with a .480 batting average while leading the Boxers to the State Championship. Phil Fortin, Mimi's soccer coach, said she was very bright (graduating in the top 10% of her class), understood the concepts of the game, was dependable, tough and a great leader. What coach could have asked for more?
After graduation, Mimi Uhlman went on to play semi-pro slow-pitch softball well enough to be inducted into their Hall of Fame in 2009. She is also an accomplished golfer, playing in 2 USGA National Public Tournaments as an amateur in Illinois and Hawaii. Mimi then went to school and became a golf teaching professional. She worked at Foxboro CC and Old Scotland Links in Bridgewater just before moving to Florida to continue teaching. In addition, she drives tractor trailer rigs! Let's just say her life has never been boring.
It is a privilege to introduce to you the newest inductee to the Brockton High School Athletic Hall of Fame Class of 2017, Mary "Mimi" Uhlman.
CLASSMATE: Jan Sharkansky Singer
Jan (Sharkansky) Singer has blazed the trails in the Retail Industry specializing in beauty and fashion! From Chanel, to YM Magazine, Calvin Klein, Prada, Nike, Spanx and now training for her role as CEO of one of the L Brands, Victoria's Secret. This article chronicles her career after graduating from Ithaca College in 1986.

Jan Singer '86 now at Helm of Victoria's Secret
Kelli B. Grant '04, 12/2/2016
What motivates people? It's a question Jan Singer '86 has been fascinated with since she was a teenager, and one she credits with helping her succeed at some of the biggest names in fashion and retail.
"Retail is a behavioral study every day," says Singer, who takes the helm as chief executive officer for Victoria's Secret this fall and spoke with ICView during her training for the role. "Even now I'm literally in the stores working—watching what people are buying, what they pick up, what time of day it was when they picked it up, what's going on in their lives. I call it passionate curiosity," she says. "My brothers would call it being nosy."
Passionate curiosity or nosiness, Singer's studies of human behavior have helped her find her footing in transitioning among companies with very different products and customers: luxury beauty and fashion at houses like Chanel and Prada, athletic apparel and sneakers at Nike and Reebok, body shapers at Spanx.
"If you're open and curious and you have a passion for the consumer, then you quickly get into their head," she says. "It can be a 17-year-old kid playing basketball in China or a woman buying Spanx in Georgia. It doesn't matter."
Singer's interest in motivation has also served her well as she climbed the corporate ladder in different leadership roles. Her decade at Nike, she says, was instrumental in teaching her how to build and motivate teams to obtain better results. During her first year, she kept a notebook of all the similarities and differences between Nike and her previous employer Reebok, hoping to understand how Nike had become such a powerhouse. At that point, she estimates, Nike was a $12 billion business to Reebok's $3 billion.
"Eighty percent of that list, maybe 90 percent, was the same," says Singer. "Same discussions, same retailers, same consumer, same tension points in the business, same challenges. It really came down to human behavior. The level of respect, the culture, the way that the company was operating fundamentally came down to a high level of admiration and respect the employees had for one another. That produced incredible teams that produced incredible results," she says. "You have high-potential people thinking, 'If I lose, you lose, and if I win, you win.' It's unstoppable when that happens."
Singer would know about unstoppable. She knew she wanted to work in beauty and fashion since she was a kid. "I was eight when I went to New York City for the first time, and I knew I had to get there," says the Brockton, Massachusetts, native.
Her desire for a big-city life led her directly to Ithaca—counterintuitively—for its quietness and tight-knit community that reminded her of home. "I chose Ithaca deliberately," she says. "If I was going to spend a long time in New York City, I wanted to be on the opposite side of that spectrum for a time."
A combination major of psychology and business gave Singer the opportunity to continue digging into the behavioral questions that interested her, with a practical focus for working in business.
Singer beelined to New York City after graduation, but finding a job proved difficult.
"I didn't have a clue how all this worked," she said. "I was circling jobs in the newspaper and showing up at the interviews, like we did back in the day, and they would put me in a room and give me a typing test."
She came to realize how important the skill was for getting started in New York.
"At Ithaca, I never typed my papers at all," she said. "I remember specifically having to spend my beer money on getting a paper typed."
So Singer went back to Boston temporarily to attend Katharine Gibbs Secretarial School, learning shorthand and typing.
"Of course, today I use those skills every single day because I'm typing on the computer like everyone is," says Singer, who estimates she can still beat out 55 words per minute without looking at the keyboard. "But I didn't know back then I would need it. So I pride myself on it. I'd challenge anybody to a typing test."
Cold Call into Fashion
Singer's newly minted typing skills helped her snare her first post-college job, as a secretary for a real estate developer in New York City.
"I took anything I could get," she says. Her first job was straightforward: "I was just making copies of leases for people who needed them and closings that were happening."
Then, on the same day her boss laid off a few people, including Singer, an apartment lease that crossed her desk caught her attention. The company name in the tenant's return address: Chanel.
"It took me two days to get up the courage," Singer says. "But I thought, I'm just going to call this guy. I don't know who he is, but what's the worst that could happen? I told him, 'I'm moving on, and I notice you work at Chanel. I came [to New York City] to work in beauty and fashion. Is there anyone I can call?' He said, 'Yes, absolutely. Call this person. She's the head of HR. Tell her I told you to call.'"
But first, Singer called the receptionist back to find out the title of the executive she'd just spoken with. That was when she found out she'd just pitched the president of the company.
"So I called the HR contact and said, 'So-and-so told me I should reach out to you about an entry-level job.' She took me right away and gave me a job that day."
Singer started as secretary to a woman who trained all of Chanel's salespeople, and then she moved over to the public relations team.
"It was an amazing time to be there," she says. "Karl Lagerfeld had just joined. Nobody had ever heard of bringing a young designer into an established house. He turned it upside down. [It was] the beginning of supermodels, a whole new era of fashion."
Editorial Detour
The editorial team at teen magazine YM was looking for a beauty and fitness editor, and Singer's work at Chanel had made a noteworthy impression. Although she often worked with fashion editors, getting them product and talking to them at events, she says she knew little about what the day-to-day job entailed. But the offer was enticing, so she made the leap.
"It was incredible to be able to write and edit, contract writers and go on shoots, and produce my own pages," she says. "To do all that and help a teen customer who—as we all did as teens—struggled with self-esteem was wonderful. But I quickly knew that it wasn't going to be a long-term, sustainable track for me. Money was hard, and I didn't see a growth opportunity because I didn't want to be an editor in chief. I didn't know where I was going to go."
The beauty and fitness editor job gave her a good chance to figure that out, though, with so many beauty and fashion companies pitching her for coverage.
"I had a visibility to every marketing strategy, every executive team, and I could kind of be an insider to how the industry was thinking and working," Singer says. "So I took the challenge of the editor job into a different space: to learn what other people are doing, to learn about those companies I really love, and to make my next move based on that."
Jet-Setter Style
That right fit turned out to be Calvin Klein, which was preparing for a global launch of its cosmetics and fragrance lines.
"I had never ever left the country in my life," says Singer, who suddenly found herself a frequent flier. "My job was to make sure we launched product around the world the same way. I had to figure out licensing, global communications, and understand and spend time in markets all over the world."
The events of 9/11 changed her perspective. Singer, then working for Prada, was in Italy during the attacks. "I realized that my family is in Boston, and I'm here all alone," she says. With Boston-based Reebok looking for someone to launch its women's business, a move home made sense to her.
Big Moves
Then the cofounder of Nike came calling. As Singer puts it, "When Phil Knight calls, you take the call."
But the dream job offer wasn't a slam dunk for Singer, who had just started a new relationship that seemed like a right fit, too. "What do I do as a woman who's almost 40?" she recalls thinking. "Do I stay in my current job for the sake of getting married and having kids? Or do I get on the plane and go follow my dreams and maybe end up not married, no kids?"
Singer decided to be bold and ask her boyfriend if he would go with her to the West Coast.
"He said, 'Portland, Oregon? Windsurfing capital of the world! We're out of here!'" she recounts. "So we packed up and went."
Now married to her then-boyfriend with nine-year-old twins, Singer says that experience taught her how important it is to have support from loved ones.
"Make sure you surround yourself—whether it's your family, your church, your temple, your husband, your partner—with those who want you to win," she says. "He, every day, wants me to win."
Winning Efforts
Singer moved quickly up the ladder at Nike, from a role in footwear merchandising to running the footwear division. "We launched things that the consumer today still buys in the millions of pairs," she says—lines like Nike Free, Flyknit, and Lunar. Then she moved to run the company's apparel division.
"I was constantly a sponge [at Nike]," she says. "I never came in with, 'I know how to do this. I got this.' It wasn't broken. I came in with, 'Teach me, and I'll create a path for you.'"
Nike offered a different perspective on leadership, says Singer. "How to build teams, how to inspire, how to make a great place to work," she says. "How to honor and respect everybody and hold them in their future, how to unleash the high potential that they have—that was the job. East Coast, deliver the results or die. West Coast, leadership and the results will come. Different values."
Singer also reconnected with classmate and friend Lee Bird '86, who was president of Nike Affiliates—including Converse and Cole Haan—at the time.
"Lee remains a good thought partner," Singer says. "I love to discuss the retail landscape with him."
What Women Want
Deciding to leave Nike wasn't easy—Singer says she still misses those teams—but she and her husband were eager to return to the East Coast to be closer to their families, and she wanted to try a new role.
"I said then, 'If I leave, I want to take something small, quiet, off the radar where I can learn to be a CEO and see if I want to do this,'" Singer says.
That decision brought her to Atlanta as chief executive officer of Spanx, a move she says that turned out to be neither small nor quiet. "I had an opportunity to work with [founder Sarah Blakeley], rebuild the team, and set Spanx on its future procession of growth," she says. "It was another opportunity to take some of the best learnings I've had in my career around leadership and best practices."
"Then the great Les Wexner calls, and you take the call," she says. Wexner is founder, chairman, and CEO of L Brands, whose flagship businesses include Victoria's Secret and Bath & Body Works.
The announcement that Singer would be stepping into the role of chief executive officer at Victoria's Secret lingerie came at the same time L Brands revealed several big changes for the iconic company, including scrapping its famous catalog and halting sales of swimwear to focus on its core lingerie business.
"We all see opportunity with brands like this," Singer says. "It has such an emotional mark for women and has such longevity. There's always potential."
But Singer plans to approach her new role with the same kind of passionate curiosity that served her well earlier in her career. "I'm looking forward to learning from [Wexner], leading the teams, and serving the consumer," says Singer. "Those aims are always front for me."