Group Photos from 40th Reunion
Don't forget the fantastic time you had at the Class of 1970's 40th Reunion. Order your group photos today. Don't forget your elementary school photo, as well. The price is $20.00 for the first picture and $10.00 for subsequent pictures ordered. Even if you did not attend, don't miss this precious memento.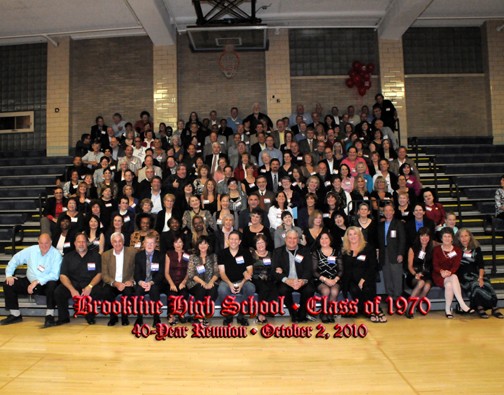 The picture above is low resolution. The group pictures ordered will be of a much higher quality.
Pictures Available are:
Entire Class, Baker, Devotion, Driscoll, Heath, Lawrence, Lincoln, Pierce, Runkle, Unaffiliated Alumni.
Pricing: First Photo ordered (usually class picture) $20.00. Each additional photos ordered are $10.00 each.
Make checks payable to David Jacobs and mail to David Jacobs, 83 Lakeview St., Sharon, MA 02067.
With questions regarding group photos call:
David Jacobs 781-784-8401
Sorry, no orders can be taken here on the website.
Samples of elementary school photos