Highline High School
Class of 1989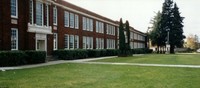 Welcome to the Highline class of 1989 web site.
Everyone who attended Highline as a member of the class of 1989 is welcome to join us here on this site, and in 2019 for Reunion. If you moved, changed schools, didn't graduate with us, or are missing from the Class List for any other reason, just let us know and we'll add you back!
30-year Reunion - October 11th and 12th
In the immortal words of Ferris Bueller: "It's over. Go home."
Were you there? Share your photos, videos and memories with us on Flickr, Facebook, or let us know the sharing site you prefer!
Did you miss out? Don't worry, Pirate! This website will be sticking around!! So you can still reconnect with your friends here, or through Facebook, and there will be lots of photos and videos to view! Start by checking out the official Reunion slide show at the top of this page!
Find more Piratey Goodness online!
HHS 1989 Facebook Page - reconnect on FB with friends from 1989 and the other class years, too.
HHS 1989 Flickr Group - show off your photos, old or new.
HHS89 on Twitter - follow us for the latest Reunion updates, tweet @hhs89 to let us know what's on your mind, and find fellow Pirates to follow.