Saturday On the Lawn
OUR "50th + ONE" REUNION
Below is information posted for our 50th Reunion planned for June, 2020. Because of the Covid-19 pandemic, we will be celebrating our 51st Reunion in Charlottesville in June of 2021. We will post more information when available, but you can read about our original plans for this year below - we are sure next year will be even better!
SATURDAY WITH CLASSMATES
Saturday is full of activities for School of Nursing alumni and friends even if you are not able to attend the Dinner or Dance scheduled for the Rotunda and Lawn on Saturday evening. Below are activities that are either planned specifically for members of our class or that we think may interest you. There is also a full afternoon of seminars and tours you or your guests may choose described on the reunion schedule.
All activities listed here, plus other afternoon seminars and tours, are included in a Day Pass.
SATURDAY MORNING

The class of 1970 will have a very special morning on Saturday. If you are so inclined, you can start it off at 7:30 with a yoga class. But that gives you just 15 minutes to change and get to the Rotunda where you will take that same walk you were so proud to take in June of 1970. That was an honor 50 years ago, and it is even more so today.
Following the walk, we will enter the Old Cabell Hall Auditorium to hear President Ryan speak and honor some distinguished alumni - including YOU! As members of the Class of 1970, we will be inducted into the Thomas Jefferson Society of Alumni.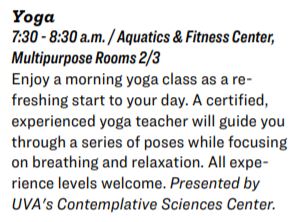 SATURDAY AFTERNOON
Luncheon At the Newcomb Hall
The "experienced" Nursing School graduates (those from 1970 and earlier) will enjoy a luncheon in the Newcomb Hall Ballroom hosted by Dean Pam Cipriano. Bridget Breen (Whitson)('70) will speak to the group about our time at the University. She would welcome hearing from you with your stories and memories or you can add them to your profile. Her email is bridgetewhitson@gmail.com.
After lunch, a lot of interesting tours or seminars are available or you can relax on the Corner with friends. You can see the full schedule by clicking here or you can choose one of the tours below and not even leave the Lawn.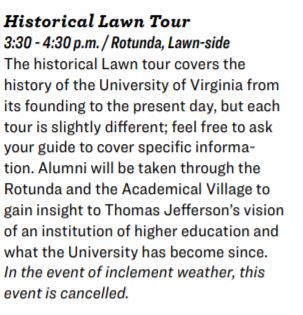 SATURDAY EVENING
There is still time to sign up for the reception and dinner on the Plaza of the Rotunda followed by a dance on the Lawn, but you can also enjoy a relaxed dinner on the Corner (or even at the White Spot) and then enjoy a unique experience inside the Rotunda as part of the Day Pass. Just imagine the inside of that beautiful dome as a soaring sky full of stars, planets, and constellations.