THANK YOU TO TODAY'S HEROES
When the World Health Organization designated 2020 as the International Year of the Nurse and the Midwife, no one expected that 2020 would also be the year we would find ourselves in the midst of the worst public health crisis in more than 100 years. The pandemic underscores the vital contributions that nurses make worldwide each day and their firm commitment to delivering patient care—even when it places their own health and safety at risk.
The Class of 1970 of the University of Virginia School of Nursing would like to thank all the nurses, health care workers, and other first responders for all they have done in the fight to save lives during this unprecedented crisis.
Welcome to the Website of the
UNIVERSITY OF VIRGINIA SCHOOL OF NURSING
CLASS OF 1970

​New to the Site? Learn More
UVA's 50th Class Reunion Weekend

Rescheduled for June 3-6, 2021
Stay Tuned for More Information
Update on COVID-19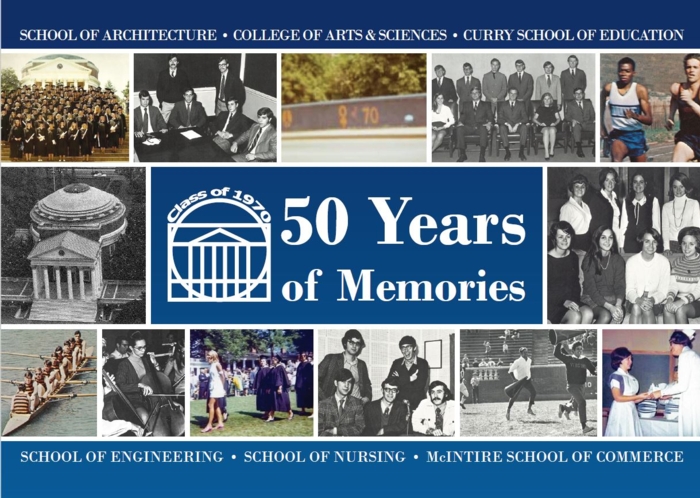 The Alumni Association mailer sent to all members of UVA's Class of 1970 announcing our 50th reunion
that featured our class including our "artwork" on the Beta Bridge.

The UVA Alumni Association has postponed the reunions planned for June of this year but will welcome more than 5,000 alumni and guests back to Grounds for UVA Reunions next summer in June of 2021.
The School of Nursing Class of 1970 will be celebrating its "50th +1" reunion and we hope to have many members of our class attend. In addition to seeing old friends, visiting the Lawn and other social events, all members of the UVA class of 1970 will be inducted into the Thomas Jefferson Society of Alumni.
We will post plans for 2021 as soon as possible, but you can see the kinds of plans that will be made by visiting the description of the events originally planned for this year by visiting the "Postponed Reunion" pages.
PLEASE JOIN YOUR WEBSITE!
This site has been set up by members of the Class of 1970 for all of our classmates. It is intended to help us connect with old friends and classmates and to allow us to share information about what we have been doing since nursing school, view pictures and videos from the old days and sign up for our 50th reunion. There is NO CHARGE for using the site, no annoying ads, and your name, email addresses and personal information will not be available to anyone except other classmates who have joined the site.
We hope you will join the more than 50 classmates who have already added their profiles. Need Help?
Here is a quick guide to some of the important pages on the site. But we encourage you to click on any of the menu items. We will try to add new features often.