In Memory
David Glen Ruby
David Glen Ruby, 69, of Minden passed away peacefully at his home on Monday, August 23 surrounded by his loved ones.
David was born on November 26, 1951 in Willits, California to David L Ruby and Helen M Ruby. David spent his younger days causing trouble with his great friends in Chico, California; many of whom he was still close with. David served 2 years in Vietnam with the US Navy.
Throughout his life, he was not only a bronc rider, he was a champion team roper and a halter horse enthusiast. David was an avid hunter and enjoyed chasing big game across Table Mountain, the Cherry Creek range, and the Pine Nut Range.
David dedicated a lot of time and energy to both the American Paint Horse Association and the Nevada Paint Horse Club. He was the president of NPHC and a national director for APHA. He enjoyed encouraging everyone in the show rings and was always there to support his family.David had a sense of humor that will truly never be forgotten. Although he spoke his mind, he rode a fast horse.
He was a beloved husband and father and the best Guppy anyone could ask for. David was the life of every party, and his smile will continue to shine bright in the lives of his family. He welcomed everyone he met into his home and his heart.
David is survived by his wife of 40 years, Shirley M Ruby of Minden, Nevada; daughter Kerri Drews (Carson) of Dayton, Nevada; daughter Kristi Stone (Justin) of Minden, Nevada; and 4 grandchildren, Mason Drews (15), McKenzie Drews (13), Paisley Stone (4), and Levi Stone (2). David also had two other daughters he thought of as his own, Allison Lang of Sparks, NV and Elizabeth Womble of Stockton, CA.
David was preceded in death by his parents, David and Helen Ruby; aunt, Ruth Sherman; uncle, Raymond Austin; and brother Robert Ruby.
A celebration of life will be held at Shadow Mountain Church in Gardnerville, Nevada on Saturday September 4, 2021 at 11:00 am.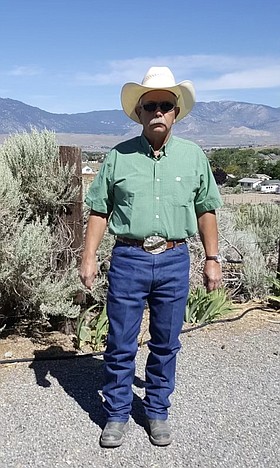 https://www.recordcourier.com/obituaries/2021/aug/24/david-ruby/

UA-43573904-1