Pius X High School
Class Of 1961
Just learned that Bob Trivison passed away last year. Have not been able to contact his wife Trisha and can't find the obituary. If anyone has info please forward.
__________________________________________________
60th REUNION
TIME AND PLACE: SATURDAY NOVEMBER 6, 2021
COCKTAILS AND DINNER AT
GULLIVER'S RESTAURANT IRVINE
18482 MAC ARTHUR BLVD
SCHEDULE: RECEPTION FROM 5:00PM TIL 6:00PM
DINNER FROM 6:00PM TIL 8:00PM
POST DINNER RECEPTION FROM 8:00PM TIL 9:30PM
SUNDAY BRUNCH AT THE HILTON
MENU WILL BE CHOICE OF:
GULLIVER'S PRIME RIB SERVED WITH GULLIVER'S FAMOUS CREAMED CORN, CREAMED SPINACH, WHIPPED HORSERADISH, AU JUS AND YORKSHIRE PUDDING
GARLIC HERB ROASTED CHICKEN BREAST WITH MASHED POTATOES, GREEN BEANS OR BROCCOLI
FRESH KING SALMON GRILLED OR POACHED
ENTREES INCLUDE: SALAD, DESSERT, COFFE, TEA AND SOFT DRINKS
PRICE IS $70.00 PER PERSON WHICH INCLUDES TAX, GRATUITY AND THE ROOM
COCKTAILS WILL BE INDIVIDUAL REPONSIBILTY
PLEASE SEND YOUR CHECK TO MARILYN RASSI-HEWLETT
20360 LAKE CANYON DRIVE
WALNUT, CALIFORNIA 91789
BEFORE SEPTEMBER 15th
SUNDAY BRUNCH: BRUNCH WILL BE AT THE HILTON AND WE WILL ORDER OFF THE MENU AND PAY INDIVIDUALLY.
HOTEL: HILTON IRVINE/ORANGE COUNTY AIRPORT
18800 MAC ARTHUR BLVD
A GROUP RATE OF $109.00 (plus hotel tax of 10.30% and sales tax of 7.75% for a total of $128.67 per night) HAS BEEN SECURED FOR THE NIGHTS OF FRIDAY NOVEMBER 5th AND SATURDAY NOVEMBER 6th SHOULD YOU CHOOSE TO STAY OVER EITHER OR BOTH NIGHTS
RESERVATION CUT OFF DATE IS OCTOBER 14th FOR THE GROUP RATE.
ADDITIONALLY A SELF PARKING RATE OF $10.00 PER DAY (a $25.00 savings) IS OFFERED.
RESERVATIONS CAN BE SECURED AS FOLLOWS:
Go to the website www.irvineorangecountyairport.hilton.com

· Put in arrival/departure dates
· Click special rates – type in group code "PHSR"
· Click check rooms and rates and select Discounted King
or Double Bedrooms at $109.00.
· Follow instructions to complete reservation.
Go to the website www.irvineorangecountyairport.hilton.com
Go To The Website www.irvineorangecountyairport.com
Enter Arrival and Departure Dates
Click Special Rates – Type in Group Code "PHSR"
Click Check Rooms and Rates and Select Discounted King or Double Bedrooms at $109.00
Follow the Instructions to Complete the Reservation
If you prefer to call for a reservation dial 1-800-445-8667 and request the negotiated group rate for Group Code "PHSR" Pius X High School Reunion
PLEASE RSVP AS SOON AS POSSIBLE BY GOING TO THE PIUS X WEBSITE (www.piusX61.com)
AND CLICKING ON THE 60thREUNION BOX ON THE LEFT SIDE OF THE PAGE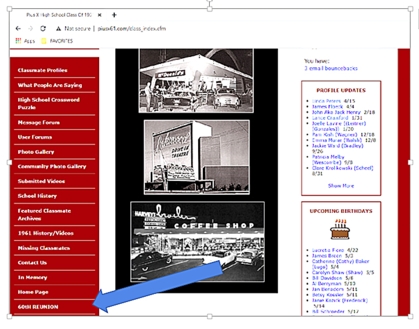 __________________________________________________________