United States Army Field Band
Retiree and Alumni Association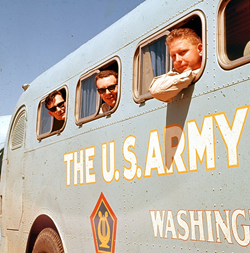 Organized in 1946 under the command of Chief Warrant Officer Chester E. Whiting, the U S Army Field Band was originally designated the Army Ground Forces Band - to provide a presence in the nation's capital that honored the "ground" soldier in the same manner that the US Army Air Forces Band honored those serving in the Army Air Corps. In 1950, when the U S Army Ground Forces were redesignated as the US Army Field Forces, the band changed to the name that it continues to use to this day - the US Army Field Band.

This website has been created to serve as a meeting place for those who have served in the US Army Field Band - and a place where others can come to find out about the history of the band.
Related to a Field Band member? Children, spouses and others who are related to former Field Band members are invited to join this website. You will have full access to all material that is posted here plus receive occasional updates. Send your request to Mike Culbertson.
We hope you enjoy the material and information that is here. If you are a former member of the band please take a few minutes to register/include your information on this website. And, of course, stop back often to see what's been recently added to the website of the Retiree and Alumni Association of the U S Army Field Band.
PLEASE SCROLL DOWN FOR MORE INFORMATION/ANNOUNCEMENTS
ANNOUNCEMENTS
•

Member Update (August 2021)

I was all set to give an update on Alumni numbers to everyone at the August 2021 Reunion Luncheon. Since that can't happen I have edited my notes into a readable form and have posted them below. I hope we will be able to gather next summer, 2022, to celebrate the founding of our unit and the people who built it into the world-class organization it is.

Mike Culbertson, Class of 2009

Past members 1713

This number includes everyone who was ever officially assigned or attached to the unit, but it does not include "guest artists." So Technician Fifth Grade Harold Heifler, an Army photographer who was attached to The AGF Band for a four day trip to New York City in June 1947, is listed, but the guest Soldiers who made tours with the Concert Band in the last few years are not.

Future Alumni 144

USAFBRAA made a decision to include current members of the unit in our list af alumni. After all, current members will become former members on the day they sign out of the band. We arbitrarily chose the Class of 1900 to account for them on the website. After all, a person who joins the band in 2021 could depart in any year between 2021 and 2056. When someone departs, he or she is moved out of the Class of 1900.

Deceased 645

At least 645 of the 1857 people on the roster have passed away. I say at least because my policy has been not to put anyone's name on the In Memory list unless I have some sort of verification that the person is truly gone. It is really embarrassing to get a telephone call saying, "He's not dead, I had lunch with him yesterday!" And yes, that did happen once. Right now I have only one person on the In Memory list without being documented, and he's only there because he was born in 1902.

Former Commander MAJ Sam Fricano, former Soldiers' Chorus Director CPT Dick DiFiore, former Jazz Ambassadors Director CW5 Freddie Vinson, and former Band Sergeant Major SGM Frank Granofsky are among 30 alumni who passed away since our last alumni meeting in August 2019. Also notable was Ted Higgs, who was the only African-American to serve in The AGF Band.

We all miss SGM Joe Greco, who passed away a week after our last meeting. Joe was one of the founders of USAFBRAA.

These are the comrades who have left us since August 2019, in chronological order.

GRECO. Joseph (Class of 1980)

GRANOFSKY, Frank (Class of 1981)

BENNER, George (Class of 1985)

SHAW, Carl (Class of 1984)

HARBERT, James (Class of 1954)

CULVER, Rick (Class of 1969)

GAUDIO, Joseph (Class of 1961)

HINER, Lawrence (Class of 1961)

VINSON, Freddie (Class of 2001)

FRICANO, Samuel (Class of 1979)

LEINER, Simon (Class of 1946)

LAPPIN, John (Class of 1946)

GUHL, Ernest (Class of 1946)

BRATRUD, Orville (Class of 1946)

DeMARCO, John (Class of 1960)

ALLEN, Eugene (Class of 1950)

KRAMER, Richard (Class of 1973)

CRUTCHFIELD, Albin (Class of 1962)

PALLANSCH, Robert (Class of 1956)

KING WILLIAMS, Delores (Class of 1991)

HAVENS, Daniel (Class of 1970)

HODOS, Ian (Class of 1968)

HIGGS, Theodore (Class of 1946)

FITZHUGH, David (Class of 1992)

DiFIORE, Vincent (Class of 1977)

PUWALSKI, Dennis (Class of 1986)

ANI, Cheryl (Class of 2002)

DiRE, Felix "Phil" (Class of 1965)

DAY, David (Class of 1993)

HALL, William (Class of 1981)

•

Mystery Soldier

I am having trouble with a man who may have been a member of TUSAFB in 1971, and I am looking for help.

In the program for the 25th anniversary is a unit roster. One of the names on that roster is Robert T. Craig. But that is the ONLY reference to him that I have found in Field Band records. He is not in any unit rosters or travel orders or concert programs.

Does anyone who served in the time around 1971 have any memory of Robert or Bob Craig?

Mike Culbertson

•

You may have noticed that there have been a lot of updates to the In Memory page recently. This is mostly due to an increase in the number of obituaries and other information published in places like Ancestry.com and Legacy.com.

Those of us who served in the mid 1980s remember SSG Lynn Dragovich, a clarinetist from Anacortes, Washington. After attending Central Washington University and Arizona State University he joined the Army. He arrived at TUSAFB in May 1985 after completing basic training. Shortly after his arrival he was diagnosed with AIDS. He was medically retired from the Army on 24 October 1986 and went home to Anacortes.

Lynn died on 4 November 1987 and is buried in the Grand View Cemetery in his home town, alongside his father Vince, who was also an Army Veteran.

The Dragovich family established the Lynn Dragovich Memorial Scholarhip, which is awarded yearly to a current or past Anacortes High School student majoring in music. I believe you can send donations to "Lynn Dragovich Memorial Scholarship", c/o Anacortes School District, 2200 M. Ave., Anacortes, WA 98221. If you would like to know more about the scholarship, go to anacortesschoolsfoundation.org/scholarships/lynn-dragovich-memorial/

Mike Culbertson

•

We received this message from Joe Orosz (Class of 1982) this morning. It is a tribute to his friend of 67 years, MSG (R) Bob Berton (Class of 1977), who passed away this week.

It is with a very sad pen that I write these three paragraphs about a USAFB member who had been my friend for over 67 years. When I joined the Band I fell in with a group of four members – "Red" Parks, Harold Nakao, Frank Granofsky and Robert Berton. We shared many meals and conversations on tour. We helped Robert when he found his soulmate in the WASH DC Embassy and marry his sweetheart. He moved his family to Odenton MD and there our families grew up together. We eventually lost "Red" and then Harold moved on to the US Marine Band and on to Hawaii. Robert retired and moved to CA. Frank passed last year. This left Robert and myself to converse.

Every Christmas time, his birthday month, Robert and I would talk via the telephone. He was not an admirer of the electronic age and refused to get a computer. December's conversations were always filled with how happy he was to be still playing tennis and his flute in local community ensembles. His latest was in a big band, which was finally disbanded for lack of local interest. He told me the guitars groups were their competitors. This past December there was no tennis nor playing talk, just doctor's visits and medical issues.

In January I tried to raise him on his phone and found it had been disconnected. That led me to call Jack, his nephew and his son Robert Jr. I was shocked to hear the news of his passing so quickly. Please – keep these two Field Band member in your prayers as they enter into this period of grieving for one of the best of our own.

•

We have some sad news this evening. Amy Norman, wife of MSG(R) Vince Norman, Class of 2012, passed away last night (28 March 2022). Details are not yet know, but as we hear anything we'll let you know. Vince is a member of USAFBRAA and can be reached through the Class Creator website. Our hearts go out to Vince and Raymond.

•

RAA Newsletter Archive now available

Wish you had saved those old issues of the Association Newsletter? Miss those updates on what "old timers" were doing? Trying to remember where George Koran was going next with his sailboat? Enjoyed reading what former Field Band commanders were thinking about? NO PROBLEM!

An Archive of all of the print issues of the Newsletter (1992-2006) is now available - all 234 pages of it.

The Newsletter was the mainstay of the Association in the early years. Your $5 dues brought you 3 or 4 issues each year via U S Mail thanks to the dedicated work of a small team of retirees led by Joey Greco.

Check it out by going to https://www.lulu.com and search for "Army Field Band". You can get a printed copy of the Archive for $8.98 or download it as an eBook for free. And while you're there, check out the other publications supported by the RAA in celebration of the 75th Anniversary.

https://www.lulu.com/search?adult_audience_rating=00&page=1&pageSize=10&q=newsletter%20archive%20-retiree

•

Publication of Kings of the Highway

I would like to announce the publication of my newest book, Kings of the Highway. It's a continuation of a project I began in 2012, to document the service of every individual who served in The Army Ground Forces Band and The US Army Field Band. My first effort, published in 2013, was 227 pages long. By 2016, Seventy Years on the Road covered 292 pages.

This year, 35 pages were added for the 75th anniversary edition. I added more information about the origins of The AGF Band, including chapters on First Combat Infantry Band and the Infantry Concert Group. Since 2013 more than 100 individuals became alumni when they left the unit, 48 by retirement from the Army.

To obtain a paperback copy of the book, go to www.lulu.com. Click on Bookstore, and search for "Ground Forces Band." Immediately below Joe Levine's excellent photo history is a purple box. Follow the instructions for purchase, and a book will appear at your address.

https://www.lulu.com/en/us/shop/sergeant-major-michael-w-culbertson/kings-of-the-highway/paperback/product-q82gkn.html?page=1&pageSize=4

The print version of the book is being sold for $32.50, which is just a little more than Lulu charges for their services. (I am working on an ebook version, which will sell for $5.00.)

Mike Culbertson

•

A Comprehenive Look at the Soldiers Chorus and its Origins

The latest in-depth 75th Anniversary Field Band article by SFC Brian Eldridge is now available on the Field Band's home page. Click on "Origins: Volume 2 - The Soldiers' Chorus: How it was Established by its First Directors" (https://www.armyfieldband.com/about/75th-anniversary) and sit back for a wonderful tour of the voices of the Field Band and how they evolved. Learn about the role each of the Soldiers Chorus early directors played in building this multi-faceted vocal group.

SFC Eldridge has once again written an article that keeps you reading from beginning to end. You will be amazed at how much you didn't know about the history of the Soldiers Chorus.

Coming up next? SFC Eldridge will now be turning his attention to jazz and how it found a home in the Field Band.

•

A Photo History of The United States Army Field Band: The First Seventy-Five Years (1946-2021)

by S. Joseph Levine (Clarinet 1963-1966)

The book consists of 19 chapters with a section for each decade of the band's history along with other chapters focusing on specific aspects of the band (the Drum Act, Transportation, Jazz, etc.). The full color pages are devoted to every imaginable aspect of the band.


The book is available as a FREE download, as a softcover/paperback edition, or as a hardcover "coffee table" edition. The softcover and hardcover editions are 322 pages in length, printed back-to-back on heavy weight glossy paper (#80) with high density colored ink (of course the photos of the band's early years are all in black/white!).

The cost of the softcover edition is $56.43 and the hardcover edition is $63.49. The downloadable eBook is FREE.

If you've been looking for some way to help people understand what it is/was like serving in the military's finest musical organization - this is it.

The book is available from Lulu.com - a well known online on-demand publishing company. They are set up to provide high quality printing in response to specific orders - they do not print copies ahead of time and warehouse them. It usually takes about 2 weeks for the book to arrive at your location.

To order a copy, download a free copy - or just check it out, go to:

https://www.lulu.com/search?adult_audience_rating=00&page=1&pageSize=10&q=field+band

•

Former Member of the Field Band?

All former members of the U S Army Field Band have been entered into the database for this website. If you are a former member of the band, click on JOIN HERE (upper right), enter your name, and complete the short sign-up form. Your name will then be forwarded to the website administrators for verification. Once you are verified you will have full access to all parts of the webiste.

*****************

•

Joshua Hecht - Class of 1953

Joshua Hecht, bass-baritone vocalist who sang with more than fifty opera companies during his long career, died in Sydney, Australia on 29 March 2019 at the age of 91. Details can be found on the In Memory page (see above). Hecht served in the Field Band from late 1951 to late 1953.

An article from the Baltimore Evening Sun (12 February 1953) anniunced that the Baltimore Civic Opera was rehearsing Jules Massenet's Manon under the direction of Rosa Ponselle, with performances scheduled for April 1953. Listed as cast members were Joshua Hecht as the Count, Eugene Coughlin as Lescaut, and Jack Marvin as Guillot. Gene Coughlin was a baritone soloist with the Field Band from 1950 to 1957 and Director of the Soldiers' Chorus from 1957 to 1975. Jack Marvin's son Steve retired from the Soldier's Chorus in 1996.

•

From Mike Culbertson

In the middle of May I attended the convention of the National Genealogical Society in St. Charles, Missouri, which is a suburb of St. Louis. The National Personnel Records Center is located in St. Louis, so I built some extra research time into my trip.

The NPRC is a National Archives facility, and is the main repository for military personnel records from World War I and later. The records I was interested in are the Field Band's morning reports from the first half of the 1950s. Morning reports were prepared by Army units from the very beginning of the Continental Army in 1775 until 1969, and documented arrivals, departures, promotions, demotions, unit movements, and other unit events. For the purposes of the USAFBRAA, the most useful things are the arrivals and departures.

I was able to read the reports from 1951, 1952, 1953, 1954, and 1956. TUSAFB's 1955 morning reports have apparently been lost or misfiled. In any event, they were not available for me to look at this month. National Archives personnel are searching for them.

The information I do have indicates that 21 men arrived at TUSAFB in 1955, and 14 men departed. Here, in alphabetical order, are their names. Those marked with single asterisks are known to be deceased. Those marked with double asterisks are members of USAFBRAA.

Arrivals: Bob Berton, Allen Cisco*, Burt Clark*, Donald Crowe**, Samuel Fricano**, Merle Gaumer*, James Holt, Oyer Johnson*, David Knighton*, John Krance*, Peter Laude*, Valentino Marconi*, Gerald Miller, Marshall Ocker*, Josef Orosz**, Richard Otto*, Harvey Phillips*, John Renzi*, Furman Riley, Glenn Salter*, Guy Webb.

Departures: Cy Baylor*, Walter Cord*, Anthony DiBonaventura*, Leonard Feldman*, Allen Hanna, James Hawley, Frank Kaggerud*, William Lubis*, William McCarthy, Melvin Pontious**, Glenn Reeves, Frank Sorianello*, John Suckling*, Lloyd Weldy*

I would like to verify the service dates of these guys. If you are one of those individuals, or if you know them or their families, I would love to hear from you. You can contact me through the Class Creator website, or directly at mikeculb@aol.com.

•

Dr. James Badolato (from Mike Culbertson)

Recently I sent a letter to James Badolato. After just under two years at TUSAFB (June 1962 to April 1964), he transferred to TUSAB. He was on the music faculty at Montgomery College in Maryland for several years, and is now retired.

I received an email from him today, with the following message.

Thanks for your letter of 8/30 re: the Field Band's outreach program. I am, indeed, the James Badolatio who was in the band, for a year and a hlaf (I then transferred to the Army Band at Ft. Myer). I have nothing but pleasant memories of the Field Band.

If my name will be listed somewhere would you mind using the appellation "Dr." since I have a Ph.D..

Interestingly rnough, the Field Band's leader during my tenure, Major Bierly, was a big help in my getting a doctorate since he was kind enough to allow me to transfer to "Pershing's Own." That allowed me to go to school full-time and begin pursuit of my degree.

On a sad note: Yesterday, at Arlington Cemetery, we buried former Field Band member and my very good friend, Richard P. Ecton, timpanist.