United States Army Field Band
Retiree and Alumni Association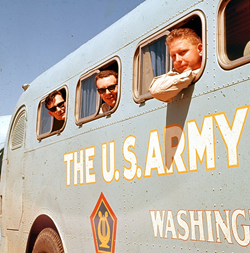 Organized in 1946 under the command of Chief Warrant Officer Chester E. Whiting, the U S Army Field Band was originally designated the Army Ground Forces Band - to provide a presence in the nation's capital that honored the "ground" soldier in the same manner that the US Army Air Forces Band honored those serving in the Army Air Corps. In 1950, when the U S Army Ground Forces were redesignated as the US Army Field Forces, the band changed to the name that it continues to use to this day - the US Army Field Band.

This website has been created to serve as a meeting place for those who have served in the US Army Field Band - and a place where others can come to find out about the history of the band.
Related to a Field Band member? Children, spouses and others who are related to former Field Band members are invited to join this website. You will have full access to all material that is posted here plus receive occasional updates. Send your request to Mike Culbertson.
We hope you enjoy the material and information that is here. If you are a former member of the band please take a few minutes to register/include your information on this website. And, of course, stop back often to see what's been recently added to the website of the Retiree and Alumni Association of the U S Army Field Band.
PLEASE SCROLL DOWN FOR MORE INFORMATION/ANNOUNCEMENTS
ANNOUNCEMENTS
•

A Comprehenive Look at the Soldiers Chorus and its Origins

The latest in-depth 75th Anniversary Field Band article by SFC Brian Eldridge is now available on the Field Band's home page. Click on "Origins: Volume 2 - The Soldiers' Chorus: How it was Established by its First Directors" (https://www.armyfieldband.com/about/75th-anniversary) and sit back for a wonderful tour of the voices of the Field Band and how they evolved. Learn about the role each of the Soldiers Chorus early directors played in building this multi-faceted vocal group.

SFC Eldridge has once again written an article that keeps you reading from beginning to end. You will be amazed at how much you didn't know about the history of the Soldiers Chorus.

Coming up next? SFC Eldridge will now be turning his attention to jazz and how it found a home in the Field Band.

--------------------------------

•

From Master Sergeant Brad Danho, Jazz Ambassadors Saxophonist, who is the Band's 75th Anniversary Alumni Events Team Leader:

"The 75th Anniversary Page on the unit website is live, SFC Eldridge is hard at work creating some really impressive historical content in the site's historical portal. We are really excited for this, and it will live on the page permanently. Also, we are planning a video project for 21 MAR in celebration of the unit's founding that will showcase the origins of the band. This hopefully will be on Facebook and Youtube."

Here is a link to the Band's website,

Here is a direct link to the 75th Anniversary Page.

•

Bradford Danho wrote:

Good afternoon everyone!

On behalf of LTC Robinson and the TUSAFB 75th Anniversary Committee, I'd like to update you with our current plans for our anniversary year. Celebrating TUSAFB's Diamond Anniversary throughout 2021, our main goal is to recognize the contributions of retirees/alumni and showcase your stories of service, while telling the history of TUSAFB from its founding to tomorrow. This will be achieved through recorded interviews with alumni/retirees which will be utilized throughout 2021 in our "We Stand Ready" livestreams, stand alone productions, social media posts, and key features for Veteran's Day and the band's program at the Midwest Clinic in December, among a multitude of other events during the year. These interviews will also serve as permanent historical records within the archives of the organization.

We are utilizing a Google Form Questionnaire to capture pertinent information from those who are interested in an interview. Here is the link: TUSAFB 75th Anniversary Preliminary Interview Questionnaire We ask that you share this link with all members of the Retiree/Alumni Association. Our component liaisons listed below will be in touch with all interested parties to go over the basis of the interviews and work out scheduling with myself and our video team.

Command Team - MSG Brad Danho - tusafb75@gmail.com

Concert Band - SFC Marlena Dillenbeck - tusafbmarlena75@gmail.com

Soldiers Chorus - MSG Mario Garcia - mario.a.garcia76.mil@mail.mil

Jazz Ambassadors/Studio Band - MSG Pat Shook - patrick.t.shook.mil@mail.mil

Six String Soldiers/Volunteers - SFC Glenn Robertson - glenn.e.robertson16.mil@mail.mil

OPS/Support/Motorpool - SFC Dan Erbe - dherbe0@gmail.com

Our plan is to reach out and spread the word about the interviews throughout the month of February, with interview recording starting in late Feb, early March. I'm not sure who the admins are for TUSAFB Alumni/Retiree Facebook and the Getting Ready for the 75th Facebook, but it would be great if there could be a post announcing what we'll be doing with a link to the questionnaire.

Interviews will mostly be recorded in a remote format, utilizing Zoom, Skype, or telephone if need be. In-person interviews will be scheduled for local alumni/retirees if feasible.

We are also planning a concert event on Fort Meade in late August, "The United States Army Field Band: 75 Years of Service'' which will feature all performing elements. Outdoor organizational day/alumni weekend events are also in planning stages, these will all conform to COVID protocols.
We also want alumni/retirees to be a part of this planning process as well, please reach out to myself or SFC Brian Eldridge (brian.t.eldridge.mil@mail.mil), we are both very interested in working together to make TUSAFB's 75th Anniversary truly memorable. We look forward to hearing from you, hearing your stories, and reliving the days that led our organization to where it is today!

Please reach out to me with any questions, or to simply get the conversation going. We are truly looking forward to hearing from everyone!

TUSAFB 75th Anniversary Preliminary Interview Questionnaire

MSG Brad Danho

Saxophone - The Jazz Ambassadors

75th Anniversary Alumni Events Team Leader

401-578-7537 (cell)

•

A Photo History of The United States Army Field Band: The First Seventy-Five Years (1946-2021)

by S. Joseph Levine (Clarinet 1963-1966)

The book consists of 19 chapters with a section for each decade of the band's history along with other chapters focusing on specific aspects of the band (the Drum Act, Transportation, Jazz, etc.). The full color pages are devoted to every imaginable aspect of the band.


The book is available as a FREE download, as a softcover/paperback edition, or as a hardcover "coffee table" edition. The softcover and hardcover editions are 322 pages in length, printed back-to-back on heavy weight glossy paper (#80) with high density colored ink (of course the photos of the band's early years are all in black/white!).

The cost of the softcover edition is $56.43 and the hardcover edition is $63.49. The downloadable eBook is FREE.

If you've been looking for some way to help people understand what it is/was like serving in the military's finest musical organization - this is it.

The book is available from Lulu.com - a well known online on-demand publishing company. They are set up to provide high quality printing in response to specific orders - they do not print copies ahead of time and warehouse them. It usually takes about 2 weeks for the book to arrive at your location.

To order a copy, download a free copy - or just check it out, go to:

https://www.lulu.com/search?adult_audience_rating=00&page=1&pageSize=10&q=field+band

•

Former Member of the Field Band?

All former members of the U S Army Field Band have been entered into the database for this website. If you are a former member of the band, click on JOIN HERE (upper right), enter your name, and complete the short sign-up form. Your name will then be forwarded to the website administrators for verification. Once you are verified you will have full access to all parts of the webiste.

*****************

•

Joshua Hecht - Class of 1953

Joshua Hecht, bass-baritone vocalist who sang with more than fifty opera companies during his long career, died in Sydney, Australia on 29 March 2019 at the age of 91. Details can be found on the In Memory page (see above). Hecht served in the Field Band from late 1951 to late 1953.

An article from the Baltimore Evening Sun (12 February 1953) anniunced that the Baltimore Civic Opera was rehearsing Jules Massenet's Manon under the direction of Rosa Ponselle, with performances scheduled for April 1953. Listed as cast members were Joshua Hecht as the Count, Eugene Coughlin as Lescaut, and Jack Marvin as Guillot. Gene Coughlin was a baritone soloist with the Field Band from 1950 to 1957 and Director of the Soldiers' Chorus from 1957 to 1975. Jack Marvin's son Steve retired from the Soldier's Chorus in 1996.

•

From Mike Culbertson

In the middle of May I attended the convention of the National Genealogical Society in St. Charles, Missouri, which is a suburb of St. Louis. The National Personnel Records Center is located in St. Louis, so I built some extra research time into my trip.

The NPRC is a National Archives facility, and is the main repository for military personnel records from World War I and later. The records I was interested in are the Field Band's morning reports from the first half of the 1950s. Morning reports were prepared by Army units from the very beginning of the Continental Army in 1775 until 1969, and documented arrivals, departures, promotions, demotions, unit movements, and other unit events. For the purposes of the USAFBRAA, the most useful things are the arrivals and departures.

I was able to read the reports from 1951, 1952, 1953, 1954, and 1956. TUSAFB's 1955 morning reports have apparently been lost or misfiled. In any event, they were not available for me to look at this month. National Archives personnel are searching for them.

The information I do have indicates that 21 men arrived at TUSAFB in 1955, and 14 men departed. Here, in alphabetical order, are their names. Those marked with single asterisks are known to be deceased. Those marked with double asterisks are members of USAFBRAA.

Arrivals: Bob Berton, Allen Cisco*, Burt Clark*, Donald Crowe**, Samuel Fricano**, Merle Gaumer*, James Holt, Oyer Johnson*, David Knighton*, John Krance*, Peter Laude*, Valentino Marconi*, Gerald Miller, Marshall Ocker*, Josef Orosz**, Richard Otto*, Harvey Phillips*, John Renzi*, Furman Riley, Glenn Salter*, Guy Webb.

Departures: Cy Baylor*, Walter Cord*, Anthony DiBonaventura*, Leonard Feldman*, Allen Hanna, James Hawley, Frank Kaggerud*, William Lubis*, William McCarthy, Melvin Pontious**, Glenn Reeves, Frank Sorianello*, John Suckling*, Lloyd Weldy*

I would like to verify the service dates of these guys. If you are one of those individuals, or if you know them or their families, I would love to hear from you. You can contact me through the Class Creator website, or directly at mikeculb@aol.com.

•

Dr. James Badolato (from Mike Culbertson)

Recently I sent a letter to James Badolato. After just under two years at TUSAFB (June 1962 to April 1964), he transferred to TUSAB. He was on the music faculty at Montgomery College in Maryland for several years, and is now retired.

I received an email from him today, with the following message.

Thanks for your letter of 8/30 re: the Field Band's outreach program. I am, indeed, the James Badolatio who was in the band, for a year and a hlaf (I then transferred to the Army Band at Ft. Myer). I have nothing but pleasant memories of the Field Band.

If my name will be listed somewhere would you mind using the appellation "Dr." since I have a Ph.D..

Interestingly rnough, the Field Band's leader during my tenure, Major Bierly, was a big help in my getting a doctorate since he was kind enough to allow me to transfer to "Pershing's Own." That allowed me to go to school full-time and begin pursuit of my degree.

On a sad note: Yesterday, at Arlington Cemetery, we buried former Field Band member and my very good friend, Richard P. Ecton, timpanist.

•

You're in Print

In fact, we're all in print! Thanks to the diligent efforts of Mike Culbertson, SGM Ret. (2009), each of us has a special place in Mike's book - Seventy Years on the Road. Mike has managed to track down each of the 1770 people who have been assigned to the Field Band (and its predecessor - The Army Ground Forces Band) and provided a short snapshot of each one of us.

"This book does not tell of all the concerts the band has played. Instead, it documents the service of the more than 1770 people who have been assigned to the Field Band. Each instrumental and vocal musician is listed, as are the off-stage performers who handled all the things required to put the tour on the road."

Included are sections about the 1st Combat Infantry Band, The Army Ground Forces Band, the evolution of the Insignia of the Field Band, listing of retirees by year, Commanders, Commissioned Officers, Warrant Officers, and Enlisted Soldiers.

You'll never read all 292 pages from beginning to end. But you will find yourself continually picking it up to answer the question, "What was the name of the person who..."

Available for purchase online from Lulu.com as either a paperback book ($17.50) or a downloadable PDF file ($4.99).