Fremont High School
Class Of 1959
Obituary Notices
---
---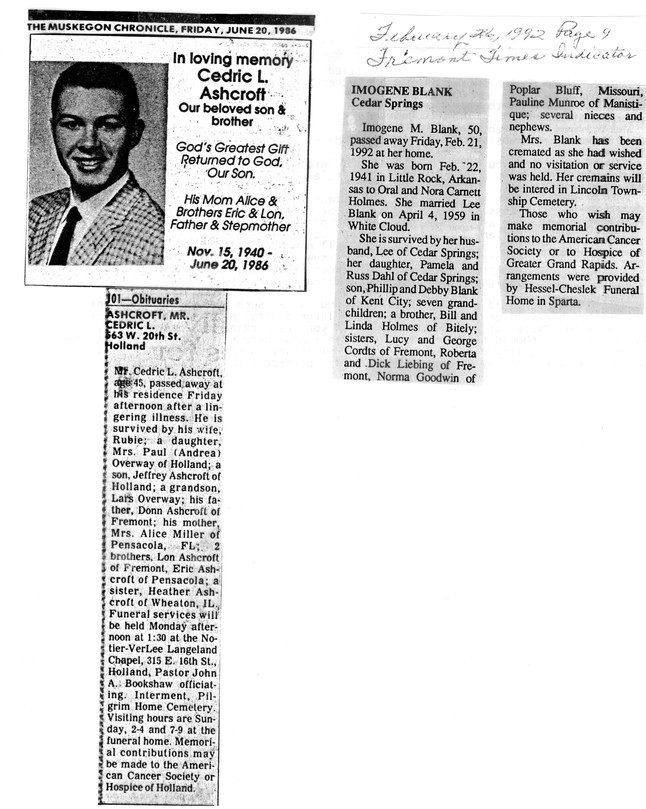 David L. Tubergen, age 74 of Fremont, passed away Friday, June 12, 2015 at the Heartland Health Care Center in Muskegon. Dave was born on May 22, 1941 in Fremont to Herman L. and Geraldine (Welkome) Tubergen and graduated from Fremont High School in 1959. Dave met and later married Joyce Klamer on August 3, 1962 in Fremont. Dave had worked in the family plumbing business in 1962 and then purchased the Dinner Bell Restaurant in Fremont from 1970 until 1987 and opened Dave's Used Furniture and Antiquesin 1984 until 1996. He then went to work at Dura Automotive until his retirement. Dave was a member of the Trinity Christian Reformed Church in Fremont and had enjoyed bowling in his younger years, was a former member of the Fremont Jaycees and Fremont Chamber of Commerce and enjoyed fishing and watching Nascar racing.

David is survived by his wife of 53 years, Joyce of Fremont; his children, Cindy (Ron) Nienhuis of Holland; Scott (Penny) Tubergen of Fremont; Jason (Dan) Tubergen of Holton; 6 grandchildren, Kathy (Kris) Bolles, Justin (Stephanie) Nienhuis, Kayleen Nienhuis, Justin Denhof, Eric Denhof, Tyler Tubergen; 4 great grandchildren; his brother, Dick (Mary) Tubergen of Fremont; his sister, Lonnie Westerbeek of Wyoming; sisters-in-laws, Janice Vruggink of Hudsonville; Judy (Paul) Baar of Hudsonville; brothers-in-laws, Henry (Kay) Klamer Jr. of Allendale; Jay (Gwen) Klamer of Zephyr Hills, Florida; many nieces and nephews. Dave was preceded in death by his sister, Penny Parminter and brothers-in-laws, Jim Klamer and Bob Vruggink.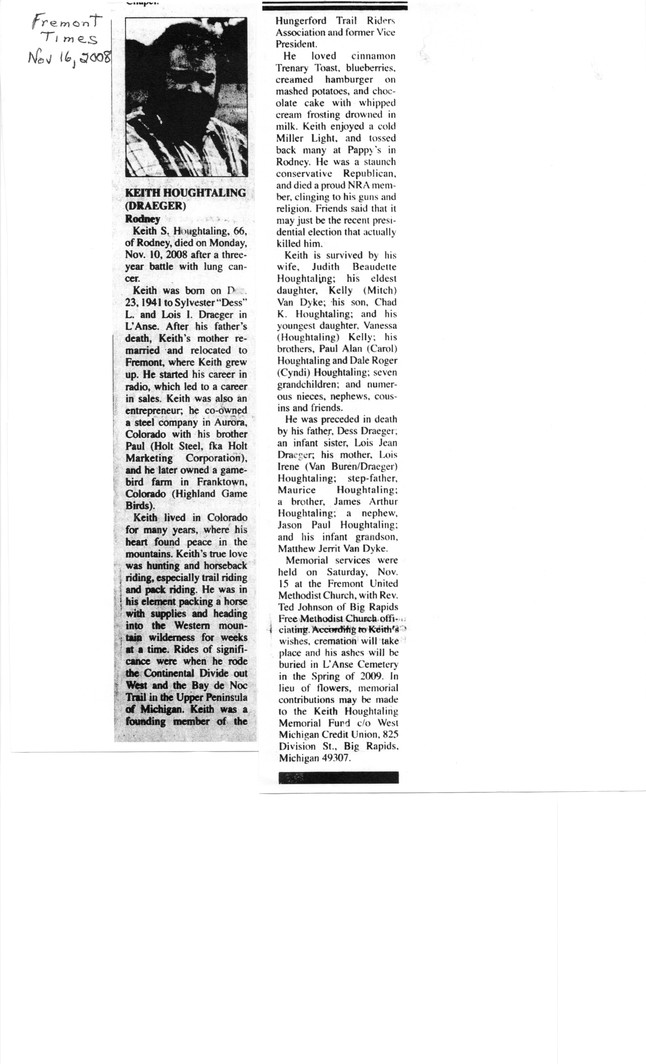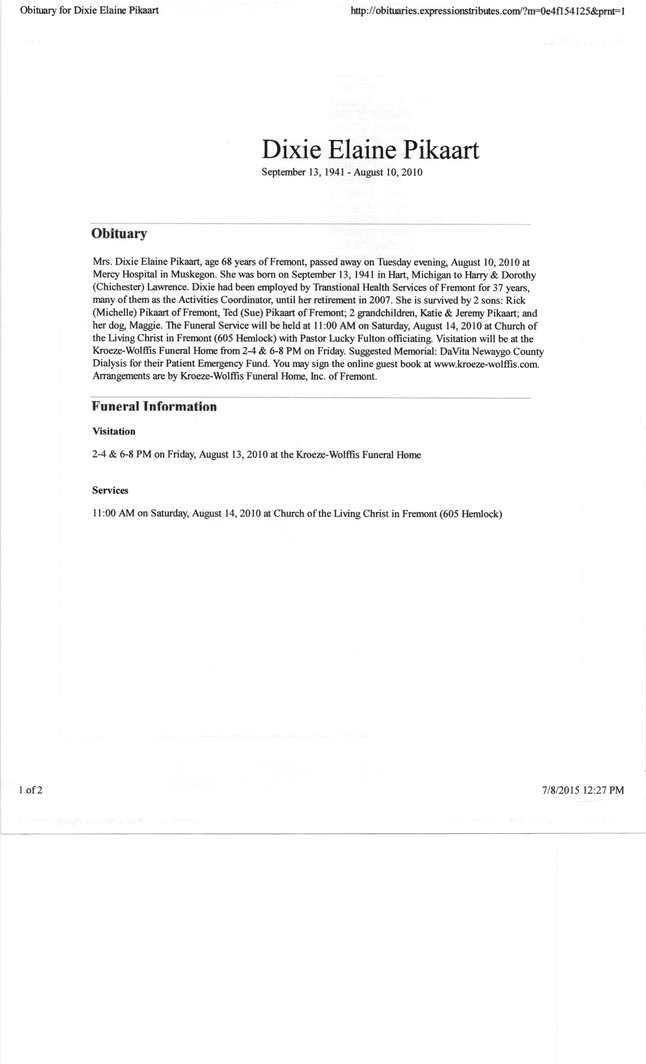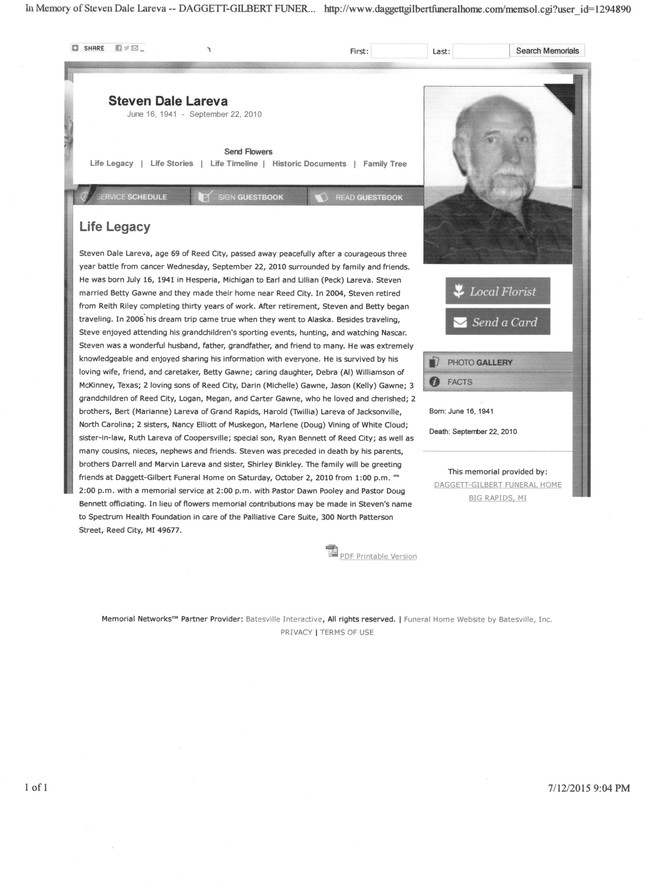 Well, Shoot! I'm dead.
Should have told you a couple of weeks ago, but Kate has the only fingers I can use and she just hasn't felt the creative urge to write like I do.
I left that ratty ol' body behind on August 7,, 2015, and slipped into the coolest pair of wings you ever saw. But you know me; no plain ol' white ones for me! Mine are bright turquoise and hot pinks and huge and fluffy. I didn't spend a lot of time leaving once I understood just how sick that body was. But we had a grand ride, especially those last couple of decades. Wow!
Just so you know, we thought we were chasing heart valve trouble, but the sneaky thing that actually took me out was liver failure. Who knew?!!
I left a few folks I care about behind. Kate Winner was my wife of 21+ years. She took damn good care of me over the years, and stuck right by me all the way…well, she's still living, so I guess she'll have some catching up to do later on. And I must mention our kiddos, Bearly, Mango, and Maxie.
I was born in Fremont, MI, over 7 decades ago. Still holding down the fort in the Midwest for me are my siblings: my sweet baby sister, Chris Carothers, in Ann Arbor, MI; my brother Curt Carothers, in White Cloud, MI; and sis, Kathy Carothers; two most favorite cousins: Rilee Thompson-Masters in Baldwin, MI, and Jane Thompson, back in Fremont, at last; and some great nieces and nephews: Maya, Luke, Neil, Elec, Alan, Kevin, Dalton, Kelsey, and Cody, and Rilee's grandkids Leah and Lane.
My Ruidoso posse, aka The Girls, include Kathryn Walker, Marcia King, Carol Freeman, Mary Taylor, Susan Finch, and Nancy Bradford; great friends, golfers, Karaoke Crooners, and Hand & Foot players. And Shaula Cull who never failed to answer the call from Kate about house and cat care, and who took Kate to LOOOONNG lunches when she needed a break; and Andrea Radow in Albuquerque, whose hospitality and support were invaluable to Kate in the last several weeks. If this were Kate's obit, she'd mention Jim Blackburn and her CheeBees, too. They are helping her out even now.
There are others whose names should be here, but I can't get Kate to pull those names out of the air, though I'm shouting them at her pretty loudly!
Back in the day, I was a great trumpet player, getting two summer scholarships to Interlochen during high school. I even had a hand in starting the first Gay & Lesbian chorus in Chicago. I loved golf, too, and got to be pretty good at it, playing often, especially with my great friend, Fran, who was waiting for me when I got here. I also enjoyed writing: poems, screenplays, books…may even get one published posthumously. Cool, huh?! I loved travel and am still a little miffed that I will miss the cruise in February! Sue, Chris R, and your partners better have a rockin' good time, that's all I'm saying!
Kate and I would like to thank a lot of people. The Angel Team are those friends who stayed in touch throughout this last summer and filled the air with prayer, meditation, positive energy, and help with the chores; our 'Not Doctor' Amanda Smithers, PA, who spoke real truth to us at a time when we needed it; the team at Presbyterian Kaseman Hospice in Albuquerque, who took care of both of us in the 'last days'. If you need a cool, peaceful place to croak, that's the one!
And on a similar note, here's some advice you need. Never miss a chance to have a good time or say I love you. And talk about what you want your 'transition' experience to look like with those who may be walking it with you. Kate keeps a "Croaking" folder; it's a good idea.

And lastly (unless I decide to haunt you), I meant to throw my own pre-death wake with loud music, probably some Karaoke, and always great food. I didn't get it done, and Kate hasn't a clue… so, remember me in your own way…on a golf course or a BEACH or a cruise. It won't matter and I'll know!
There have been two other remembrances written about me. They both make me smile. And in case you're interested too, you will find them at these links.
This one published in The Windy City Times: (lots of photos here)
http://www.windycitymediagroup.com/lgbt/PASSAGES-Joel-B-Carothers-dies/52485.html
and this one written by my nephew Alan Winner:
http://www.crazytownblog.com/crazytown/2015/08/transitioning.html#more
Photo to include: