Welcome
to the class of '64 Paulite connection.
June, 2019 lunch
L to R - Kathy J, Betsy M, Pat D, Karen D, Charlotte D,
Mary Q, Sally S, Nancy W, Celeste L
Class of 1964 Greetings!
It's 2021 and we're in our 75th year!
Who ever thought, while we were in our teens, that there would be so many of us living interesting lives at this age?! That is, in spite of all the restrictions placed on us over the past year. But, as they say, this too shall pass.
So, here is a program that allows us to have a virtual reunion and we'll see what develops from here. Everybody has a story to tell and you can share as much as you like. Pictures are fun. We know you don't look like that yearbook photo!!
Click on the "First Time Visitors" link to find out how to update your information.
Sadly, there are 13 deaths that we have documented.
We have e-addresses for 45 of us (pretty good start?) and hopefully you can help with many more for the 82 that graduated with us.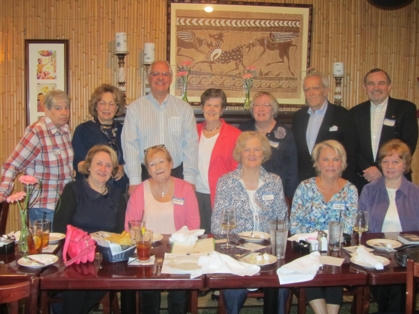 April 2017
Back row - Betsy M, Karen D, Tom D, Mary Q, Carol C, Bill M, Barry T
Front row - Jana B, Celeste L, Liz C, Sue M, Nancy W