QED-Trinity College
Classes of 1961 - 1968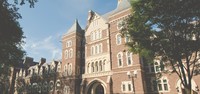 Rich Kirby Sings Bluegrass and Country Music
Rich Kirby, '65, grew up in an east Kentucky family full of traditional music. He started singing folk songs long before he arrived at Trinity, following in the footsteps of his grandmother, Addie Graham (1890-1978), who was born in Wolfe County, Kentucky. She, and later Rich, grew up with ballads that originated in the British Isles and with others that originated in the mountains. As a young woman she heard blues songs from the African American crews who built the Ohio & Kentucky Railroad past her home in Breathitt County. Rich produced an LP of her singing in 1978 (reissued on CD in 2008) on June Appal Records, the record label of Appalshop in Whitesburg, Kentucky. A number of other musicians have recorded her songs in the years since. In 2014 Rich produced a collection of those performances, "The Very Day I'm Gone," which includes Rich singing two of the songs, "Darling Don't You Know That's Wrong" and "Wild Bill Jones." Both recordings are available from Appalshop.
Rich currently hosts two weekly old-time music radio shows, "Deep in Tradition" on Appalshop's WMMT (Tuesday 1-3) and "Old Kentucky Bound" on WBCM, the station of the Birthplace of Country Music Museum in Bristol, Virginia (Thursday 2-3).
See this vimeo video of Rich singing "Wild Bill Jones" at the Morehead Old Time Music Festival in 2015:
Also look at this vimeo video of Rich Performing "Dream of a Miner's Child" for a continuing education class offered by the National Union of Mineworkers Continuing Class in Wales in 1976:
And you should google other youtube videos of Rich singing solo and with others.