QED-Trinity College
Classes of 1961 - 1968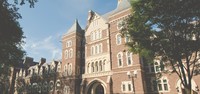 Welcome to the Website for QED Fraternity
Trinity College Classes 1961-1968
Reflect, Rejoice, Renew
This website is dedicated to our fraternity members for the purpose of promoting, celebrating and reconnecting with all QED members of the Trinity College Classes of 1961-68. (QED was founded as a local fraternity in 1960 and became part of the national fraternity, Phi Mu Delta, in the fall of 1965.)
Here you will find some photos, plenty of memories, and a great way for you to see what's become of everyone. This is our QED website, so come back often and update your information as it changes. Your participation is essential for it to succeed. The more you participate, the better it will be. Be sure to check the Announcements (below) for any "breaking" news.
Members of QED, if you haven't already done so, please register and fill in your profile. (You can update it at any time later as well.) Look at the page for First Time Visitors (link is in the left menu column) for details and for help navigating the site. If you are having any problems or want something changed or added, please let us know through the Contact Us link. This is your web site.
To see which QED members have added photos to their profiles, go to "Member Profiles" and click on the link for "Profile contains photos." Also be sure to keep checking back to see new photos added to the "Photo Albums" (left menu column). The dates under the albums are when the most recent photo was added to that album. (Unfortunately we have no way, yet, to indicate which photos were added when.)
Jerry Liebowitz, site administrator
Dick Gann, site co-admin
Peter Kinzler, site co-admin
ANNOUNCEMENTS
Currently Retired or Contemplating Retirement?
Be sure to read Peter Kinzler's article "Retirement 101: A Beginner's Guide to Retirement" by clicking on the link in the left column.
We need photos!
Please send us photos for uploading to our albums. You can either email them as attachments or upload them to your profile (and we will place them into albums). We'd like as many photos as possible of QED members during the years at Trinity and afterward.