HAVERFORD HIGH CLASS OF 1966
55th Plus 1 Reunion
3:00 - 6:00 PM
Saturday September 24, 2022
Workhorse Brewing Company
https://www.workhorsebrewing.com
250 King Manor Drive
King of Prussia, PA 19406
$50 per person
(this covers food, room rental and gratuities)
Cash Bar
While the Workhorse is noted for its fine assortment of excellent craft beers, they
also offer wine, liquor and cocktails as well as an array of non-alcohol beverages.
Ticket Purchase deadline is September 15.
(Actiual tickets will not be distributed. The names of those who have purchased tickets will go on a master list to be used during check-in at the event.)
Payment Methods
Venmo: Send funds via Venmo to @HavHS66
If you use Venmo to purchase a ticket for a guest, please list their name in the comment space.
Checks: Payable to Haverford High Class of '66 and mail to:
John Linehan
896 Weadley Road
Radnor, PA 19087
Questions: email John Linehan at johnplinehan896@gmail.com
MINI REUNION IN FLORIDA
Back in February three of our classmates met for lunch in The Villages in Florida. To commemorate the ocassion, Becky Warren Anderson made an entry on our class FaceBook page with a photo and a few comments. With Becky's permission, her FaceBook entry appears below.
Pictured from L-R are: Pete Palmer, Becky Warren Anderson and Steve Domenick.
"What a super fun day to spend it with 2 classmates!! I went down to The Villages and met Steve Domenick and his wife Kate, as well as Pete Palmer. Have known Steve since 7th grade, but Pete since 1st grade!!! We had also gotten together last year about this time and talked about doing a mini-55th reunion for we Florida folks. But we all know what happened to that idea!! How I cherish these times to be able to get together with life-long friends!!!!"
As COVID restrictions are being lifted and because it has been 55 years since we graduated from HHS, we are beginning to plan to have a very informal and inexpensive reunion in the Philadelphia area sometime in the Fall . As the plans are developed, the details will be provided on this website as well as on our class FaceBook page. Have a great summer!
RUN FORDS RUN! - SPRING 1966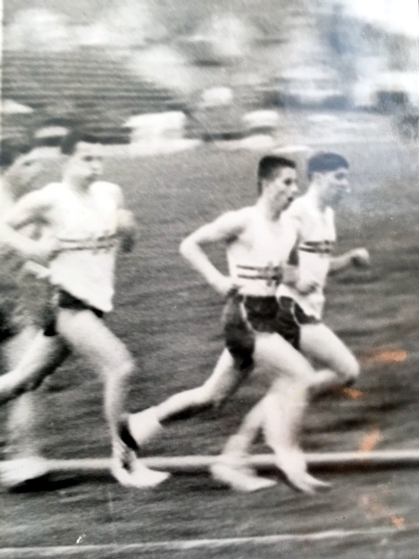 And as they round the turn, it's Bill Waters '66 in the lead, followed by Dennis Heller, '66 and then Steve Krusich, '66. Many thanks to Steve Krusich for sending this photo. If you have an old photo of members of the Class of '66 which you would like to have posted, please it send to: johnplinehan896@gmail.com
DRESS UP DAY - DECEMBER 23, 1965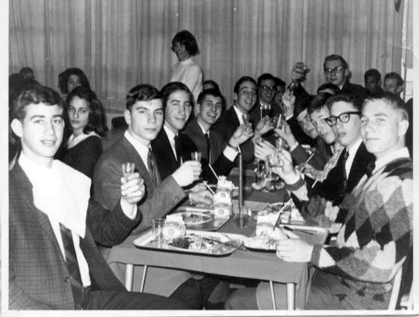 On this "Dress Up Day'" the lunch special was likely a turkey platter. Those above enjoying their meals from the left and moving clockwise are: Alan Prager, Barry Hart, Larry Stoloff, Bob Kemp, David Henry, Bill Landsburg, Paul Pressman (on the right with his hand up), Andy Fincke, Joel Himmelstein, and Earl March. Those identified behind the boys are: Helen Lipson (between Alan and Barry), and Lynne Goodstein who is standing on the left in the back. Many thanks to Paul Pressman for submitting this photo.
PARTY LIKE IT'S 1966
Here are some members of our class at a party in 1966. Those that have been identified are: Gail Baker , Class of '65 (center front), Ed Carre (lower right), Vic Farley (far left), Betty MacElrevey (behind Vic), Kim Thornhill (to Betty's right), Alan Einstein (top center), Dorie Fruchbom, (just below Alan), Michael Freedman (to Dorie's right). Many thanks to Michael Freedman for supplying this "oldie" photo. If you can identify others in the photo, please message me via this website. John Linehan
NICK DELVISCIO
INDUCTED INTO THE HAVERFORD HIGH SCHOOL
SPORTS HALL OF FAME
Monday November 25, 2019
Our own Nick Delviscio was inducted into the HHS Sports Hall of Fame in front of a banquet crowd of 250 plus at Llanerch Country Club on Monday night November 25. Nick gave a very moving acceptance speech which focused on his rise in the football world from his playing days at Oakmont Elementary School to his days as a three year starting linebacker at Virginia Tech. Pictured with Nick below are his supporters from the class of '66 who were in attendance: Tom Waddell, John Linehan, Bob Bush, Ridge MacLaren, Nick, and Steve Domenick. Also present but camera shy was Brian Quinn.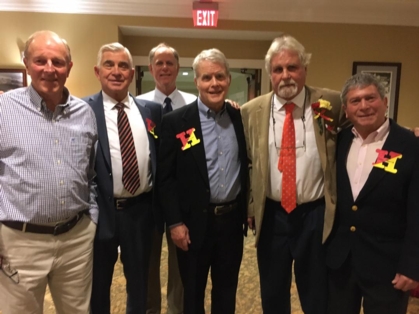 Fall Golf Outing: Tuesday October 29, 2019
Many thanks to Tom Waddell for hositng our Fall Golf Outing at Apple Cross Country Club on Tuesday October 29. The weather was perfect for a day of golf, and a great time was had by all. Pictured above from L- R are: Don Leonard, Ridge MacLaren, Tom Waddell, Pete Barbour, Linn Prince, Joe Makurath, Bob Bush and Craig Kalck. We plan to play again next year in the late Spring or early Summer. If you would like to join in the fun, just email one of those listed above.
THE STAINS REUINON SEPTEMBER 2019
The surviving members of "The Stains" met recently at Terry Jarman's (HHS Class of '67) home to celebrate the life of their bandmate and our classmate Barry Shellington who passed away almost a year ago. Pictured in the photo from left to right are: Dave Peters, John Woodward, Ric Rotondi and Terry Jarman. Many thanks to John Woodward for sending the photo for posting.
How Many Can You Identify?
Twenty-eight years ago, many of us gathered for our 25th Reunion. How many of our classmates can you identify in the two photos below? Sadly, some of those in these photos have passed from this life. Many thanks to John Woodward for sending these photos and coming up with the idea to post and test our memories.
Golf Get Together on June 13, 2019
On Thursday June 13, 2019, the seven members of the HHS Class of '66 pictured above gathered at The Golf Course at Glen Mills located in Glen Mills, PA for a round of golf. Pictured at the post golf meal from left front and moving clockwise are: John Linehan, Ridge MacLaren, Tom Waddell, Don Leonard, Joe Makurath, Rob Bush and Pete Barbour. Of special note: Joe Makurath drove up from Alexandria, VA to join in the festivities. We plan to gather again in the Fall for another round. If you would like to join us, please message anyone of us via this website.
If you are part of a gathering with members of our class, please take a photo and email it along with a brief story to johnplinehan896@gmail.com and it will be posted here.
Classmate Featured
The business owned and operated by HHS class of 1966 classmate Lois Finkelstein Caplan was featured in an article appearing in the Philadelphia Inquirer back on December 30, 2016. Here is the link to the story: You will need to copy and paste the link into your browser in order to read the article.
http://www.philly.com/philly/business/small_business/Two-sisters-had-an-idea-and-it-bloomed-far-beyond-their-dreams.html
Special thanks to classmate Rebecca Craven Greenhow who brought the story to the webmaster's attention.
ANNOUNCEMENTS
CLASSMATES:
COVID has begun to fade in our rear view mirrors, and with that in mind, it is time for some FUN, FUN, FUN.
We have reserved space at a great place for fun from 3 to 6 PM on Saturday September 24, 2022, at the
Workhorse Brewing Company Website: https://www.workhorsebrewing.com/
250 King Manor Drive
King of Prussia, PA 19406
While the Workhorse is noted for its fine assortment of excellent craft beers, they also offer wine, liquor and cocktails. .
More information to follow with all of the details and how/when to RSVP with payment.