"Happy Father's Day 2021 to All the Fathers
Associated with our Class!!!"
Reflection Time: Yup, We have all reached a special time in our lives, in which many of us
not only knew our Dads, grandfathers, and some lucky few our great grandfathers!
But now have sons, and grandsons who are fathers!!! Perhaps... a great-grandson???
Fatherhood is a special calling, and the Class of 1967 answered that Call!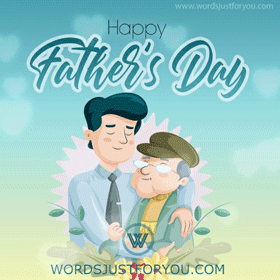 Click on Image Above or Below!
Click Below
"Yoda best, Dad." ~ Unknown
"I love your bad dad jokes."
"If the world had S'MORE dads like you it would be sweet."
"You're one of my two favorite pear-ants!"
"Happy Fathers Day — don't worry, be hoppy."
"Hey dad, it's cool that you're a little Old Fashioned."
Have any of you had a glimpse of Fame you can Share? Let us know!
ENHS "Class of 1967" - 50 Year Reunion
September 15, 2017
Click on Class Photo
50 Year Class Reunion
Graduation (Friends Forever) - Vitamin C
Click on the picture above!
Class of '67 in the News!
Click on East Noble High School Sign - Above
Welcome Classmates!
from the
Class of 1967!
Welcome to our Class Web site
(The gathering and announcement site for members of the class
)
"The 50th Reunion celebration"
Our Golden Anniversary Reunion.
It is truly difficult to believe that we have reached the "half-century" mark in the history of our class. While there was a time many of us felt that we would live forever… we know so much better now. Sadly there are those who are no longer with us physically, but will forever remain in our hearts. Thus it is critical that we treasure the time we do have with our oldest friends… those with whom we embarked on the journeys that each separate life has taken. Yes it is time to...
RECONNECT, RECOLLECT, & REFLECT!
BTW: Hey Folks check the "Missing Classmates" List - Help us find them!
To register yourself on the website:
Click "Classmate Profiles" on the link (tab): [It's on the yellow bar at the top of the page.]

Find your name in the listing for Class of 1967

Click on your name to bring up your profile page, fill in the blanks, and add a message, photo, etc. if you wish. If you do not find your name on the list, it means we do not have you in the class database and must add your name to the profile page so that you may complete the profile.

To do this, click on "Contact Us" and send us the message: Please add my name and e-mail to the class list. We will notify you when that is done and you may then register.
Take a moment to visit the 'In Memory' page and let us know if there is anyone who should be listed or if there is erroneous or missing information.

Check back frequently for messages and announcements.
Happy Sounds from Our High School Days!