Leesburg

High School




Classes Of 1968 - 1972
Welcome to the Leesburg High School Classes Of 1968 - 1973 Reunion information web site. Only LHS Class of 1970's Classmates may register; all visitors may peruse the site's pages. If you are a classmate from '68,'69,'70, 71,'72, or 73, the website administrator can forward your contact information to your class' representative. Please contact the Website's Administrator ("Contact Us") with questions and/or comments. Also, for our "In Memory" page, we appreciate information you may have about former classmates -- from any of the classes of 1968-1973 -- who may have passed.
LHS Class of 1970 classmates: please click on "Classmate Profiles" to register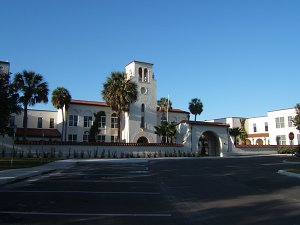 Special welcome to LHS Class of 1970 Classmates. You need not have graduated with this LHS class to join this site. If you attended any Leesburg/Fruitland Park/Lady Lake Elementary, or 7th grade ("Soaring Eagles!), in Leesburg -- and could have graduated in 1970, you may join this group. Contact the Website Administrator ("Contact Us") to have your name added; then, log in and post info.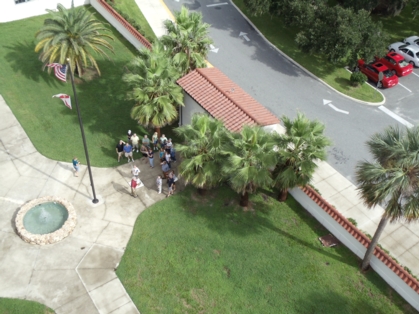 SAVE THESE DATES :
For the 2022 Multi-Class
Leesburg High School Reunion
April 22-24. 2022
Facebook Page: Leesburg High School Classes of '68-'73 2022 Reunion.
Class of 1970 members: please assure your contact information is current on this site by updating your profile, Thank you!
WEEKEND and RESERVATION DETAILS:
The venues for the April 22-24, 2022 multi-class LHS Class of 1970 Reunion are booked; rhe caterer and entertainment are set; and, our class' treasurer, Rayna Moore, is ready to receive your reservations.
Friday, April 22nd, 2022
Leesurg's Boat Club at Venetian Gardens
Dinner and Entertainment
Cash Bar; beer and wine only
6 PM until 7 PM. Cocktail Hour; Dinner and DJ to folow
$50 per person
Saturday, April 23rd, 2022
Paquette's Barn, 615 South Whitney Road, Leesburg
Multiple LHS Classes' Members Gathered
Cash Bar; beer and wine only
Heavy Hors d'oeuvres
Entertainment
$50 per person
Approximately 6 PM
Sunday, April 24th, 2022
Leesburg's Boat Club
Memorial Service
Approximately 9 AM; Sunday's start time will be announced at Friday night's dinner, and at Paquette's.
Saturday and Sunday are priced as one event; $50 per person covers both
Send a check, payable to the order of: "LHS Class of 1970." Please include names for tags on the memo line. Address the envelope to:
Ross Moore
1711 Marion County Road
Weirsdale,FL, 32195
Also, please include a note/index card with the classmate's current info; including e-mail, USPS mailing address, and primary phone number. Please specify events selected: "1970 Dinner" and/ or "Multi-class events" (Paquette's Barn AND Memorial Service)
For more information, please "Contact Us" (left hand side of this page, in the yellow box). Please assure your correct U. S. Mail and e-address; and, current phone number(s) are on your profile.
Thank you!
Please join us on the Facebook page:
Leesburg High School Classes of '68-'73 2022 Reunion
Thanks go out to David Barcus for the above picture of The LHS courtyard. David was paragliding over the 2010 Reunion's tour of LHS:
The annual holiday party for The Leesburg High School Class of 1970 and Friends was Thursday, December 6th, 6 PM, at Sip Restaurant, Jazz Bar/Lounge, on Main Street in downtown Leesburg. As in years past, attendees contributed to the Children's Advocacy Center by bringing unwrapped Christmas toys; and/or, donating to The Yellow Rose Closet. Many gave funds to continue buying clothes, etc. during the year for deserving children.
Please see pictures from the 2018 holiday event on the "Holiday 2018 Class Party" page.
The LHS Classes of 1968-1972 had a reunion of classmates, friends, and former teachers the weekend of
July 31st, August 1st and 2nd, 2015.
Below are pictures, featuring the Class of 1970, from that weekend:
Friday night's event was at Sip Restaurant Jazz and Wine Bar, at 707 W. Main Street
David Gilchrist, David Clark, Kenny Mitchem, Ross Moore, Danny Farling
Meredith Kirste, Mark Sneed, Rachel Mattick Horn (background), Mike Napier
Kenny Mitchem and Betsy Barbieux
Mark, Glenna Hancock, Rachel Horn, Jan (Mrs.. Ernie) Barnett, Susan (Mrs. Sam) Rixie,
Sandra Carter Ginn, Rayna (Mrs. Ross) Moore, Sam Rixie, Ross Moore
Janet Cannon Stenman, Marilyn Hoag, Sandra Carter Ginn
Nancy Beyers Dyer and Terre James Peter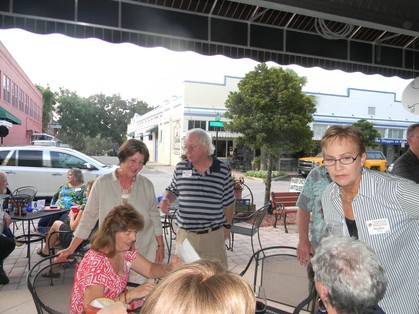 Above: Debbie Simmons passing out name tags to Rachel Horn and Robin Bass; Marilyn Hoag
Saturday night's Dinner-Dance was held at Leesburg's Community Building:
Meredith, Dozier, Bill Goshorn (1969) and Gilchrist helped with the decorations.
Best of the Best Band member David Duff setting up.
Karen Penley Barnes, Dale Arrowsmith (1969), Franklyn Bundrick, Judy Brister Arrowsmith
Best of the Best Band: Jim Rast, Wayne Corbin, "guest" Mike Napier,
Wayne Proctor, Steve Carter, David Duff
Former teacher, "Coach" Tom Blake
Former teachers: "Coach Tom Blake, classmate Julie Williams (1972), Rosalie Hull, Joan Brown
Former teacher Frank Wells and Julie Williams (1972)
Mary Clark (1972) and David Clark
Jill Mantor Baker (1971); Wayne Proctor "Best of the Best Band" vocals (1965); Pat Cox Hux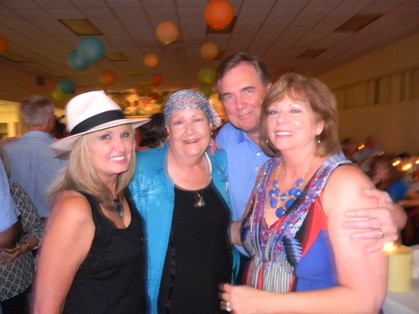 Valerie (Mrs. Wayne) Proctor, Kim Brokaw Ackom, Marshall and Pat Hux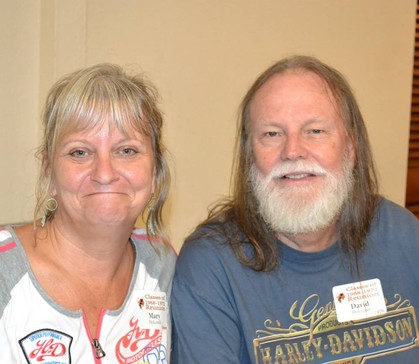 Mary and David Holcomb
Judi Sloan Kerr and Carol Ann Morris Smith
Best of the Best Band and guest Mike Napier on harmonica
Kenny Mitchem and Kathy Miller Ragan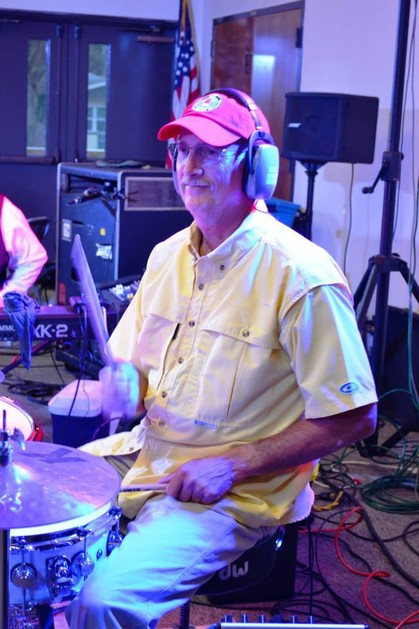 Drummer Steve Carter (1969)
Keyboard and vocals, Wayne Corbin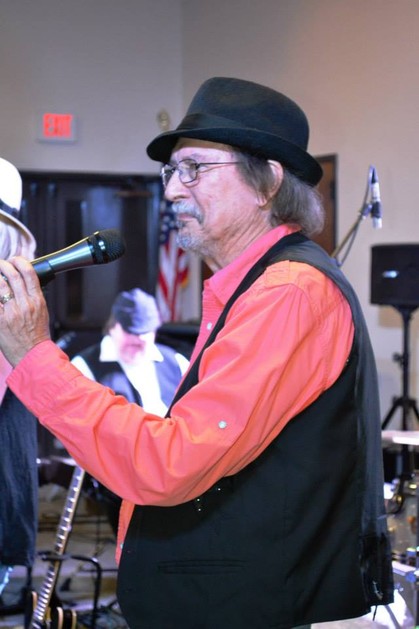 Bass and vocals, David Duff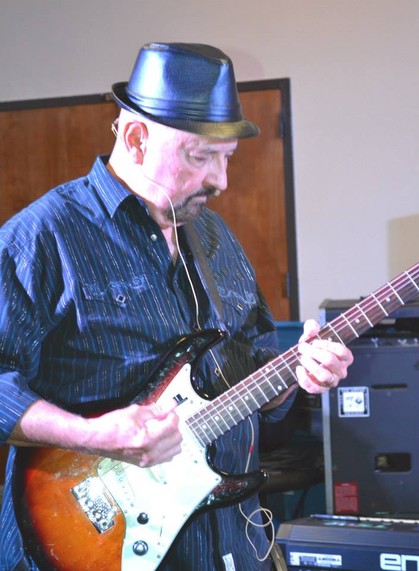 Guitar and vocals, Jim Rast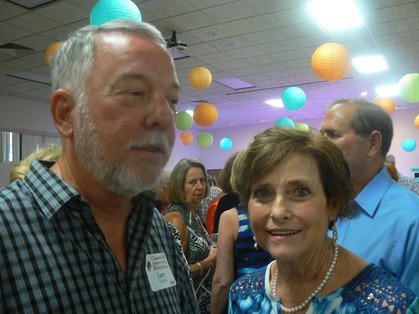 Larry Cumbaa (1969) and Janet Cannon Stenman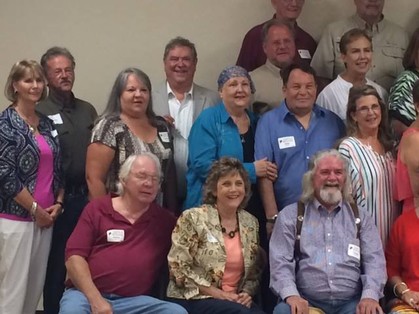 Seated: Robin Bass, Sandra, Danny Farling;
Standing: Judy, Buzzy, Karen, David, Kim, Bobby (behind Kim),
Mike Foard, Marilyn (white shirt), Carol Ann
Front row: Rixie, Mitchem, Meredith, Dozier, Rob English
Standing:Rachel, Debbie, Kris, Diane, Paddy, Judi, Terre, Kathie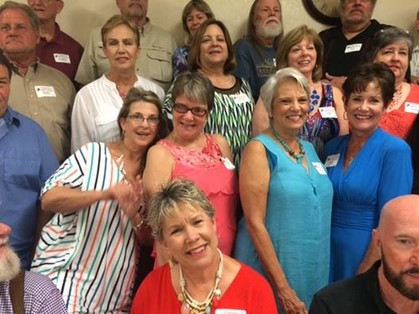 Above: 3rd Row: Bobby Robertson, Marilyn Hoag, Dee Gunter, Pat Hux, Nancy Dyer
2nd Row: Carol Ann Smith, Lynne Frazier, Wendy Miller, Betsy Barbieux
Front row: Glenna Hancock, Denny Bradford
Photography by Martha, group image: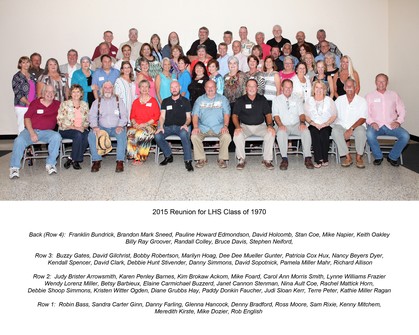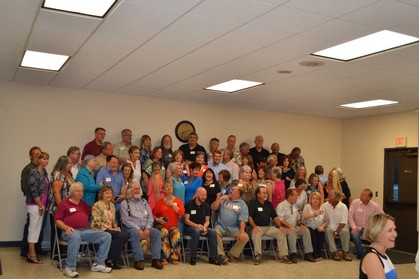 Above, set up for picture by Photography by Martha (Haworth)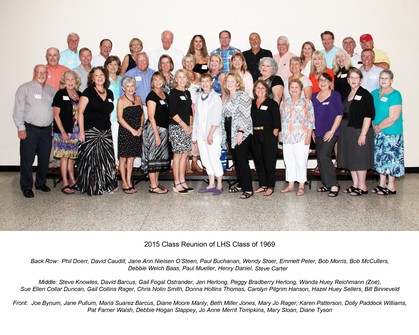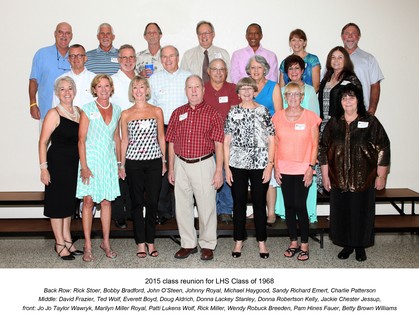 Sunday's Memorial Service was held at Leesburg High School's Auditorium:
Chorus members: (front row) Elaine Carmichael Buzzerd, Nancy Dyer,
Kris Witter Ogden, Betsy Barbieux
Sunday' Memorial Service was organized and led by Bruce Davis.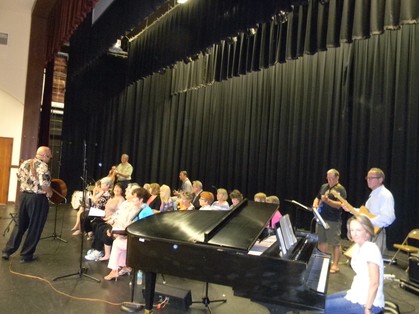 Judy Sloan Kerr on piano, Bob Williams (1971) and Richard Allison on guitar,
Gary Freitag (1972) on guitar, Steve Carter (1969) on drums
Becky Odum Jones (1971) looking at The Class of 1970's Memory Board
Classmates gone too soon.
Some of the photos above were borrowed from Facebook.
Thanks to Jill Baker, David Gilchrist, Sandra Ginn, and Bob Williams.
Many more pictures are on the Facebook page:
Leesburg High School Classes of '68 - '72 2015 Reunion
The Class of '70's holiday 2014 party was Thursday, December 4th, at Zachary's Bar and Grill, Leesburg, FL. Unwrapped toys were collected to benefit The Lake-Sumter Children's Advocacy Center.
Photos from the 2014 event have been posted. Images from the 2011, 2012, and 2013 get togethers can also be viewed on the "Holidays 2014" page.
If you are a returning member, please keep your profile up-to-date. "Newbies" and on-going members want to know what's going on in our respective lives.
*** By popular demand, our 2010 Reunion entertainment -- "We the People, and Friends" AKA "The Best of The Best Band" -- returned to The Leesburg Community Building on February 25th, 2011.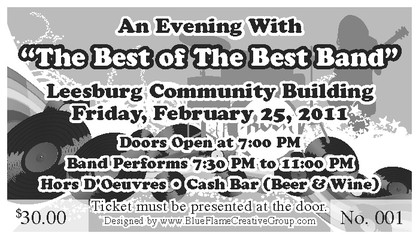 On Youtube: "The Best of The Best Band" or "We the People, and Friends"; Wayne Proctor, David Duff, Jim Rast, Steve Carter, or Wayne Corbin
Below: Betsy Barbieux and Dozier on the dance floor;
Mitchem and Ann Carlton Johnson (and Bill Hall);
(far left) Beth Simmons Wade and Ray Wade;
Marilyn Hoag and Kenny Mitchem
Above: Gail Robertson Exum; and Danny and Debbie Shoop Simmons
THE REUNION WEEKEND WAS:
August 27, 28, and 29, 2010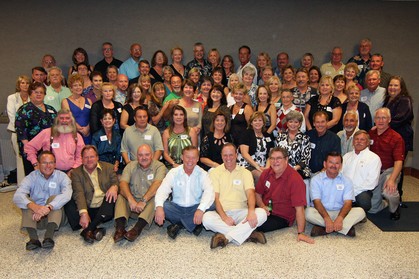 Leesburg High School Class of 1970
Classmates
August 28, 2010
Class of 1971 Classmates
Class of 1969 Classmates
Class of 1972 Classmates
Class of 1968 Classmates
The Saturday night entertainment -- pictured below -- was "The Best of the Best Band" : Wayne Corbin, keyboard and vocals, Steve Carter, percussion, Jim Rast, base guitar and vocals, David Duff, base guitar and vocals, Steve Cornett, guitar and vocals; and guest Wayne Proctor, guitar and vocals. Reunion 2010 CD's are available from Jim Rast Music.
Classmates,
In order to ensure you receive important messages from our class web site, as well as messages sent directly to you from other Classmates, it's important you whitelist the email address noreply@classcreator.net (that's a .net, not a .com).
What is whitelisting? Whitelisting simply means you are telling your email program to accept all emails coming from our class web site and our Classmates. The technique for whitelisting varies by email program, but generally you will see the term "Whitelist", "Safe List", or "Safe Sender's List". This is where you want to be sure you have added the email address noreply@classcreator.net.
Class Creator, the system that helps us operate our class web site, uses the address noreply@classcreator.net when sending out email messages. Be assured that all emails sent through our site are valid — you will not receive spam email. Whitelisting noreply@classcreator.net is the single most important thing you can do to ensure you don't miss anything happening on our site or miss receiving emails from your fellow Classmates.
Stop and take a moment to whitelist noreply@classcreator.net right now, and ensure you stay connected!
Sincerely,
Website Administrator