St Mary Central High School
Class Of 1973
The 50th Reunion was a blast!!
(Saturday, July 29, 2023 at Riverview Gardens in Appleton)

We shared a celebration,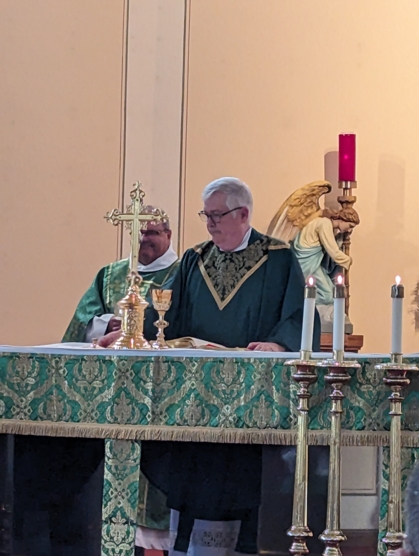 A Mass, attended by our Class on Saturday evening with our classmate Fr. Bill Swichtenberg as the presider.
We shared some memories,
We shared some great food,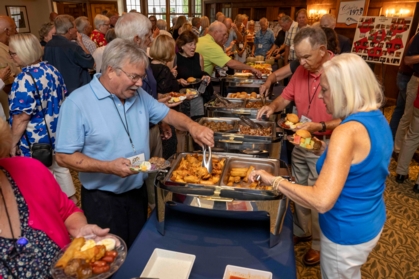 We shared a laugh (poor Jeff Blank) …
Or two,
We shared many nice door prizes …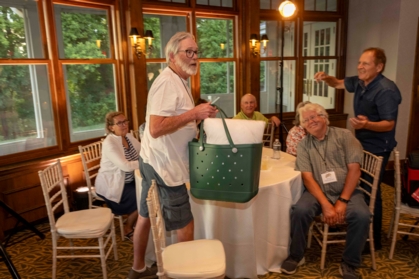 Kevin McCann (standing above) was a handy target for the comedian that night. That was all on the comedian, we had nothing to do with it, and our sincerest apologies go out to Kevin!
We shared our appreciation,
Paula Endter (Keberlein) giving Dave & Jane Voss their "star" in St Mary Church as a gift from the Class of '73 for their continued generous support of our class reunions.
We shared music,
Kim Dahl (wife of our late classmate, Pat Dahl) gives us an outstanding performance of Edith Bunker singing "Those Were The Days".
dancing,
This is rare footage of Dave Voss with his shirt out.
Group exercise,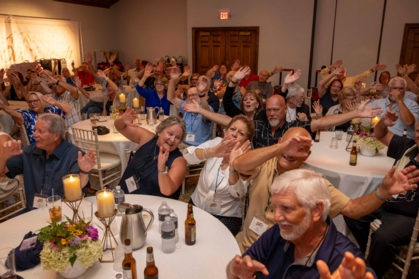 1, 2, 3 and to the right, 2, 3.
& magic!
Abra Cadabra and you have another frothing beer! Glenn Mattern just couldn't believe his eyes (and good fortune)!
And then POOF, time disappeared for the night, just like the last 50 years! Where did it go? I guess into the past.
You can view the entire evening in pictures at this link. Enjoy! Sorry, we do not have any prints. If you need pictures printed you can download and take them to Walgreens or order from a number of different online sources like snapfish.com, mpix.com, or Walmart - https://photos3.walmart.com/about/prints.
Until next time and Another Toast To Old Friends,
The Class of 1973 Reunion Committee