Dinah Trotty Blackshire has reserved bus transportation Friday night from the Fredonia Hotel to the football game. Bus will leave the hotel approximately 5:45. It will bring you back to the hotel at halftime. Cost is FREE!!

We will reserve a table both Friday night and Saturday night for a memorabilia display if anyone would like to bring anything to share. Bring anything full of memories of 'Dear Doches High'!!
Hello, Classmates!!! Beth Bussey Thomas has reserved the large patio at Fuzzy's Tacos (4909 North St #215, Nacogdoches, TX 75965) for Saturday morning. Those who would like can show up for tacos/breakfast/lunch between 10:00AM and 1:00PM. Please let me know if you're planning on coming so we can have a head count!
There will be t-shirts available to wear to Friday's football game. They are short-sleeved black shirts with this awesome logo that Dinah Blackshire helped design! Please let me know by posting here with your size (men's S, M, L, XL, XXL, XXXL) or texting me 281-650-5913 or emailing me gingermanuel@gmail.com. Deadline to order is October 5. You can pay for them ($15) when you pick them up Friday night!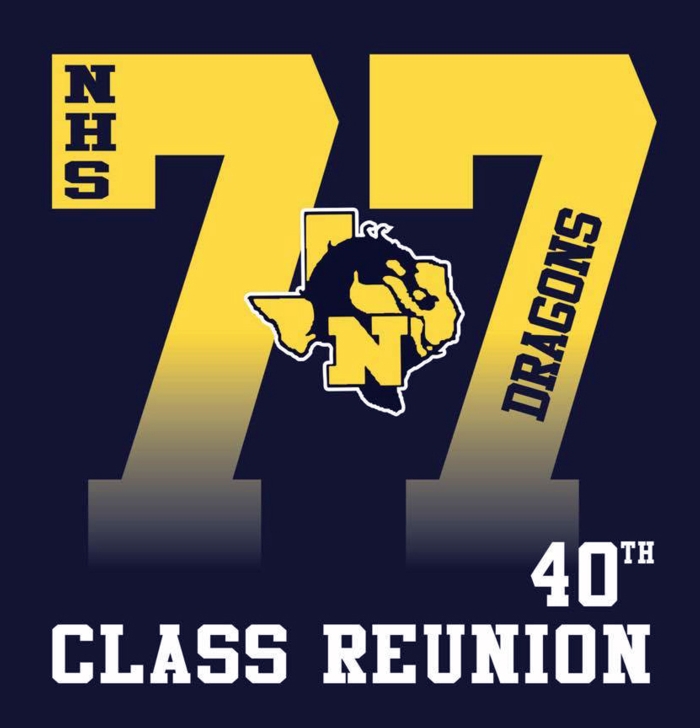 PLEASE NOTE THAT WE NEED YOUR RESERVATIONS BY OCTOBER 5TH!!!!
PLEASE MAKE CHECKS OUT TO "NACOGDOCHES CLASS OF 1977". RETURN WITH THE FORM BELOW TO: BETH BUSSEY THOMAS, 240 CR 5024, NACOGDOCHES, TX 75964 OR PAY BY PAYPAL TO NACOGDOCHESCLASSOF77@GMAIL.COM
***PLEASE CHECK OUT THE
NOTE ABOUT PAYING WITH PAYPAL
USING THE 'DONATE' BUTTON
AT THE BOTTOM RIGHT CORNER
OF THIS PAGE!!!!***