New Canaan High School
Class of 1966
NCHS CLASS OF 1966
September 16 Class Zoom Meeting

You are all invited to join an NCHS Class of '66 Zoom Meeting on Friday, September 16th at 5:00 EDT. Just seeing faces of old friends has been really fun for those who have joined us in the past. If you would like to say something, feel free to let us know anything you want to share. We also have a topic to consider: How did growing up in New Canaan impact your adult life? Feel free to answer that question as well. If you just want to lurk, please join us to hear what others have to say. Here is the link, I'll send a copy of the link out on that Friday so it will be near the top of your inbox:
Topic: NCHS class of '66 Zoom Invite - Please join us!
Time: Sep 16, 2022 05:00 PM Eastern Time (US and Canada)
Join Zoom Meeting
https://us02web.zoom.us/j/85784038581?pwd=RWFQd2JJRjUzeEM5SFgra25WV3F4dz09
Meeting ID: 857 8403 8581
Passcode: 428090
Update from the Reunion Committee
It's pretty clear that this pandemic is not going away anytime soon. So, planning any kind of in-person reunion is not now in the cards. If there is interest in a full class reunion for our 60th in 2026, we will relook at it as it approaches. As you may know, a number of regional Mini Reunions have been very successful and some of us are thinking about a road trip to Nashville this summer. Plans will be announced for anyone interested.
We are suspending class Zoom sessions for the summer since (hopefully) we will be active and busy. We've penciled in Friday, September 16th at 5 pm EST for the next one. While most of us have moved far away from New Canaan, many of us still have fond memories of our youth. Reliving those memories and renewing friendships for 45-60 minutes has been fun for those who have tuned in. We'd like to see some new faces at the next virtual meeting, so consider joining us in the September virtual meeting if you haven't done so yet. You can always log off after a few minutes if you don't find it interesting.
Enjoy the summer, our best to the class
Chris Carlson
Harry Day
Barry DeLapp
Lauren Holt
Bob Janis
Marion Platt
Janet Richmond
Karen Santry
Barbara Scott
Calling all Classmates! Come Zoom with Us at 5:00pm EDT on May 21st.
Dear Classmates,
We invite you to our next zoom on Saturday, May 21 at 5:00 EST. Our Reunion Committee will continue our conversations with music provided by Bill Engelhardtand Bob Janis. For those of you who have been unable to join us in past zooms, verbal participation is always at your discretion. You are welcome to join us on your terms though we'd love to hear your stories.
Karen Santry has created some very unique designs representative of the class of 66 exclusively. We'll share the winning design with you and welcome ideas about how we might display it.
For this zoom we'd like to share family histories. We know there are some wonderful stories out there that will bring back memories and laughter. Some of us have generational histories with New Canaan while others lived in our town for a relatively short time. How did you become a New Canaanite? What prompted your arrival in New Canaan? Please consider sharing your experiences.
We will be taking a summer break from zooms and welcome any suggestions you might have for future planning. Would you be interested in mini reunions, a larger in person gathering or more opportunities on line? Please be thinking about options as your suggestions will guide our planning.
You will receive an invitation from Janet Richmond to join the May 21st zoom that afternoon. Please join us for what will be a truly amazing experience. Here is the zoom call in information.
Topic: Calling all classmates for some Zoom fun
Time: May 21, 2022 05:00 PM Eastern Time (US and Canada)
Join Zoom Meeting
https://us02web.zoom.us/j/82332324169?pwd=NmJIV0tZcmNpaGlZR2tHNERpUmN5dz09
Meeting ID: 823 3232 4169
Passcode: 035519
****************************************************************************************************
If you still need personal help to get on zoom on the day/time, please text or call Barry DeLapp at 828 595-1745
Your reunion committee!
*********************************************************************
December 2021 Letter to the Class:
Dear NCHS Class of 1966,
We hope this finds you all well and comfortable as yet another challenging year comes to a close. In our own ways we have settled into this dramatic change of life. The key is to cope.
The planning committee for our 55th reunion extends warm and nostalgic greetings to you all and yours for this end of the year holiday time.
Many of the world's cultures and religions have significant festivities and holidays at this time of year. In years gone by, as the harvest came to a final close and before the very dead of winter, humans around the world must have felt a desire to gather and celebrate. As the song says, it's the most wonderful time of the year.
May you all enjoy it to the fullest.
We also wanted to let you know we are not giving up on a reunion. We are looking at a tentative plan and targeting the dates of September 9-11, 2022 for what would be our 56th reunion. Class of 1966, 2022, 56, all even numbers!
We will keep you informed as any significant elements surface whether it be yet more variants, lockdowns, mandates, etc. that may affect our plans.
We are considering a class wide zoom call early next year. It would be fun to hear from many in a zoom setting. Why not take advantage of today's technology and hear from and see many of you and get updates on your goings on? More on that as we enter January.
May you enjoy comfort, cheer and the love of family and friends as this year comes to an end.
Welcome 2022. Please be an improvement over your last two siblings!
Warmest regards,
Chris Carlson
Harry Day
Barry DeLapp
Lauren Holt
Bob Janis
Marion Platt
Janet Richmond
Karen Santry
Barbara Scott
********************
Dear NCHS 1966 Classmates,
It is with heartbreaking sadness and disappointment that your Reunion Committee has determined that we must postpone our long-planned and exciting NCHS Class of 1966 55th Reunion. The already significantly reduced attendance, the recent onset of the Pandemic Delta Variant, and the extremely expensive current air-fares have left us in an untenable situation.
Your Committee had to make this decision now, for two reasons: (1) We could not further delay the final planning for the Saturday night event at the Stamford Museum and Nature Center; and (2) a decision to postpone had to be made leaving ample time for you to recover hotel deposits and travel costs.
Primary Issue--Fewer Attendees and Increased Per/Person Costs
Following strong earlier enthusiasm, a large number of you have understandably decided instead not to come, and others remain hesitant. We started out with 86 of you expressing an interest--55 in the YES category and 31 in the MAYBE category--suggesting a probable attendance of approximately 68. Our planning (including reserving the Stamford Museum and Nature Center Farmhouse for our Saturday evening event) was based on a range of 62-74.
Those numbers began to decline as a result of the Pandemic, and our best estimate was subsequently reduced to 42, which would have been manageable with some compromises and an increase in our planned charge from $165 to $185. However, the number has now fallen to 32. That number is not manageable because of the fixed costs involved (primarily the Saturday night event).
Suddenly, it now appears certain the number of attendees will not go back up (and more likely that it will further reduce) because of (a) the Delta Variant as noted above, and (b) the extremely high airfares for those of you flying. With the costs going up, the reality is that fewer are likely to attend, and with fewer attending, the per/person costs will go even higher--a bad spiral that called for immediate action.
Hotel Reservations
Each reservation at the Hilton Garden in Norwalk was guaranteed with a classmate credit card that will be charged if the reservation is not cancelled before September 16. Follow the directions on the e-mail confirmation you received from the Hilton Garden to cancel your reservation, and you should receive another e-mail with a cancellation number. Contact the Hilton Garden at (203) 523-4000 if you need help.
Return of Reunion Deposits
For those of you who have made Reunion Deposits, Janet Richmond is preparing to return them, and you should receive them in due course.
Our Reunion Committee has worked hard on this event for well over a year. This was a difficult decision to make. Your Committee Members gave it very serious thought and evaluation. We are sure you share our extreme disappointment with this outcome. Let's hope we can meet up when things are looking better for all of us; expect us to be back in touch!
Sincerely,
Harry Day
Reunion Committee
Chris Carlson
Harry Day
Barry DeLapp
Sandy Harlow
Lauren Holt
Bob Janis
Marion Platt
Janet Richmond
Barbara Scott
********************
Jim St. Clair was a teacher and administrator at New Canaan High School from 1954-1971. He taught Latin and Greek, directed many school plays, and took over as Principal after the retirement of Harold Kenney in 1968. Jim was also active in the Congregational Church Pilgrim Fellowship program. Jim left New Canaan 50 years ago for his ancestral home in Nova Scotia, but many of his students vividly remember the impact he had on their lives.
Jim passed away on 5/11/21, and his obituary noted that "His wisdom, humor and storytelling enriched the lives of many, from friends and family to students, colleagues and community members…He was also an avid naturalist who loved exploring forests, rivers and ocean beaches and worked tirelessly in the preservation of old growth forests…The boundless curiosity, commitment, thoughtfulness and joy he brought to so many for so long will be forever treasured."
NCHS alumni from the class of 1966 and others are raising money to create a living memorial in Jim's honor with a tree and a bench at the Bristow Sanctuary and Wildwood Preserve in New Canaan. Click here for more information.
********************
We mourn the passing of Phyllis Ann Spinosa Massey. Here is a link to her obituary that was published in the New Canaan Advertiser:
https://www.legacy.com/obituaries/ncadvertiser/obituary.aspx?n=phyllis-massey-spinosa&pid=197904871&fhid=38117
********************
We will always cherish our memories of our dear classmate Susann (Rabe) Neski, who we lost in April. Suzi had a shining smile, fabulous sense of humor, and danced with verve and vitality. She was a delight to know, and as kind and thoughtful a friend as anyone could hope to have.
Suzi was the driving force behind our 20th class reunion in 1986, which was the first time we had gotten together since our 1966 graduation. She made it happen through sheer grit and determination. She was an inspiration to every member of the committee, and she was tireless and creative in those fortunately bygone days of snail mail and phone book searches.
Everyone who knew Suzi misses her greatly, and we would like to offer our condolences to her much loved sisters and their families. The Barranco Funeral Home in Severna Park, Maryland has created a guest book that Suzi's friends have been using to share their memories:
https://www.barrancofuneralhome.com/guestbook/susann-neski
********************
"THEY CALLED NEW CANAAN HOME" BOOK EXCERPTS
Art Hahn (NCHS '63) published a book late in 2019 with profiles of 118 people who lived in New Canaan, and has kindly given us permission to post the following excerpts on our site:
Profiles of 1966 classmates Karen Santry, Reeves Callaway, and Janet Richmond
Profiles of Congregational Church minister Loring Chase, NCHS Music Director Jane Hilton, and NCHS Teacher and Administrator Jim St. Clair
Profiles of Paul Brooks, Matt Coyle, Blaine Leighton, Jim Lewis, V. Edgar Lind, Peggy Sherry, and Margaret Teeters
Click HERE for links to the profiles and an alphabetical index of all profiles in the book
********************
JULY 2019 FUN IN SARATOGA SPRINGS, NEW YORK
Lauren Holt, Marion Platt, Patricia Goodspeed-Grant, Bill Engelhardt, and Gary Duzinski recently enjoyed a summer weekend in Saratoga Springs, NY that included visits to the Saratoga Racetrack and the Saratoga Performing Arts Center.
********************
JUNE 14-17 2019 REUNION IN STONINGTON, CT HOSTED BY MAGGY AND BOB GILBERT
For more photos from the Stonington reunion, click HERE
********************
MARCH 2019 SARASOTA, FL MINI-REUNION 3 MEMORIES
Marion Platt and Gary Duzinski hosted their third mini-reunion in Sarasota, Florida,
Cathy Janis created a musical slide show of the event: https://vimeo.com/328259839
If you have trouble seeing the slide show, try copying the link into another browser, such as Mozilla/Firefox.
Click HERE for more memories from the Sarasota weekend in March.
********************
December 2018 Philadelphia Mini-reunion #3 at Longwood Gardens
Maggy Wolf Gilbert, Merrie Metzger Wiechmann, Lauren Holt, Teresa Giannio Pace, Pam Alt Putney, Linda Hartley, and Mary Lou Ensselin Barton
Click HERE for more info
********************
August 2018 New Hampshire Lakes Region Mini-reunion
Click HERE for more photos
********************
Class Cruise Update
There is not enough interest in the September 2019 cruise from New York to Montreal, but Bob Janis (chateaubob@outlook.com) is looking at a number of other ideas and would be glad to hear from classmates about what they would like.
********************
June 2018 Mini Reunion in Farmington CT
Merri and Eric Metzger Wiechmann hosted a recent mini reunion in Farmington.
Shown in the photo are Eric, Harry Day, Lauren Holt, Merri, Linda Hartley, and Maggy Gilbert.
Inquiring minds are beginning to wonder if the NCHS Class of 1966 ever plans to stop partying!
*******************
April 2018 Fun in Florida
********************
A group of classmates gathered in Philadelphia to help Lauren Holt celebrate an important birthday! Click HERE for more details and photos.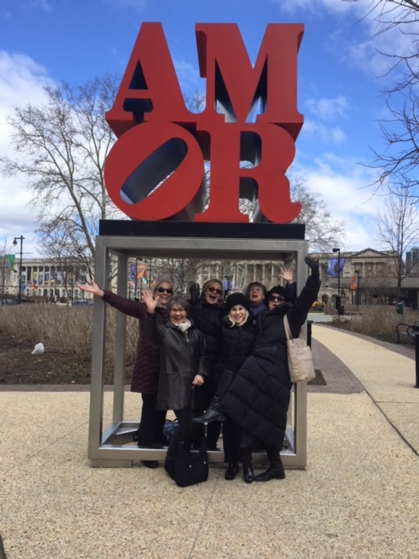 ********************
Marion Platt and Gary Duzinski hosted the second annual Florida mini-reunion at their home in Sarasota in February. Click HERE for photos, videos, and comments.
********************