New Philadelphia High School
Class Of 1961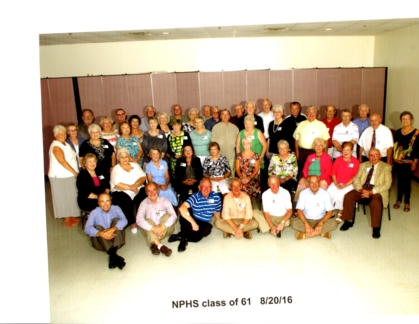 Welcome to the Home of New Phila Class of 1961
Scroll to Bottom of Page for Current Announcements
Class Motto: Everyone is the architect of his own future.
Class Colors: Blue and White
Class Flower: White Rose
ANNOUNCEMENTS
A Scholarship Fund has been started. We have started a scholarship fund so the Class of 1961 can award through the Quaker Foundation a $1000.00 yearly scholarship to a graduating New Philadelphia student. To accomplish this we have a $20,000.00 goal, $20925.00 of which we have already received. If you wish to join other classmates in this endeavor, you may make a tax-deductible check out to the Quaker Foundation and on the memo line write, "per class of 61 scholarship fund." The checks may be mailed to Karen Riggs 512 2nd St NW, New Phila OH 44663 or the Quaker Foundation,Class of 1961 Fund, 124 North Broadway, New Phila OH 44663. We will keep everyone up dated as we strive to reach our goal. Right now our scholarship is in partnership with the Quaker Foundation. We would like to be able to have the scholarship be solely from our class. For us to do this we need to reach$20,00
As you can see we have over reached our goal. Thank you so much, but wait, all who think they missed the chance to help, did not. The amount can continue to grow and we will then be able give a larger scholarship. May you all have A blessed holiday and a happy New year.
​​​​​​
Gals Luncheon
Date:04/07/2021
Time: 11:30
Place:
​​​​​​
ClassDinner. Cancelled until further notice
Date: 03-12-2020
Time: 6:00
Place: Uncle Primo's(Please let Madge know so she can make reservations.)
I have posted the pictures taken at this year's class of 1961 reunion. These were taken at the B&A Primitive Weapons Club where the Saturday event was held. I hope I got everyone who attended including family and friends (except my own husband). Ernie took the facility pictures while I did the close ups.