Odessa

High School




Class Of 1964
---
April 21, 2021
---

2020 HAIRY LEG REUNION--LLANO
CURTIS THOMAS, Host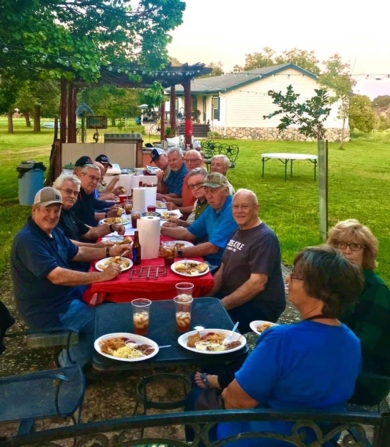 Please use the Photo Gallery tab to view other photos and you will see all the names of these classmates!
---
February 17, 2020
REUNION GROUP WITH THREE ADDED CLASSMATES!
Thanks Billy McCorkle for working on this project!
---
OCTOBER 4, 2019
BRONCHOS, BOOTS & BANDANAS 55th Reunion Group Photos--Sat, Sept 28, 2019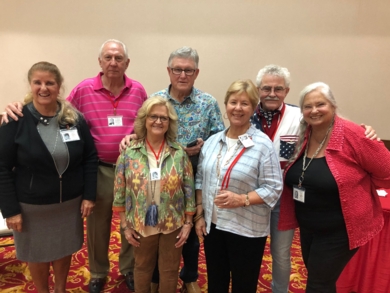 LAST 7 STANDING!!
Jimmie New Miller, Sam Buford, Rune' Slough Scott, George Scott, Janet Martz Evans, Jimmie Stevens, Linda Quick Lee
---
OCTOBER 16, 2019
Bronchos, Boots & Bandanas—OHS Class of 1964--55th Reunion has come and gone! We hope each of you in attendance enjoyed our celebration as much as we did! We purposely planned a lot of visiting time as well as some Saturday free time in order to make this a leisurely weekend catching up with one another and of course enjoying food together. Our Friday evening included a large choice of appetizers that were enough to be considered a meal. Then on Saturday evening we shared a buffet dinner with chicken fried steak, Hawaiian chicken and all the trimmings. No one should have gone hungry! The Eleganté Hotel was decorated for fall and Halloween, so it was pretty festive.
We were honored to have Coach Julian Pressly and Roger Corzine attend our dinner and program on Saturday night. They looked really good especially for being 95 and almost 90 years of age. Coach Bill Herron regretted not being able to join us due to some heart issues but was happy to be invited and wished us well. Billie Rush was also not able to attend. Her son James extended well wishes.
We had 74 total in attendance. Many classmates are experiencing health concerns or family conflicts that prevented their attendance at our reunion this year. We missed ALL who could not attend, but are grateful for those who did get to come to share time with one another. Fred Grant traveled from Washington, Janet Watson Urbick from Wisconsin and Linda Quick Lee from Tennessee. There were also a few first time reunion attendees—We hope you weren't disappointed! Your attendance and all forms of appreciation contributed to a joyful weekend! We never seem to tire of seeing each other again. The money tree was a nice surprise and George and I thank all of you for this gesture!
Many thanks go to several volunteers who assisted in various ways: Gay and Gene Crawford, Ed Connally, Pat Teinert Barrow, Jimmie New Miller, Kay White Kuser (she made the horseshoe cake and the chocolate horses and boots on the cakes), Donna and Stanley Thomas, Cheryl Killian Gist and Robbie Nunley Rogers. And a big thanks to our emcee George Scott. Your support in planning, cake-baking, donations, cookies, decorating, manning the registration table and greeting are so appreciated.
In my brief talk, I expressed how proud I am to have grown up with so many awesome classmates who have been and continue to be fine citizens. That was the message I hope you received when I mentioned the various vocations, hobbies and charitable activities that our fellow classmates are involved in. I believe we are a unique and caring group and it is a ton of fun for me to help keep us organized. Please continue to use our website. Many reunion photos have been posted. Send me your photos if you would like for me to add them for you. Keep your profile current and add your life stories and photos for all of us to enjoy. Thank you to everyone for making our 55th Reunion one more fun time to remember!!
Rune' Slough Scott---Organizer and Web Admin
George Scott---Emcee
---
OCTOBER 1, 2019
KEEP CHECKING IN FOR REUNION PHOTOS AND REVIEW !!
---
September 30, 2019
STAY TUNED for 55th Reunion BRONCHOS, BOOTS & BANDANAS photos and highlights!!
---
---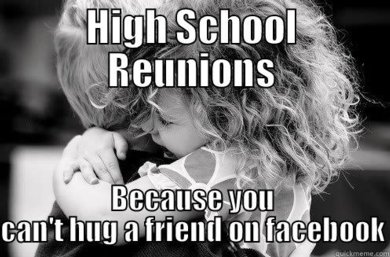 ---
September 24, 2014
Dear Class,
THIS IS A BRIEF OHS CLASS OF '64 50TH 'MEMORIES' REUNION REVIEW:
We had a record attendance of 140 classmates and guests at most of our events. We had attendees from 13 states and Ted Everett and his wife, Ann attended from Australia! Some of you attended your first reunion ever—so glad that you chose this one. Coach Julian Pressly and Roger Corzine joined us on Saturday night. It was great to see those two! Following registration and mingling at the Eleganté, we were treated to an incredible evening at the Wagner Noël Performing Arts Center where we enjoyed a fantastic buffet complete with Broncho décor and a DJ. Our gracious hostesses were our fellow classmates Lissa Noël Wagner and Dixie Boring Bassett. What a lovely evening! Saturday's OHS tour was fun as always and donuts, coffee & juice were served there. Then 40 ladies (& 3 guys!) enjoyed lunch at Dee's Bistro located in the old Ector County Library building. That was a really nice setting with excellent food. Then some of us had a little down time, while others decorated for the Saturday night buffet at the Eleganté. A nice buffet was enjoyed there, then the program with Cheri Smith Dalton leading, then more visiting. We like to talk! Martha Koch Edwards prepared a nice video for us to watch all through the evening. DJ John commented that this was the best reunion he had ever worked! He completely enjoyed watching our group laughing, visiting and totally enjoying being with each other. That is exactly what Pat Teinert Barrow and I felt as we enjoyed the events. We all shared old times, new happenings and made even more MEMORIES!
Our OHS Class of 1964 is AWESOME!!
THANK YOU is not enough for all of you who participated in planning, decorating, donating and attending this fun weekend.
Photos will be added to the PHOTO GALLERY on the website soon. You can upload yourown photos to share also. More information on this will be announced.
'THANKS FOR THE MEMORIES'
Rune' Slough Scott
Web Administrator
---
---
­­­­­­­­March 1, 2014
Class Creator has added a few more features, so be sure to check in often for announcements and changes. ONE BIG CHANGE IS DUE TO SPAM AND BULK EMAIL ISSUES. IF YOU HAVE JOINED RECENTLY AND HAVEN'T OPTED IN, PLEASE DO THAT. THIS JUST VERIFIES THAT YOUR EMAIL IS CORRECT AND ALLOWS YOU TO RECEIVE FUTURE EMAILS AND ALERTS FROM THIS SITE.
Other enhancements:
PROFILE FORMAT—Uploading photos is easier & there is a photo gallery area there. Videos can be added there. Toggle back & forth from Profile View to Profile Edit. Make comments on friends' profiles or turn that feature off.
NEW PHOTO GALLERY TAB--main page of site with instructions there to allow you to contribute photos. Maybe you have some past reunion photos to share!
MISSING LIST--These are not all "missing"; we just have no email addresses on record for these folks and for some we have no addresses. If you know where any of these people are, please contact me with their address or emails.
IN MEMORY—So many nice comments are being added about our friends who are no longer with us.
MEMBER FUNCTIONS--tab>Notify Me. You decide here what & how often you want to hear from our website. BE SURE YOU CHECK THE BUTTON FOR NEW ANNOUNCEMENTS.
THANKS TO ALL WHO HAVE JOINED AND FOR THE NICE PHOTOS AND MANY COMMENTS ON YOUR PROFILES! It's neat to read about everyone and catch up a little.
PLEASE OPT IN (if you have received that message) TO COMPLETE THE PROCESS AND ENCOURAGE OTHERS TO PARTICIPATE. Opting in just became necessary in early February.
Thanks for your help!
Rune' Slough Scott
runescott46@gmail.com
www.odessa64.com
WELCOME TO OUR ODESSA HIGH SCHOOL CLASS OF 1964 WEBSITE!!!
This website was created to promote, celebrate and reconnect with all members of our fabulous OHS Class of '64! Your participation is essential to the success of our site and our reunions. Joining our site is as easy as 1,2,3...To gain access to all features, you need to register and create you own personal password. It's EASY, FREE AND SECURE! There are no ads and you will never receive spam from this site. Simply click on "Classmate Profiles", find your name, click on it and follow the prompts. BONUS~you can send emails to classmates through this website by going to their profile. You can update your profile as often as you want and with as little or as much information about these past 50 years as you like--ADD PHOTOS IN THE PHOTO GALLERY!! We hope you will take time to share your "story" and encourage our other classmates to join as well.
Rune' Slough Scott
Website Administrator