Pahrump Valley High School Alumni
ANNOUNCEMENTS
| | |
| --- | --- |
| • | WELCOME TO THE NEW ALUMNI SITE! |
PAHRUMP VALLEY HIGH SCHOOL ALUMNI
CLASSES of 1974 to present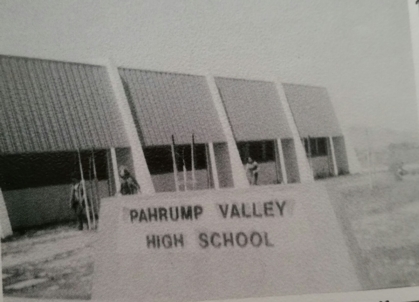 1974
PRESENT
Welcome to the Pahrump Valley High School (PVHS) Alumni website. We invite everyone who graduated from PVHS to join this website by completing your member profile.
In the summer of 2018 a multiple year, 74-84, reunion was held in Pahrump. It was a great success and many people went out of their way to say how much fun they had. Several people who attended remarked they were surprised at how many friends they had across graduating years, showing that we are friends with more than just the year we graduated. This website was created as a free platform where PVHS alumni can check in and see what is happening with other PVHS alumni.
Once you have joined the PVHS Alumni website, you will have full access to all its features including alumni profiles, yearbooks, picture galleries, newspaper articles, instant messaging and live chat. We look forward to hearing and seeing what you have been up to since graduation. Check in often for updates.
---
Recently a connection has been made from Facebook to this website to assist alumni in getting here more easily. It is hoped that when the next reunion is planned this website will be of assistance to the next reunion committee, whether it be for one graduating class or several.
You can help out by getting more people to come and create their profiles on this website. There are many classes still to be added and more yearbooks to be found. A lot of work is still to be done on this site. It will take time.
Check in on regular basis to keep your login password active and to watch the changes over time.
---
If you are already a member of the PVHS website, please sign in. If you have not yet joined the PVHS website and you graduated from Pahrump Valley High School, click on the ALUMNI NOT YET A MEMBER link in the header above and then click on your name to register. For more information about this website, including privacy policies, please click on the First Time Visitors link above.
---
NOTICE: UPON POSTING YOUR PICTURES AND/OR VIDEOS ON THIS SITE, YOU ARE GIVING US PERMISSION TO USE THEM IN PRINT OR ELECTRONIC FORM FOR ENTERTAINMENT PURPOSES.
If you have any questions please contact us.