Paoli High School
Class Of 1962
60th Reunion June 4, 2022 at Paoli High School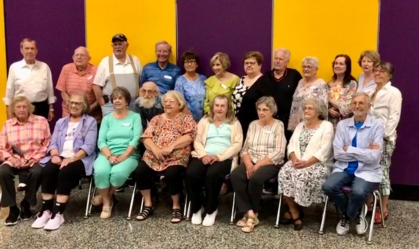 Front Row, L to R: Anita Gayle Cope, Paula McFall, Marilyn Patton, Robert Owen, Cheryl Spencer, Janet Cook, Shirley Busick, Bernice Newlin, Lance Daugherty.
Back Row: John Baker, Larry Key, Jim Luckett, Larry Murphy, Judy Angerer, Rosemary Lewis, Karen Edwards, Joe Holland, Mary Jane Elliott, Mary Kay Barksdale, Karin Warriner, Sheila Chilton. Present but not pictured were Melva Sue Cornwell and Vasco Kirby.

(Click on photo below to enlarge)l
FIRST ROW left to right: Jim Jones, Jim King, DT McCracken, Mike Webster, Terry McCoy, Max Rutherford, Lance Daugherty, Fred White, Jim Luckett, Joe Holland, Robert Owen, and Phillip Beaty. SECOND ROW: Rose Jefferson Dixon, Caroline Cox, Paula McFall Key, Patti McCracken Gray, Wilma Hendrix Powers, Cheryl Spencer Daugherty, Bernice Newlin Fidler, Shirley Busick Kesterson, Ruth Ann Roberts Saunders, Mary Kay Barksdale, Nancy Gilliatt Cook, Rosemary Lewis Trinkle, and Paula Shirley Freed. THIRD ROW: Rita Freed Tolbert, Judy Angerer Land, Nancy Barnett Black, Helen Halbert Bobbitt, Linda Brown McCann, Karen Edwards Sutton, Mary Jane Elliott Hounshell, Karin Warriner Cobb, Brenda Nicholson Teaford, Marilyn Patton Pritchett, Betty Fugate Morgan, Patricia Giles Hooten, Nancy Moore Robson, Sheila Chilton Davis, Sharon Shirley Garrigan, and Keith Holland. FOURTH ROW: Martha Hackney Rutherford, Larry Key, John Baker, John Grimes, Bill Norris, Clifton Coulter, Larry Murphy, Tom Smith, Judy Teaford Trinkle, Melva Cornwell Cooper, Connie Terrell, and Ann Robinson Hackney. Arriving after the photo was taken were classmates Sandra Tomlinson Denton, Gayle Cope Laughlin and teacher Sarann Weeks.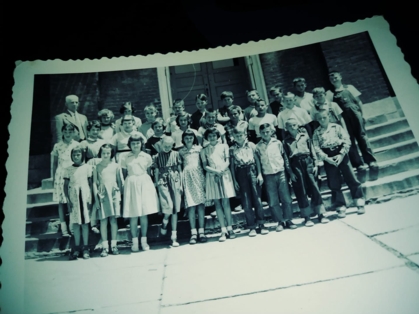 Noel McDonald's 5th Grade Class in 1955.
TOP ROW, L TO R: Paula McFall, Lucy Kesterson, Mary Lou Grimes, Mike Hammond, Paul Hickman, Unknown, DT McCracken, Unknown, Richard Longest, Unknown.
MIDDLE ROW: Patti McCracken, Carolyn Lantis, Martha Hackney, Nancy Moore, Rosemary Lewis, Wayne Mason, Larry Haley, Larry Murphy, Phil Lane, Unknown.
BOTTOM ROW: Martha Longest, Gloria Hickman, Wilma Hendrix, Glenda ?, Unknown, Rita Hayworth, Joe Holland, Unknown, Andrew Jones, Terry McCoy.
For corrections, contact Larry Murphy, larry@salestraq.com.

Not pictured: Mary Barksdale, Sandra Barnett, Norman Carmickle, Pat Clements, Cheryl Spencer, James King, and Connie Terrell.
Homepage views since June 23, 2011: 61,465