Prattville High School
Class Of 1988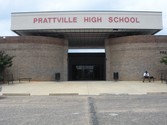 First Time to our Website?
Logging in is as easy as 1-2-3...
1. Click on "Profiles" on the menu at left.
2. Go to "New Classmates and Guests". Type in the password given.


3. Look for your name and click on it.
4. Look for "If you are'your name', please click here now to create your profile".

* You will create your own password.
If you get stuck, just email us!

In a Hurry?
If it's your first time here, at least create your profile login!
(see above for how to's) This will ensure you receive all our important email announcements!! You can always come back later and add to your profile!

Who can join us?
Anyone who attended Prattville with our class At anytime can become an Honorary Graduate. We also welcome PHS Faculty to join as Guest Members. Just submit your name and we will add you!

Email notifications from this web site

For those of you with spam blocking or email filtering capabilities, please add postmaster@classcreator.net to your email account as a safe sender in order to receive email communication from this website.

All The Fine Print....
Only fellow classmates who are LOGGED IN can view information on our website. Also, you have individual privacy controls. When you create your profile, at the very bottom of the page, there are three options to select regarding who can see your info and contact you. Read each carefully and set them however you want. Contact information will only be used for reunion and mailing purposes. Information will never be handed out to anyone without your explicit consent.





Upload photos to your profile:


1. On the left menu bar go to MEMBERS FUNCTION

"Edit\Upload Photos" and click it with your mouse.

2. Click the "Upload New Photo" button.

3. Click the "Add Files" button.

4. Go to the directory on your hard drive and

select the photo you want to upload..

5. Click the "Open" button

.

6. Click the "Upload Files" button.

Multiple photos can be uploaded. Please upload

past and present pictures. Past photos of you

and your friends are encouraged.


If you can not get your photo uploaded to your profile, please feel free

to

just email us!

. We will be glad to post them for you. Please place your name in the subject line and which photo you want as your master photo.