2017 Kahdy Enloe Scholar: LAURA KATHERINE WILDER.
She was awarded a Multi-Yr $10,000.00 Award ($2,500 per year), and will be attending The University of North Carolina at Chapel Hill.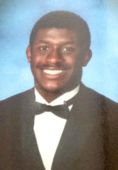 2016 Kahdy Enloe Scholar: "AJ" Benjamin Daodu.
He received a $10,000 scholarship ($2,500 per year), and is attending the University of North Carolina at Charlotte majoring in Computer Engineering.
2015 Kahdy Enloe Scholar: Gordon Ma.
He received a $10,000 multi-year ($2,500 per year) to attend Harvard.
Update from Gordon: I am currently a rising sophomore at Harvard College, considering a major in Applied Mathematics. Outside of class I try to keep up with the violin and I'm also looking to join a few preprofessional organizations, mostly in finance.
This summer I am interning for Harvard Business School at Harvard Center Shanghai (in Shanghai, China).
2014 Kahdy Enloe Scholar: Morgan Clark.
She received a $10,000 multi-year ($2,500 per year) to attend the University of N.C at Wilmington.
Update from Morgan: Thanks to the Kahdy Scholarship my time at UNC-Wilmington has been incredible so far. I am currently in Guatemala working in a maternity clinic in a rural Mayan village. It has been an incredible experience and has made me a much better nurse. I also founded a non-profit organization in Wilmington last year, called Make A Change, which collects and distributes diapers to mothers that are in need of them. In two years I have finished my BA in Spanish and am making progress on my BS of Nursing - none of that would have been possible without the Kahdy Scholarship and I will be forever grateful to all of you!
2013 Kahdy Enloe Scholar: Malaika Emolyn Dahn.
She received a $5,000 sholarship to attend N.C. State University.
Update from Malaika: I am a senior at NC State University, and am on track to graduate in this May. I will receive a degree in Biological Sciences and am also minoring in Spanish. I traveled to Belize last summer to shadow doctors and learn about global public health. After that experience, I have decided to apply for medical school and hope to attend starting in Fall 2018. On campus, I am a University Ambassador, a member of the pre-health club, and a member of a campus ministry called Chi Alpha. I have also been a cheerleader on the All-Girl Cheerleading Team. In my free time, I enjoy babysitting and volunteering at my church.
2012 Kahdy Enloe Scholar: Ruby Au.
She received a $5,000 sholarship to attend the University of Southern California.
Update from Ruby: I graduated William G. Enloe High School in 2012 and was awarded the George A. Kahdy Enloe High School Alumni Scholarship, and among other awards, gave me the opportunity to attend the University of Southern California (USC) in Los Angeles and pursue my dreams. During my time at USC, I pursued my love for social entrepreneurship and the outdoors by pursuing a dual degree in Business and Environmental Studies. This combined field of study allowed me to travel to 14 different countries across 4 different continents during her university years. Some highlights included a semester spent conducting research as a scientific SCUBA diver on Catalina Island and in Palau, working on microfinance projects in Panama and Honduras, a semester of study in South Africa, independent research in the Panamanian rainforest, and working for the LA Mayor's Office of Economic Development. I graduated summa cum laude from USC in 2016 as the commencement speaker for the Marshall School of Business. Currently, I live in Nairobi, Kenya, where I am working to launch my own venture focused on scaling ICT access in off-grid communities. I am also a fellow at Sanergy- a social enterprise that transforms human waste from urban slums into fertilizer and renewable energy.
Thank you so much! I''m so very lucky to have had the support of the George Kahdy Scholarship, and all the wonderful people associated with it. I absolutely would not be where I am right now if it were not for all the encouragement and love in my life- can't tell you how much I appreciate it.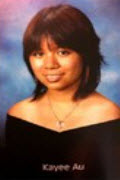 2010 Kahdy Enloe Scholar: Kayee Au.
She received a $5,000 award to attend the University of Southern California.
Update from Kayee: I graduated from USC in 2014 with a degree in Animation and Digital Arts. While I was at USC I explored many other paths into business, the non profit industry, and volunteered to work with underprivileged kids. I joined the Intervarsity Christian Fellowship, a Christian sorority, lived in Florence for 3 months, Hong Kong for 1 month, and interned at Dreamworks Animation twice (Kung Fu Panda, How to Train Your Dragon, Prince of Egypt.)
Since graduating I went on a missions trip to serve people living in Skid Row, the homeless capital of Los Angeles. I learned about the crazy systematic injustice and poverty that still binds our country. I worked with brilliant kids in the homeless shelters who had dreams of being doctors and lawyers to save lives, but knew that because they were impoverished black boys they had a 1 in 3 chance of going to prison in their lifetime. I later lived in Tanzania for 6 months and helped produce a 13 episode comic series that would teach local Tanzanians how to better manage their finances. I traveled all throughout Italy making short films with over 100 other young international filmmakers, and made lifelong friendships with people whose cultures were completely different from mine. Upon my return from Italy, I was hired by a startup called InvestED to create educational animations that would teach Sub-Saharan Africans how to be an entrepreneur. Our team is dedicated to making it easier for Africans to take out micro-loans, all the while educating themselves on business concepts. I spent 3 months in Nairobi, Kenya, gathering information for our research and getting a feel for the East African landscape. Currently I work in Orange County, California and I continue to be the Chief Creative Officer for InvestED.
I will always be grateful to the George A. Kahdy Alumni Scholarship for opening doors for me to such amazing opportunities!! As you can see, I have seen, experienced, and learned so much since my graduation from Enloe in 2010, and I could not have done it without supporters such as yourselves who are a constant encouragement.
I have written more in depth on my travels here: contantoamorekayee.blogspot.com.
2008 Kahdy Enloe Scholar: Tony Phipps.
He received a $4,000 award to attend the Duke University.
Update from Tony: As the first recipient of the Khady Scholarship in 2008, I used the scholarship to attend Duke University. I graduated from Duke in 2012 with a major in Biophysics and minors in Religion and Chemistry. During my senior year at Duke I completed a one year independent study in the Warren Lab where we studied the user of non-linear microscopy as a potential tool for diagnosing melanoma. Our work was published in the *Journal of Investigative Dermatology* in 2013.
Following graduation I spent fifteen months working as a Patient Care Technician in the operating rooms at WakeMed where I got hands on patient care experience. To be transparent, I also got hands on mop and cleaning rag experience since part of my job was to clean the operating rooms between patients. I then attended East Carolina University where I completed a Masters in Biomedical Science in 2015 and completed research on the impact of inhaled carbon nanotubes on mice. Our work was presented in the poster session at the Society of Toxicology meeting in 2015.
I am now at Vanderbilt University working on my PhD in Biomedical Sciences. My research is in the field of biomedical imaging and therapy specifically using focused ultrasound and MRI. My career goal is to obtain a tenure track faculty position in an academic medical center.and continue my research. I would possibly not be on this path without the Khady Scholarship which helped me to attend Duke University. I am grateful to The George A Kahdy Enloe High School Alumni Scholarship Endowment for funding the scholarship.