Welcome to the East High Class of 1960 Web Site
The date for our reunion party has been moved to
July 1st, 2021
due to the coronavirus pandemic
This site will provide you with all of the information about the East High class of 1960 reunion party that is being planned for you. It will also allow you to enter all kinds of information and photos of you for all of your classmates to see. They will only be able to see information that you enter. It will also help us to find many classmates that have been missing for years as well as those who have successfully moved on. Please register and be proactive. Here is what you need to do to register on the class reunion website. Go to the top of this home page and click on 'classmate profiles', find your name on the list and click on it and then follow the instructions on the pop-up screen to register. Make sure that you save each page as you work through the 4 pages. This is not a commitment to come to the class reunion and you don't need to put any information into the system that you don't want to share with classmates. I would recommend at least entering your contact information.
Some wonderful sponsors have covered most of the cost
To cover the balance we are charging $10 per person
YOUR REUNION COMMITTEE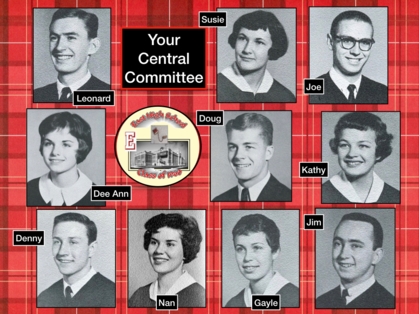 The Grassy Field at Thaynes Creek Ranch
The East High Class of 1960 Reunion Party will be held in a grassy pasture located at
Thaynes Creek Ranch, 2419 Country Lane, Park City, Utah.
The party will start at 3:00 in the afternoon with plenty of food, a 17 piece big band orchestra, a dance floor and lots of time to visit, reminis, remember old times with old friends, hang out and just feel good. The date is July 1st, 2021, so mark your calendar, reserve the date and plan on being there.
Directions to the Class Party
If you are in Salt Lake City, head east on Interstate 80 and take the Kimball Junction exit. It also shows as highway 224. Take a right turn from the exit ramp. As you approach Park City on Highway 224, you will see a large white barn on the right side of the highway. On the second red light after you pass the large white barn, turn right. You will see an East High banner at the intersection. The street name is Payday Drive. A short distance on Payday Drive you will come upon a lane on the right side of the road - turn right. There will also be an East High banner at that intersection. There is also an estate sign indicating that you are entering the Thaynes Creek Ranch Estates. A short distance along the estate's country lane, on your left, you will see another East High banner which is the location of the class party. People can be dropped off here. Parking is just a little further down the lane on the right indicated by another banner. For those who travel via GPS, the address is 2419 Country Lane, Park City, Utah 84060.
great memories to be reviewed in this year book and at the
East High Class of 1960 Reunion Party
ANNOUNCEMENTS
I want to thank Leonard Black and all those on the Committee for making this East High 1960 graduation class reunion so special. I so enjoyed visiting with so many close friends from the past. My only disappointment was learning that a number of classmates in the Salt Lake area that I knew and whose friendships I cherished did not come to the reunion. Thank you Kathy for the beautiful setting where the reunion was held. If we ever have another reunion in the future, count me in. A special thanks to Butch and Margaret Latey for picking my wife and I up at my sister's. It was so fun to catch up with them.
Mel McDonald
Dear Leonard….before another minute goes by, I want to thank you for all your hard work in providing the perfect venue for our class reunion….it could not have been better! You thought of everything, including prizes to take home. So much fun and so interesting to see everyone again. You continue to be a gifted organizer, leader and cheerleader for us all! And your wife is such a fine woman and support too!

Sheila Larsen and I were saying that we ought to have a get together every couple of years…nothing elaborate, of course…just a BYOD (Bring your own dinner)…until we die.

The place was stunning…ohhthanks to Kathy and Frank for their generosity. And many thanks to the whole committee for their hard work….it really was quite something!

Much love,
Carol Burdett Thomas