Skyline High School
Class Of 1967
In Memory
Shanna Hackett (Blake)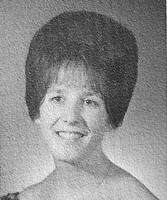 DEATH: SHANNA WRAY HACKETT BLAKE
Published: Wednesday, Dec. 20 1995
Our beloved wife, sister and friend, Shanna Wray Hackett Blake, 46, passed away Dec. 18, 1995, in Salt Lake City of respiratory failure.
Shanna was born July 13, 1949, in Salt Lake City Utah, the daughter of Richard and Wray Opperman Hackett. She married David R. Blake on September 19, 1987 in Salt Lake City, Utah. She was employed for many years with the State of Utah, Third District Court clerk's office. She was a kind and loving individual who was devoted to her family; she was held in high esteem by all who knew her. Her passing saddens our hearts and leaves a great void in our lives. Shanna loved to travel throughout the world, and was particularly proud of her many mementos and had many fond memories of far-away places. She regularly renewed her cosmetology license which she first obtained following high school. She filled her husband's heart with joy for which she will be eternally loved. Shanna shared her delightful sense of humor with everyone she knew.
Survivors include her husband, David R. Blake, of Salt Lake City; father and mother-in-law, Dr. Grant E. and LaDell Blake, Sun City West, Arizona; sister, Tyra and Jack Schiess, Salt Lake City; aunt, Helen Brown Romney, Bountiful; many cousins, nieces and nephews. Preceded in death by her parents, Richard and Wray Hackett.
Funeral services will be Friday, Dec. 22, 1995, 1 p.m. at the Highland View Second Ward, 2980 South 2790 East. Friends may call Thursday evening, from 6-8 p.m., at the Holbrook Funeral Chapel, 3251 South 2300 East, and at the church on Friday for one hour prior to the services. Interment: Wasatch Lawn Memorial Park. Funeral Directors: The Holbrook Funeral Chapel.

Deseret News Publishing Company