Skyline High School
Class Of 1967
In Memory
Kristyne McGill (Hansen)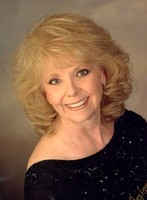 KRISTYNE MCGILL (KRISTY) HANSEN

1949 – 2018
Kristyne McGill Hansen passed away peacefully in her sleep in the early hours of March 14th cradled in her husband's arms. She fought a quick but courageous battle with pancreatic cancer. F. Scott Fitzgerald wrote "She was beautiful, but not like the girls in the magazine. She was beautiful for the way she thought. She was beautiful for the sparkle in her eyes when she talked about something she loved. She was beautiful for her ability to make other people smile, even if she was sad. No, she wasn't beautiful for something as temporary as her looks. She was beautiful deep down in her soul." He knew our Kristy well.
Kris was born March 25th 1949, in Salt Lake City. She was the oldest of two children born to Angus Nielsen McGill and Doris May Brooks. On September 20th, 2008, she married Brent W Hansen. Although they were only together a short time, she considered it the happiest years of her life. On April 9th, 2016, Kris and Brent were sealed in the Oquirrh Mountain temple of the Church of Jesus Christ of Latter Day Saints and began their eternity together.
Kris worked 43 years for a combination of Mt. Bell, US West, Qwest, and Century Link where she made many lasting and loving friendships. Kris is survived by her husband Brent, daughter Brooke Kebschull, son William (Jessica) Kebschull III, mother Doris, brother Neil (Jean) McGill, six grandchildren, one great grandson, and a ton of nieces and nephews. She was preceded in death by her father Angus, daughter Briney, and niece Amanda.
Funeral services will be held at 11:00 a.m. on Saturday March 24th at Wasatch Lawn Memorial Park, 3401 S. Highland Dr., Salt Lake City, Utah. A viewing will be held for friends and family at the Chapel Hills LDS Ward on 1290 N. Church St, Layton, Utah, on Friday March 23rd from 6:00 pm to 8:00 p.m., and Saturday one hour prior to the services at Wasatch Lawn. She loved you all.
Published in Salt Lake Tribune from Mar. 18 to Mar. 19, 2018