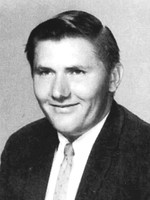 September 9, 1948 - July 21, 2015

Daniel Bruce Frith born September 9, 1948 to Frank & Lela Frith went to be with the Lord on July 21, 2015. He graduated from Highlands High School. He worked as a truck driver with L & H Packing & Coastal Transport. He loved fishing, shark fishing and deer hunting. He was a lifetime member of Riverside Baptist Church. He is survived by his sisters Linda Baeza & Janice Duncan (husband Martin Duncan Sr.), nieces & nephews Martin, M'Lissa, Shawna (husband Chris), Krista (husband Jared), great nieces & nephews Lauren, McKenna, Chase, Lanie, Alyssa and Collin.

A Memorial Service will be celebrated at 3:00 p.m., on Monday, July 27, 2015 at Mission Park Funeral Chapels South.
September 9, 1948 - July 21, 2015
Daniel Bruce Frith born September 9, 1948 to Frank & Lela Frith went to be with the Lord on July 21, 2015. He graduated from Highlands High School. He worked as a truck driver with L & H Packing & Coastal Transport. He loved fishing, shark fishing and deer hunting. He was a lifetime member of Riverside Baptist Church. He is survived by his sisters Linda Baeza & Janice Duncan (husband Martin Duncan Sr.), nieces & nephews Martin, M'Lissa, Shawna (husband Chris), Krista (husband Jared), great nieces & nephews Lauren, McKenna, Chase, Lanie, Alyssa and Collin.
A Memorial Service will be celebrated at 3:00 p.m., on Monday, July 27, 2015 at Mission Park Funeral Chapels South. - See more at: http://www.legacy.com/obituaries/sanantonio/obituary.aspx?n=daniel-frith&pid=175354584&fhid=8901#sthash.xIRcYo0d.dpuf
September 9, 1948 - July 21, 2015
Daniel Bruce Frith born September 9, 1948 to Frank & Lela Frith went to be with the Lord on July 21, 2015. He graduated from Highlands High School. He worked as a truck driver with L & H Packing & Coastal Transport. He loved fishing, shark fishing and deer hunting. He was a lifetime member of Riverside Baptist Church. He is survived by his sisters Linda Baeza & Janice Duncan (husband Martin Duncan Sr.), nieces & nephews Martin, M'Lissa, Shawna (husband Chris), Krista (husband Jared), great nieces & nephews Lauren, McKenna, Chase, Lanie, Alyssa and Collin.
A Memorial Service will be celebrated at 3:00 p.m., on Monday, July 27, 2015 at Mission Park Funeral Chapels South. - See more at: http://www.legacy.com/obituaries/sanantonio/obituary.aspx?n=daniel-frith&pid=175354584&fhid=8901#sthash.xIRcYo0d.dpuf