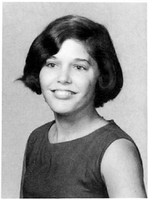 Funeral services for Martha Ann Dudley, age 64, of San Antonio are scheduled for 2:00p.m. Saturday, December 7, 2013 at Autry Funeral Home Chapel in Jacksonville. Burial will be at Tecula Cemetery in Jacksonville following the service.
Martha Ann Dudley, "Aunt Martha", passed away on December 2, 2013 at the age of 64 after a long struggle with Lewy Body Dementia . She was born on June 3, 1949 in San Antonio to R.D. & Nettalee Thompson Dudley. Martha retired from USAA after 35 years as a customer service tech. Her greatest love was spending time with her niece and nephews.
She was preceded in death by her parents, R.D. & Nettalee Thompson Dudley.
Survivors include her sister, Helen Rose Freddie (Jimmy); brother, Richard Dudley (Lana), niece Athena Koenen (Kevin); nephews, Sean Freddie; Stacey Freddie; Bryan Dudley (Marise) ; James Dudley (Emiko); nine great nephews, nieces and other loving family members.
Special thanks to Emerites at Oak Well Farms and to the Vitas Hospice for their care. Memorials may be made to the Lewy Body Dementia Association or to the charity of their choice.
Published in Express-News on Dec. 5, 2013