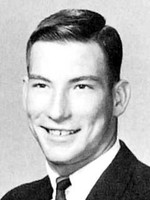 Thomas DeWitt Peel
January 14, 1949 - December 19, 2013
Thomas DeWitt Peel was welcomed into the kingdom of our Lord on December 19, 2013. Tom is survived and will forever be missed by his wife of 41 years, Carol, his son Brian Thomas and daughter-in-law Andi, his son
Clifford DeWitt and daughter-in-law Theresa, his grandchildren Carter, Kendall and Nolan, his mother Velma
and his brothers Larry, Terry and Denny.
Born and raised in San Antonio, Tom excelled both academically and athletically and earned a football
scholarship to Rice University where he graduated in 1971. All who knew Tom will remember him as a
loving husband, devoted father and a grandfather fond of spoiling his grandchildren who affectionately
called him "Big Tom." Tom never met a stranger in his 64 years of celebrated life and will surely
become immediate friends with all who meet him in Heaven.
In lieu of flowers, donations may be made to the "R" Association or The American Red Cross.