Shaker Heights High School
Class Of 1970
Welcome to the Shaker Heights High School Class of 1970 website.
***************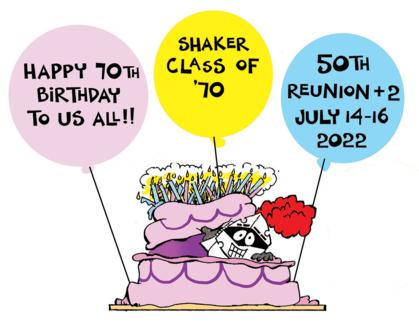 LET'S CELEBRATE !...FINALLY !
The countdown has started....
It's 2 MONTHS until the SHHS Class of '70 celebrates
our 70th birthdays
and our 50th +2 Reunion
JULY 14-16, 2022
RSVP today and help sponsor the celebration!
Thursday, July 14
*meet up at the Van Aken District
Friday, July 15
*Golf at Highland Park Golf Course in the morning
*Cleveland Racquet Club in the evening
Saturday, July 16
*Shaker Heights High School tour in the am
*Beechmont Country Club in the evening to
Celebrate 70!! with dinner/music/cash bar
Please update your info and spread the word.
Please check out the list of missing classmates and ask them to sign up.
Please check out the Sponsorship opportunities...you can help make this a great reunion with a personal contribution.
Financial assistance is available for attendance. See Reunion Events for details.
RSVPS can be made now for 2022. See "Reunion RSVP" on the left.
Click on "Reunion Events" on the left for details and go to the link near the bottom of the page to see who is attending from our Class of '70. We hope you will join the list!
Please note that refunds will be available up to 7/7/2022 upon request.
Thanks,
The Class of '70 Reunion Committee
How to sign up on this website: 1) Find your name by clicking on the JOIN HERE under the red "Sign In" button. 2) Click on your name. 3) Follow the instructions. If you are having difficulties, hit the ol' "Contact Us" link over on the left and send me a message in that bottom box thingy.